Giants' bullpen caps stellar series in Arizona
Relievers finish off sweep with four scoreless innings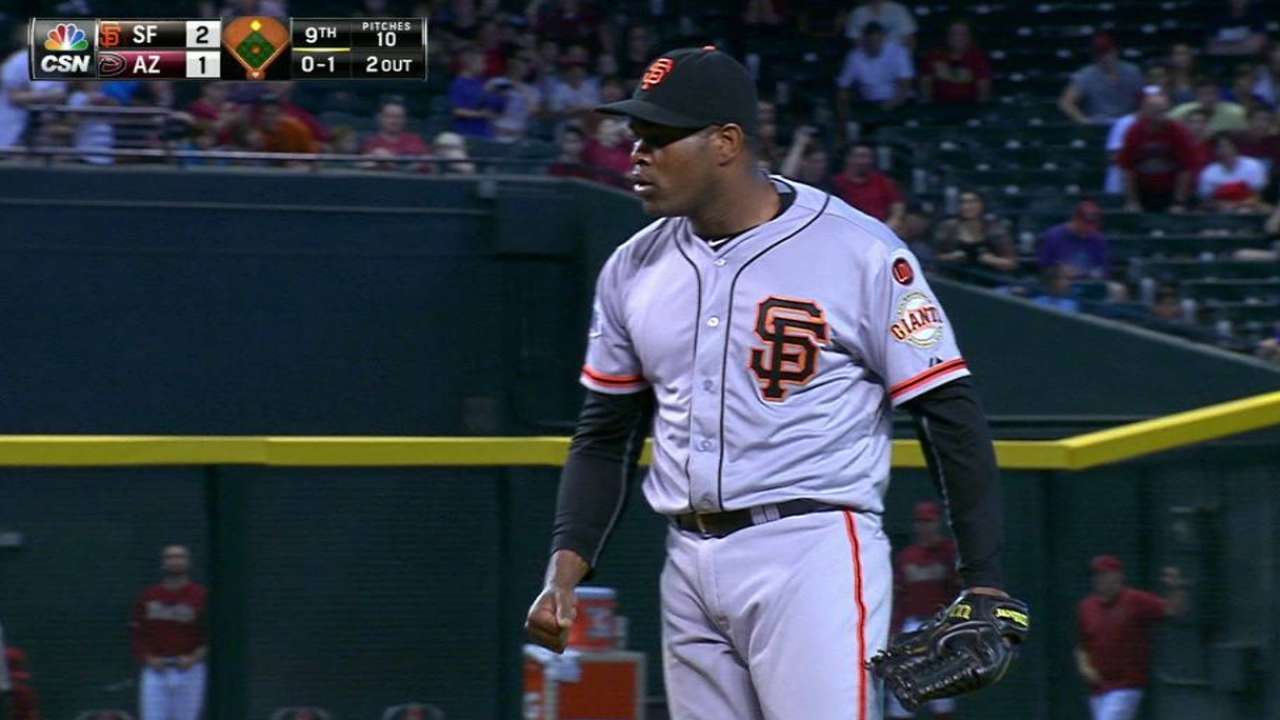 PHOENIX -- When Giants left-hander Madison Bumgarner struggled through five innings and 93 pitches in Sunday's 2-1 victory over the D-backs at Chase Field, manager Bruce Bochy had no qualms about again tapping into the bullpen.
And why not? In sweeping three games from Arizona, the Giants 'pen allowed just one run in 13 2/3 innings, the last 12 2/3 of them scoreless.
"I just didn't want to push it there," Bochy said about yanking Bumgarner. "He did his job, so there was no sense in pushing him."
On Sunday behind Bumgarner, it was George Kontos for two innings, left-hander Javier Lopez for his usual one left-handed batter, Hunter Strickland for two-thirds of an inning, and Santiago Casilla for the ninth to record his 24th save.
And with that, the Giants had their sixth win in a row, and Bumgarner's short day of work earned him his 10th victory against five losses.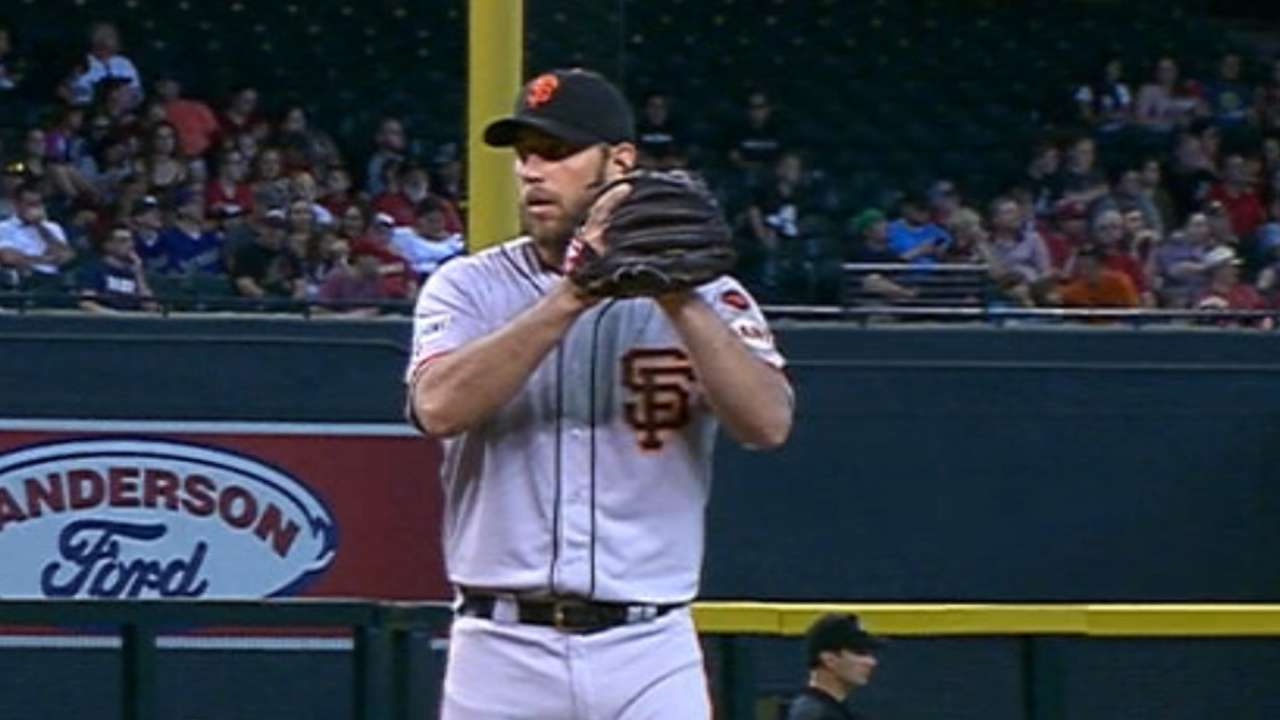 "I would have liked to have it be a little longer, but when you're throwing 20 pitches an inning, it's hard to get any distance out of yourself," Bumgarner said. "At the same time, it's a 2-1 ballgame, you don't have particularly great stuff and we have guys in the bullpen who are capable of coming in and shutting the door, which they did. So it worked out great for us."
Now Bochy and the Giants' brain trust have some particularly tough decisions ahead of them. Tim Hudson is slated to come off the disabled list Monday and pitch against the Padres at Pecto Park. Jeremy Affeldt, who made two flawless rehab appearances for Triple-A Sacramento, will meet the team in San Diego.
Both Affeldt and Hudson have recovered sufficiently from recent shoulder problems, and when both come off the DL, two very capable pitchers will have to be sent out. The Giants are already carrying 13 pitchers, so there's no room there. Ryan Vogelsong has already been sent to the 'pen and won Friday night's 12-inning game by throwing the last two innings. There are no other starters to send out.
Casilla, Strickland, Lopez, Kontos and Sergio Romo are safe, leaving Yusmeiro Petit, Jean Machi and rookie left-hander Josh Osich on the bubble.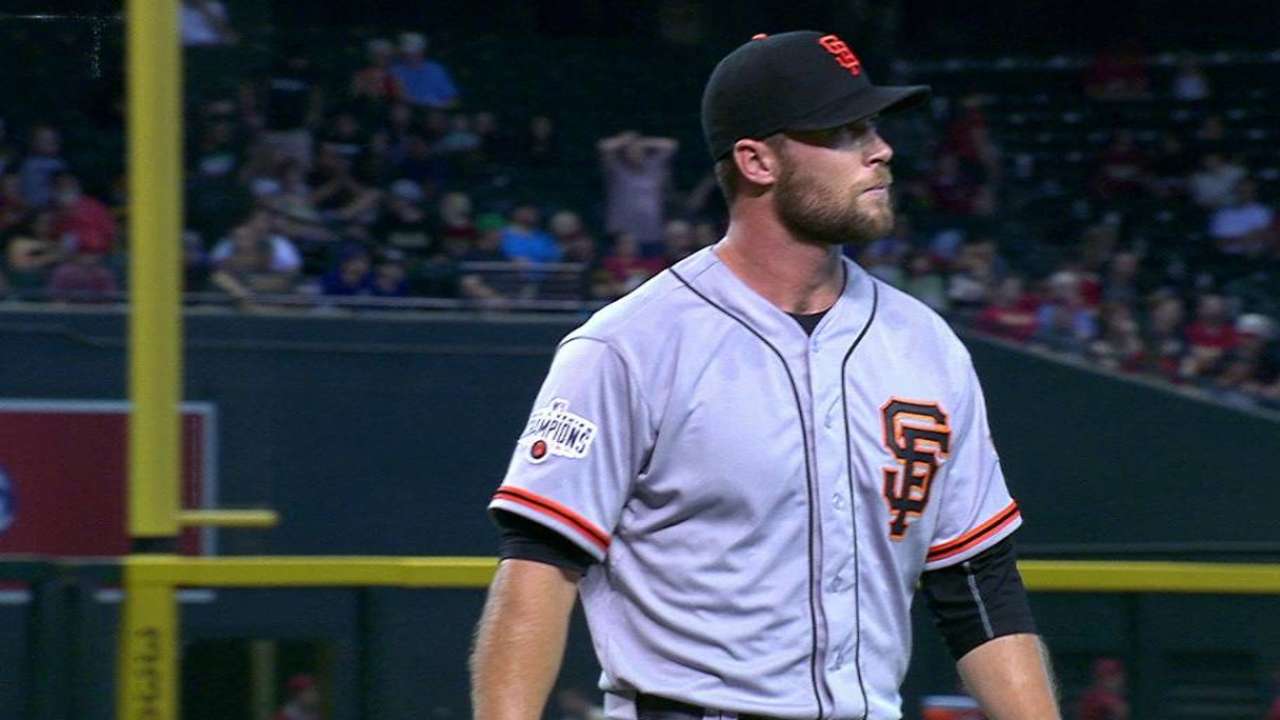 Petit's role as a long man is now being duplicated by Vogelsong. Machi allowed the only bullpen run in the series and has a 5.14 ERA. Osich replaced Affeldt and acquitted himself well. He's allowed no runs on one hit with three walks and five strikeouts in his eight appearances. But Osich is the only one of the trio who has a Minor League option remaining.
"We knew it was going to be crowded when we got to this point, but these moves have to be made," Bochy said Sunday. "We can't go with another pitcher because we're down to four [position players] on the bench. We'll talk to Jeremy tomorrow and see if he's ready to pitch or he needs another day. We have an idea what we're going to do, but it's not going to be easy."
Barry M. Bloom is a national reporter for MLB.com and writes an MLBlog, Boomskie on Baseball. Follow @boomskie on Twitter. This story was not subject to the approval of Major League Baseball or its clubs.