Rockies game postponed due to rain in San Diego
Colorado will make up contest against Padres on Sept. 10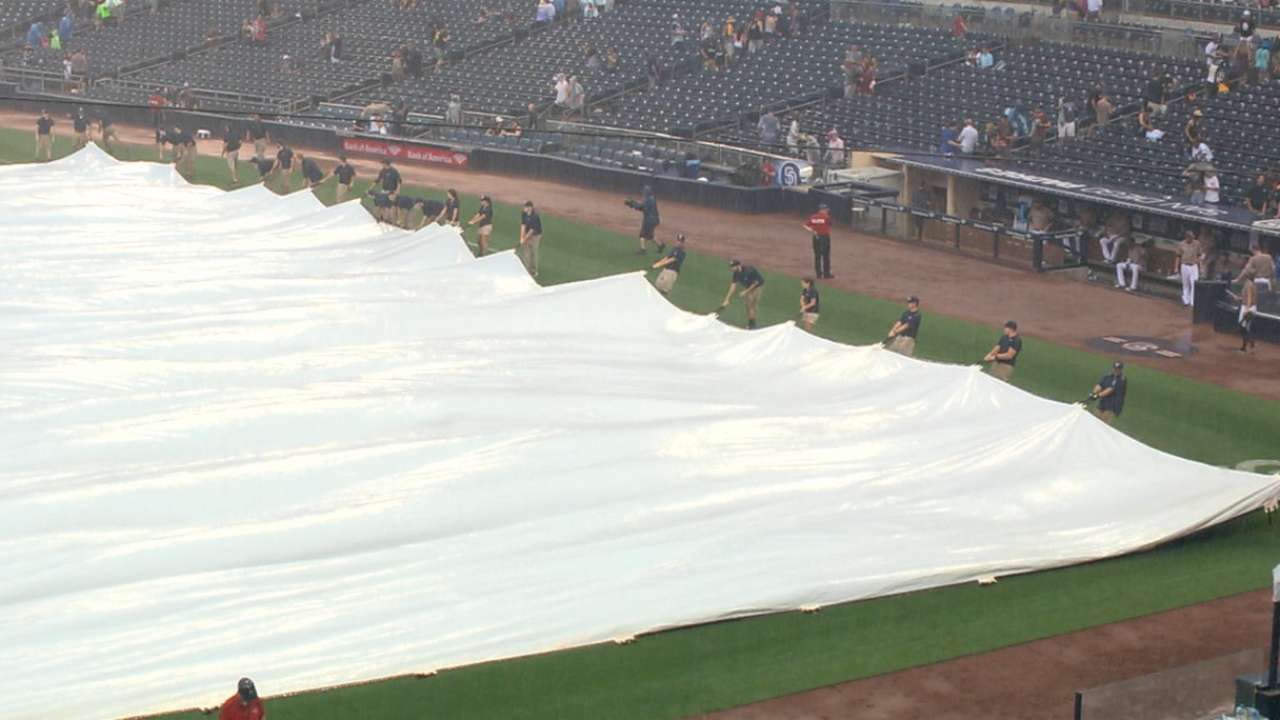 SAN DIEGO -- Manager Walt Weiss joked before Saturday's game that the Rockies "bring the rain," as a summer storm crashed into San Diego hours before their night game.
Weiss joked again on Sunday, after a two hour and 30 minute delay concluded in a postponement for their final game of a three-game series versus the Padres.
"We invented it I think," Weiss said. "We have been making it rain all year I guess. I don't think I have ever seen rain in San Diego, so this is strange."
The delay began in the top of the fifth inning with two outs. Sunday's game will be rescheduled for Sept. 10, at 1:40 p.m. MT.
The last rainout at Petco Park was on April 4, 2006. Sunday's postponement was just the second in Petco Park's history.
Both Weiss and Padres manager Pat Murphy met with a groundskeeper and baseball operations staff on the field and chatted for a while before a final decision was made.
"There was a very small window," Weiss said. "They thought possibly we could try to play, but there was more heavy rain behind that. I think for the integrity of the game instead of trying to get four outs to make it an official game. That just doesn't smell right. The fact that there was a lot more rain on the way was a deciding factor.
"We are up one nothing, so it was to our advantage to get four outs to make it an official game. I think you want to try to play that game under what would be typical circumstances. Would you restart a game in the rain if you were just trying to get four outs? I think the integrity of the game is at stake there."
The Rockies have had their fair share of rain delays at home this season as well. The team has had a total of 22 hours and 24 minutes of rain delays in 14 home games. Sunday's game is the fifth game that will be postponed for the Rockies this season.
Sunday was also not the first time the Rockies ran into a rain delay in Southern California. Their May 9 game against the Dodgers also resulted in a rainout.
Colorado called up Eddie Butler from Triple-A Albuquerque on Saturday to start Sunday's game. The right-hander pitched fairly well through four innings, allowing only two doubles, both to Matt Kemp and walked one batter.
"Eddie was great, really encouraged by what we saw from him today," Weiss said. "It looked like the things we talked about going down and working on he was able to take that into the game today and executed it. He looked as good as I have seen him this year."
Butler said he was of diappointed he couldn't finish out the game due to weather.
"We were trying to get the game. I didn't happen. I felt good how today went overall but of course you want to get that win," Butler said. "It felt to get back at there and just attacking the guys….obviously Kemp made it hurt a little bit. The guys made a good double play behind me and picked me up."
Chris Rusin will make his regularly scheduled start for Colorado on Monday against the Rangers at Coors Field.
Chad Bettis was put on the disabled-list today with right elbow inflammation and Weiss said before Sunday's game that due to the day off on July 23, nothing is decided on the pitching rotation after that.
Beth Maiman is an associate reporter for MLB.com. This story was not subject to the approval of Major League Baseball or its clubs.