Patience pays off in Tribe's unusual win
Four bases-loaded walks help mask club's struggles with bags full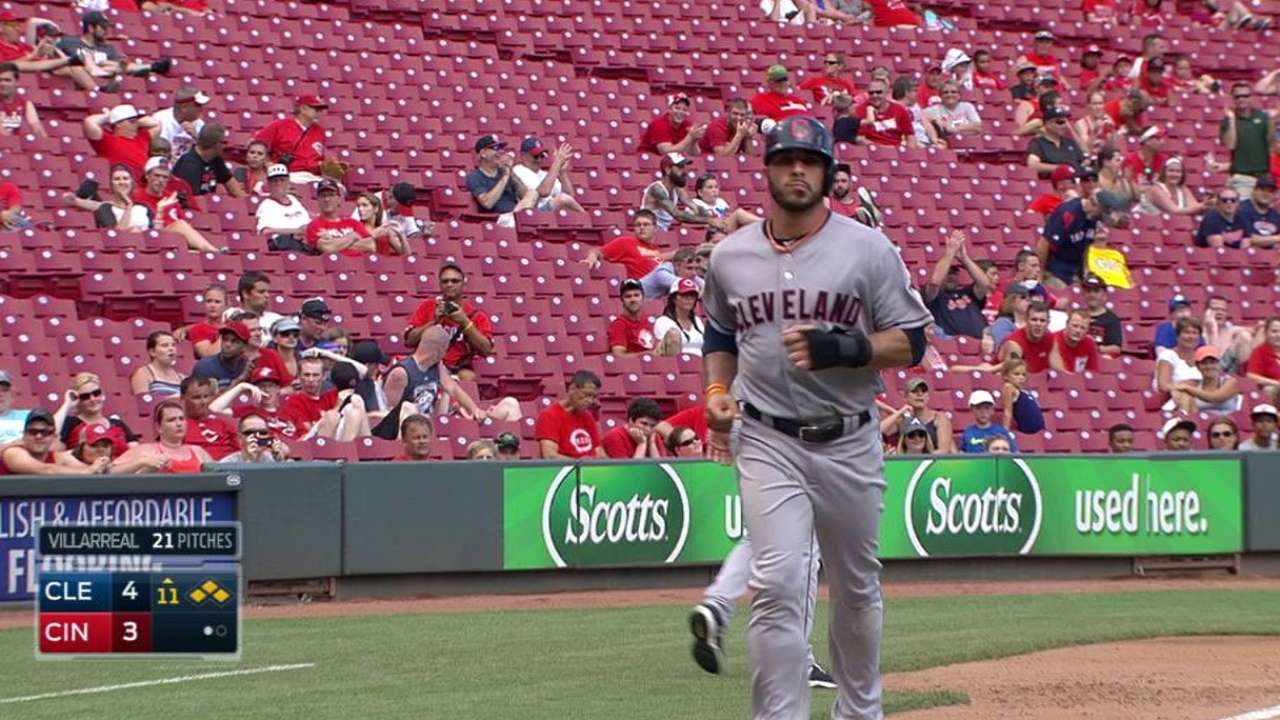 CINCINNATI -- The Indians will take it. They will gladly accept the win over the Reds and head into Monday's off-day with the positive vibes that come with any victory. What Cleveland does not plan on doing is dwelling on all the missed chances on Sunday afternoon at Great American Ball Park.
"A win's a win," Indians manager Terry Francona said after a 5-3, 11-inning triumph that wrapped up the annual Ohio Cup clash with Cincinnati.
This was hardly your standard win, though.
Four of the Indians' runs came courtesy of a bases-loaded walk, marking the first time Cleveland had done that in a game since June 25, 1969. The fourth of those free passes came in the decisive 11th frame, when Yan Gomes worked a seven-pitch walk against Reds reliever Pedro Villarreal to push the go-ahead run across the plate. Cleveland's catcher could not help but laugh a little at his feat.
"Even I had a bases-loaded walk," Gomes said with a smile, "which is definitely something I'm not looking for."
Against Reds starter Johnny Cueto, Francisco Lindor (second inning) and Michael Brantley (fourth inning) each had a run-scoring walk, accounting for two of the six walks issued by the righty. Brantley added another walk with the bags full against Manny Parra in the sixth inning. It marked the first time since Sept. 20, 1970, that Cincinnati issued four bases-loaded walks in one game.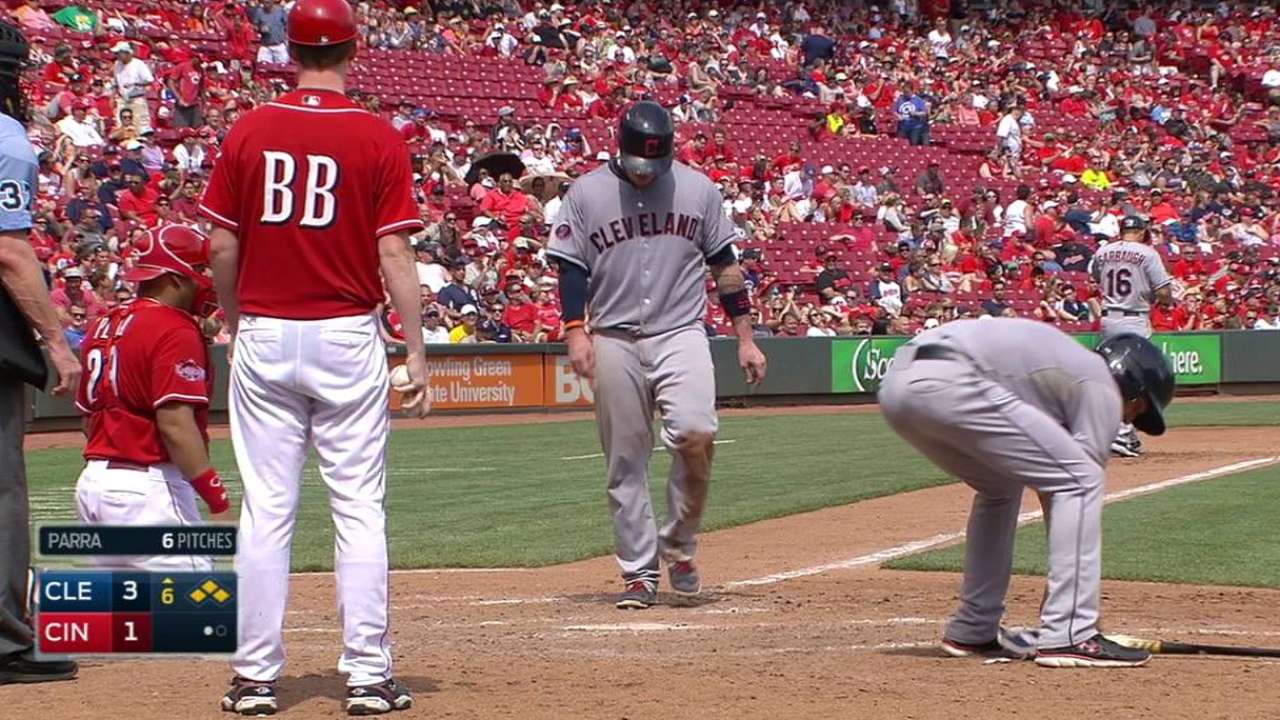 Cleveland's patience -- the club had a season-high 10 walks -- helped mask the team's continued struggles with the bases loaded. The Indians went 0-for-7 with the bases loaded on Sunday to drop their average to an American League-low .139 (10-for-72) in such situations this season. The Tribe actually has more walks (12) than hits with the bases loaded.
The Indians finished Sunday's win with 18 stranded runners and a 3-for-14 showing with runners in scoring position.
Francona said there is not a simple explanation for the struggles with the bags full.
"I honestly think every day it's different," Francona said. "If you start going back two months, it doesn't do any good. I do know it'll be a heck of a lot easier to win games when you get a big hit like that and you start separating games. We had a lot of opportunities. That part's good. But we [need to] start cashing in, and we will."
Indians hitting coach Ty Van Burkleo was quick to note that the Indians had a handful of hard-hit balls that turned into outs.
"It's just a matter of getting it done," Van Burkleo said, "and having a little luck."
Patience also helped on Sunday.
"This team is always patient," Van Burkleo said. "They do a good job of making them throw strikes and not expanding for the most part. ... Usually, when we go through streaks where we get a little anxious and we're trying to do a little too much, [that's] when we expand a little bit. It was a good day to be patient. It would've been nice to get a couple hits in there with the bases loaded, but [we did have four walks]."
Gomes said creating the wealth of scoring chances was a big positive for the Indians.
"We really worked to get in those types of situations," he said. "We didn't come away with no runs. We came away with at least one run each time. It's not like we didn't take advantage of it, but we got ourselves in that kind of situation, worked a walk and got a run."
The Indians will take it.
Jordan Bastian is a reporter for MLB.com. Read his blog, Major League Bastian, follow him on Twitter @MLBastian and listen to his podcast. This story was not subject to the approval of Major League Baseball or its clubs.