MLB.com Columnist
Fred Zinkie
Cubs quartet could crush Cincy at home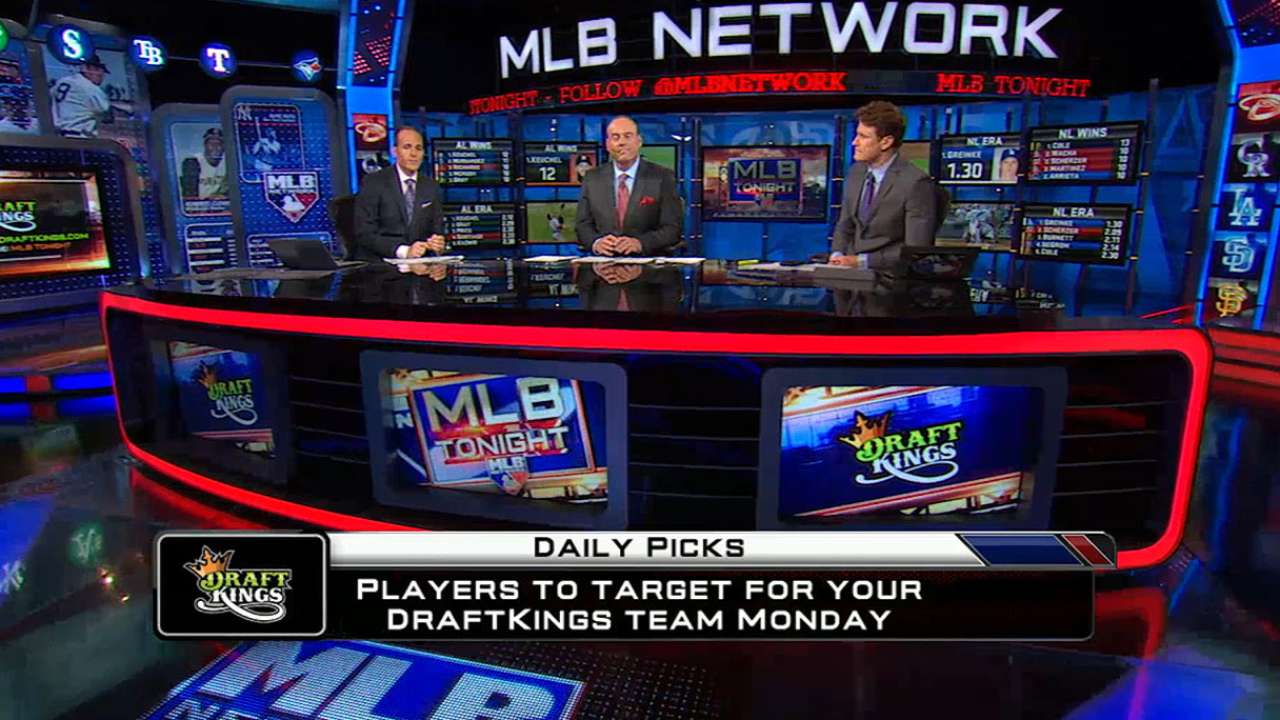 Welcome to DraftKings fantasy baseball, the Official Daily Fantasy Game of Major League Baseball.
The players listed below could provide difference-making stats for DraftKings participants on Monday.
Brandon Phillips (Reds): The second baseman has long fared best vs. left-handers, against whom he has posted a career .800 OPS (.718 vs. righties). Phillips could reach base often or drive in multiple runs when he faces Cubs lefty Clayton Richard, who has recorded a 5.79 ERA and a 2.04 WHIP across 9 1/3 innings this season after not pitching in the Majors in 2014.
Todd Frazier (Reds): With 25 homers and 57 RBIs across 351 at-bats, the third baseman has been among the most powerful players at his position this season. He could be worth a major expenditure in DraftKings contests when he brings his career .833 OPS against left-handers (.784 vs. righties) into a matchup with Richard (career 4.35 ERA, 1.41 WHIP).
Marlon Byrd (Reds): With 15 homers across 253 at-bats this season, Byrd has proven his ability to make a difference in DraftKings contests with one swing of the bat. He could improve on his lifetime .803 OPS against left-handers (.744 vs. righties) when he faces Richard, who in his career has allowed right-handed hitters such as Byrd to post an .808 OPS (.610 OPS allowed to lefty batters).
Anthony Rizzo (Cubs): Hitting .298 with 16 homers and 12 steals across 389 plate appearances, the first baseman has been among the most productive players at his position this season. Rizzo could thrive when he brings his career .847 OPS against right-handers (.754 vs. lefties) into hitter-friendly Great American Ball Park to face rookie righty Michael Lorenzen (5.73 FIP in 2015).
Chris Coghlan (Cubs): As a big leaguer, Coghlan has produced a .772 OPS against right-handers that exceeds his .645 mark vs. lefties. On Monday, the outfielder may drive in multiple runs at Cincinnati's offense-inducing venue when he faces the inexperienced Lorenzen (1.47 WHIP in '15).
Addison Russell (Cubs): In his brief career, the rookie second baseman has produced a .704 OPS against right-handers in comparison to a .455 mark vs. lefties. Russell on Monday could be a cost-effective portion of a Cubs stack against Lorenzen and a Reds bullpen that ranks 27th in the Majors with a 4.22 ERA.
Kris Bryant (Cubs): In an impressive rookie season thus far, Bryant has posted a .372 on-base percentage, 12 homers and 51 RBIs across 349 plate appearances. From the heart of the Cubs lineup, the third baseman is primed to hit a homer or drive in multiple runs when he faces Lorenzen at Cincinnati's homer-happy venue.
Adrian Beltre (Rangers): The third baseman could improve on his impressive career .289/.361/.484 slash line against left-handers when he heads to homer-happy Coors Field to face southpaw Chris Rusin (career 4.64 ERA, 1.48 WHIP). Beltre could also have success late in the game against a Rockies bullpen that ranks last in the Majors with a 4.54 ERA.
Delino DeShields (Rangers): With a .367 on-base percentage and 15 steals across 203 plate appearances, the rookie outfielder has been a cost-effective option in several DraftKings contests this year. He has the skills to reach base often or score multiple runs when he brings his .801 OPS against left-handers (.754 vs. righties) into a matchup with Rusin. As a big leaguer, the southpaw has allowed right-handed batters such as DeShields to post an .861 OPS (.656 OPS allowed to lefty hitters).
Justin Bour (Marlins): The first baseman has hit all 11 of his career homers against right-handers, a fact that has contributed to his .827 OPS in those matchups (.572 vs. lefties). Bour could excel when he heads to offense-inducing Chase Field to face righty Rubby De La Rosa (career 4.62 ERA, 1.41 WHIP).
Christian Yelich (Marlins): Having compiled 15 of his 18 homers and 34 of his 39 steals against right-handers during his big league tenure, the outfielder may produce in multiple ways when he faces De La Rosa (5.06 ERA, 1.31 WHIP in 2015) at Arizona's hitter-friendly venue. After a slow start to the season, Yelich has heated up to the tune of a .337 batting average since June 15.
Cesar Hernandez (Phillies): Hitting .329 with nine steals across 79 plate appearances since June 28, the second baseman is among the hottest hitters in baseball. He could continue to thrive when he bats at his hitter-friendly home park against Rays lefty Matt Moore, who has posted a 7.07 ERA with a 1.93 WHIP across three 2015 starts since returning from Tommy John surgery.
Pedro Alvarez (Pirates): As a Major Leaguer, Alvarez has smacked 102 of his 116 home runs with a right-handed hurler on the mound. He has the power to put a ball in the outfield seats at Kauffman Stadium, where he'll face Royals right-hander Yordano Ventura (4.73 ERA this season).
Matt Harvey (Mets): With a lifetime 2.60 ERA and a 1.02 WHIP, the right-hander is arguably the most skilled hurler on the Monday slate. Harvey could compile quality frames when he works at pitcher-friendly Nationals Park against a Washington lineup that will be missing several injured regulars, such as Anthony Rendon, Ryan Zimmerman and Jayson Werth.
Ian Kennedy (Padres): Having produced a season-to-date 4.91 ERA, the right-hander could have an economical price tag in DraftKings contests when he works at his pitcher-friendly home venue against the Giants. In his career, Kennedy has recorded a .233 opponents' average with 235 K's across 211 innings when working at Petco Park.
All statistics are accurate through the completion of Saturday's games.
Fred Zinkie is the lead fantasy baseball writer for MLB.com. Follow him on Twitter at @FredZinkieMLB. This story was not subject to the approval of Major League Baseball or its clubs.