Trout says Pujols' streak affects his at-bats
Angels star says he sees more fastballs when teammate is hot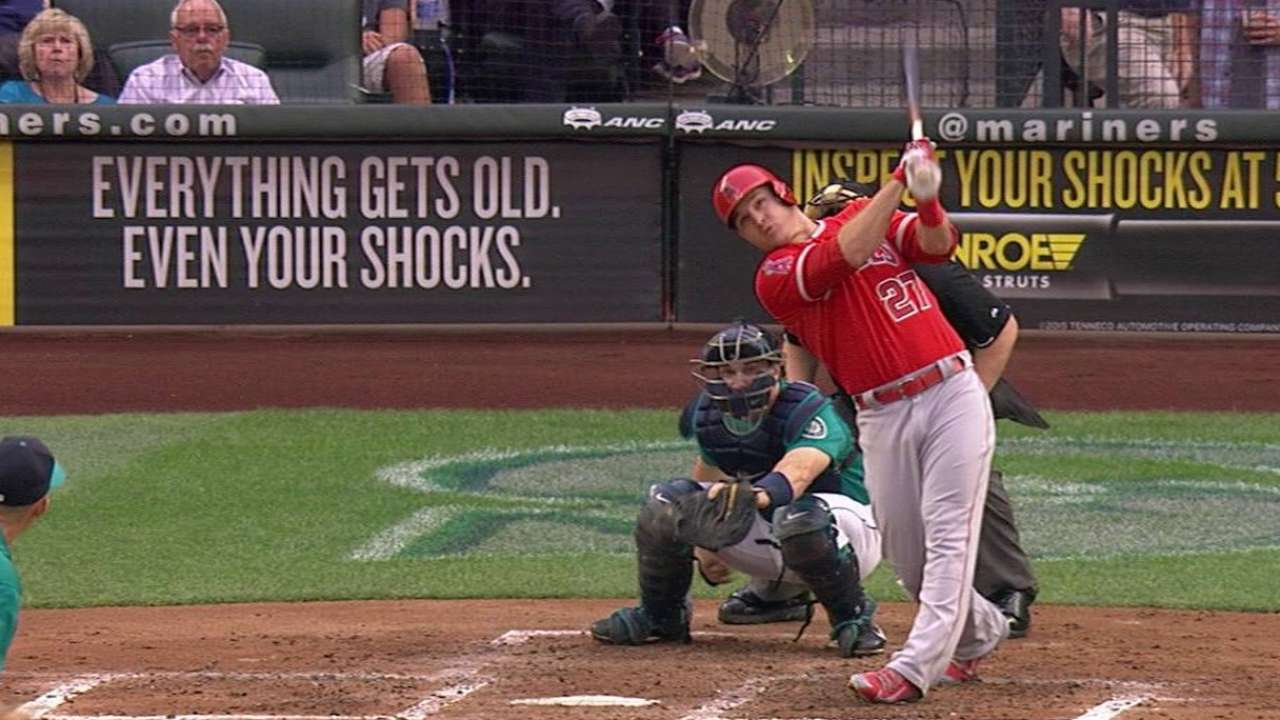 ANAHEIM -- In Tuesday's All-Star Game presented by T-Mobile, American League manager Ned Yost did something that hadn't been done in 272 Major League games: He split Mike Trout and Albert Pujols apart in a batting order. The last time they weren't back-to-back was June 18, 2013.
The Angels linked Trout to Pujols to maximize run-creation. But it also raises the question of lineup protection: Does Pujols change how pitchers approach Trout, or is "protection" illusory, even for the Angels' potent duo?
Trout recently said he sees more fastballs when Pujols is hot. Sporting News' Jesse Spector concluded that wasn't accurate statistically; Trout hasn't seen significantly more in 2015 than he did in prior seasons.
But Pujols hasn't been hot for all of 2015. For two months, he struggled. His hot streak started May 28 and he mashed 18 homers between then and the All-Star break, looking like the Pujols of old.
"I'm seeing more [fastballs for] strikes," Trout reiterated Sunday. "Definitely, they're throwing it over the plate more since Albert's been going."
Comparing entire seasons seems too broad, even risking limited sample sizes. Within 2015, how many fastballs did Trout see with Pujols slumping, versus during his surge?
"We do have some data as far as how many fastballs guys get," manager Mike Scioscia said. "Mike might sense it -- and his game feel is great -- but I don't know if you can make any conclusion yet as to what's there."
Pitchers wouldn't change approaches overnight. Say it takes two weeks to adjust -- one to see Pujols' hot streak, another to see if he sustains it. That puts a reasonable split date at June 12: a few series after May 28, but still a month of games before the break.
So how does Trout's last month of games compare to the month before it? (We'll use May 12 as the start date, because in April Trout got a disproportionate number of up-and-in fastballs, with pitchers trying to exploit the weakness exposed during the 2014 playoffs. FanGraphs' Jeff Sullivan noted Trout eliminated the weakness by early May, and teams stopped pitching him up and started pitching him low-and-away.)
The percentages of fastballs and fastball strikes to Trout increased only slightly with Pujols hot: 62.3 percent fastballs to 65.1 percent; 44.7 of fastballs hitting the strike zone to 45.2 percent. But a look at Trout's BaseballSavant.com heat maps does show more fastballs within the zone, and over the inner half of the plate -- where 17 of Trout's 27 homers originated.
Heat map of Mike Trout's fastballs from 5/12-6/11 vs. 6/12-7/12: (heat maps from http://t.co/UQclCc00Ir) pic.twitter.com/i1ZILHqHLD

— David Adler (@_dadler) July 19, 2015
You can see, especially, more fastballs up in the zone, and down-and-in, where Trout is extremely dangerous. Low fastballs to Trout turn into long home runs, like the 420-foot shot he hit off Mike Montgomery on a down-and-in heater July 10.
The map of Trout's fastballs from May 12 through June 11 depicts a narrower strip of fastballs across the zone, weighted toward the outside edge. The map of June 12 through July 12 shows fastballs filling the zone, shifted toward the middle-in area of the plate.
A different look at Mike Trout's fastballs from 5/12-6/11 vs. 6/12-7/12: (also from http://t.co/UQclCc00Ir) pic.twitter.com/Bjsha0vfSR

— David Adler (@_dadler) July 19, 2015
That, at least, is potentially meaningful, suggesting the possibility of a tangible effect for Trout-Pujols.
"Theoretically speaking, I would definitely expect that to be there," Scioscia said. "In theory, I think you're 100 percent right, and maybe Mike's 100 percent right. I just don't have any data that totally verifies that.
"What's the cause of it? Is it Albert swinging well, or guys adjusting to how they're pitching Mike?"
David Adler is an associate reporter for MLB.com. Follow him on Twitter @_dadler. This story was not subject to the approval of Major League Baseball or its clubs.