Keuchel-angelo: Astros ace crafts masterpiece
Fired up All-Star starter whiffs career-high 13 in seven scoreless innings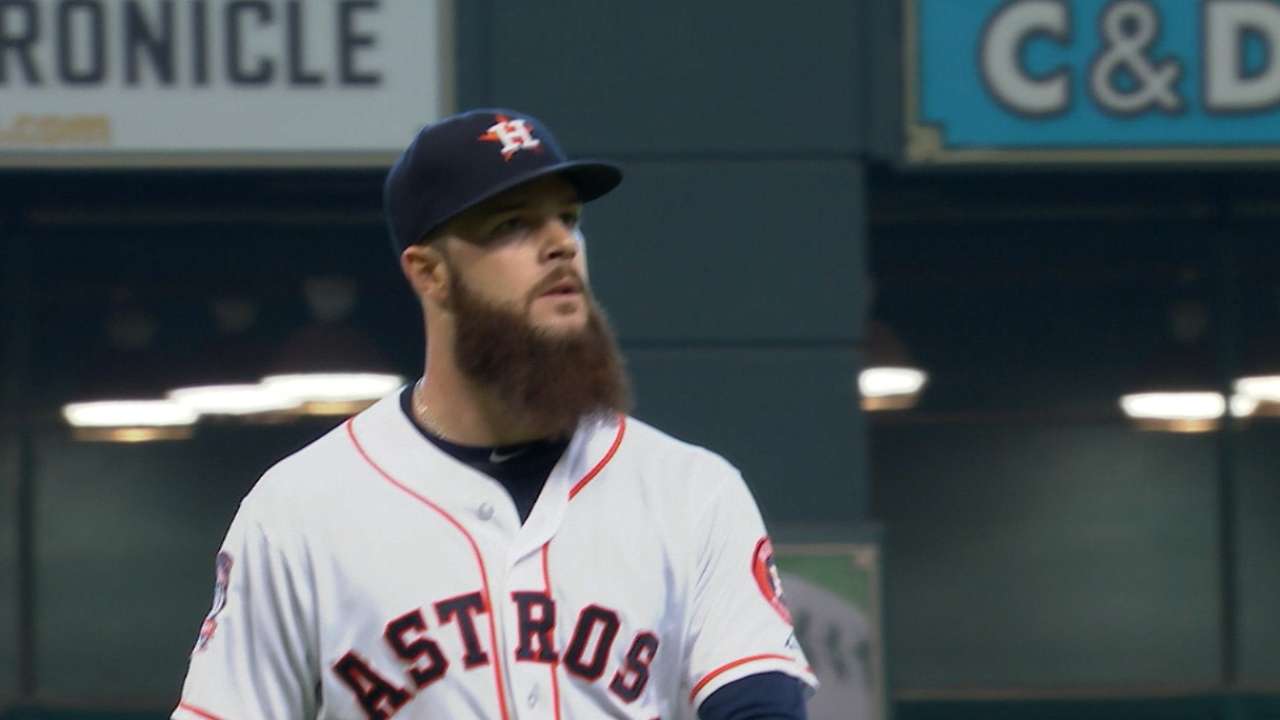 HOUSTON -- To end the sixth inning, Dallas Keuchel spun a slider to Rougned Odor's back foot for his 11th strikeout of the game and fourth punchout in a row.
Keuchel glared toward Odor and the batter's box as he walked to the dugout, cognizant of the benches-clearing incident Odor had a hand in the night before. In the Astros' 10-0 victory over the Rangers on Sunday afternoon, the American League All-Star starter struck out a career-high 13, retired the final 18 he faced and allowed just three balls out of the infield in a dazzling performance fueled by Saturday night's tensions.
"When you don't show respect to other players, there's guys who will take offense to that," Keuchel said. "You don't disrespect the game of baseball. I felt like we got disrespected [Saturday]. I wasn't [part of] it, but at the same time, I knew what I had to do and I was able to come out and set the tempo for the guys."
After Josh Hamilton's leadoff single in the second, Keuchel did not allow a baserunner, notching 12 of his 13 strikeouts in that stretch, including six in a row from the fifth through the seventh. He commanded both sides of the plate with tailing movement on his two-seamer, leaving hitters unable to sit on anything in or out of the zone.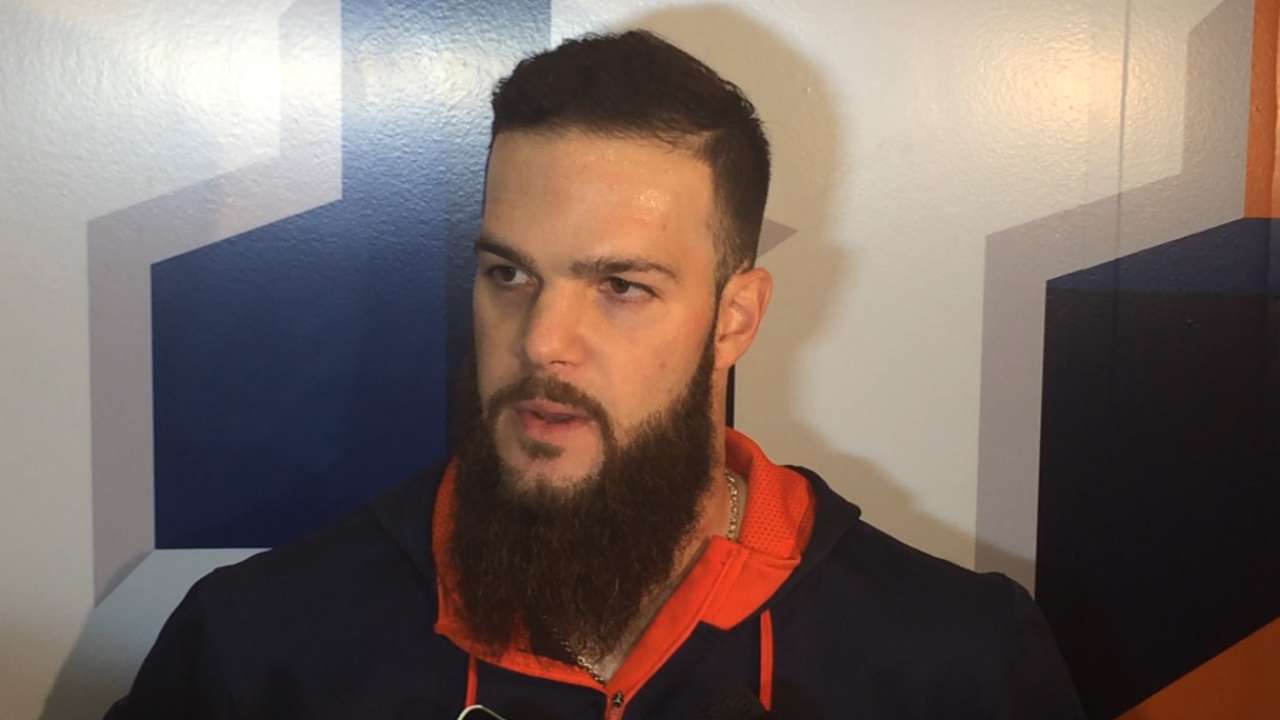 The double-digit strikeout game was the third of Keuchel's breakout 2015 campaign that's seen him evolve from a pitcher on the fringe of the rotation to a bona fide ace and All-Star starter. Houston manager A.J. Hinch routinely refers to the bearded lefty as "our guy" and speaks of him as the heart of the pennant-racing hopefuls.
"I take a lot of pride in that, just based on all the losses piling up a couple years ago and when I first came on the scene, I wasn't very good," Keuchel said. "To take some of the pressure off some of the younger guys is going to be key for me, let them relax. I'm just trying to do well for the guys behind me and it's fun, it really is."
"Dallas Keuchel has arrived," Hinch added. "He's a threat every time he goes out to put up a game like this."
Hinch dispelled Keuchel's notion that he was aided by Saturday's benches-clearing altercation, calling the start "vintage" and pointing to the emotion and fire with which he throws in each start, regardless of opponent.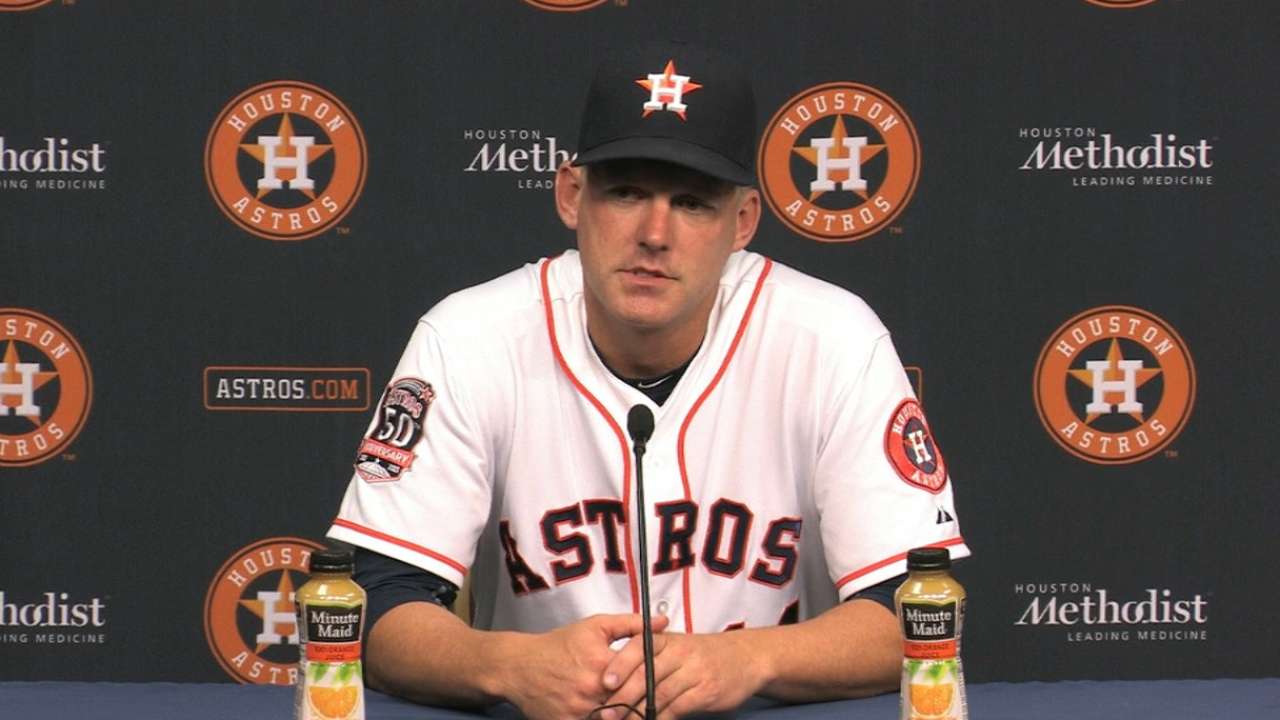 Still, outward signs were there.
A batter before Odor in the sixth, Keuchel barked at Rangers rookie and former Astros Draft pick Delino DeShields, who stood hands on hips protesting a called third strike from home-plate umpire Will Little.
"He was definitely kind of channeling that energy toward his stuff, which is the right way to go about it," catcher Jason Castro said. "That's the kind of attitude you want out of your starting pitcher. You want a bulldog out there who wants the ball and knows he's going to get it done."
Chandler Rome is an associate reporter for MLB.com. This story was not subject to the approval of Major League Baseball or its clubs.