Hot Francoeur earns more playing time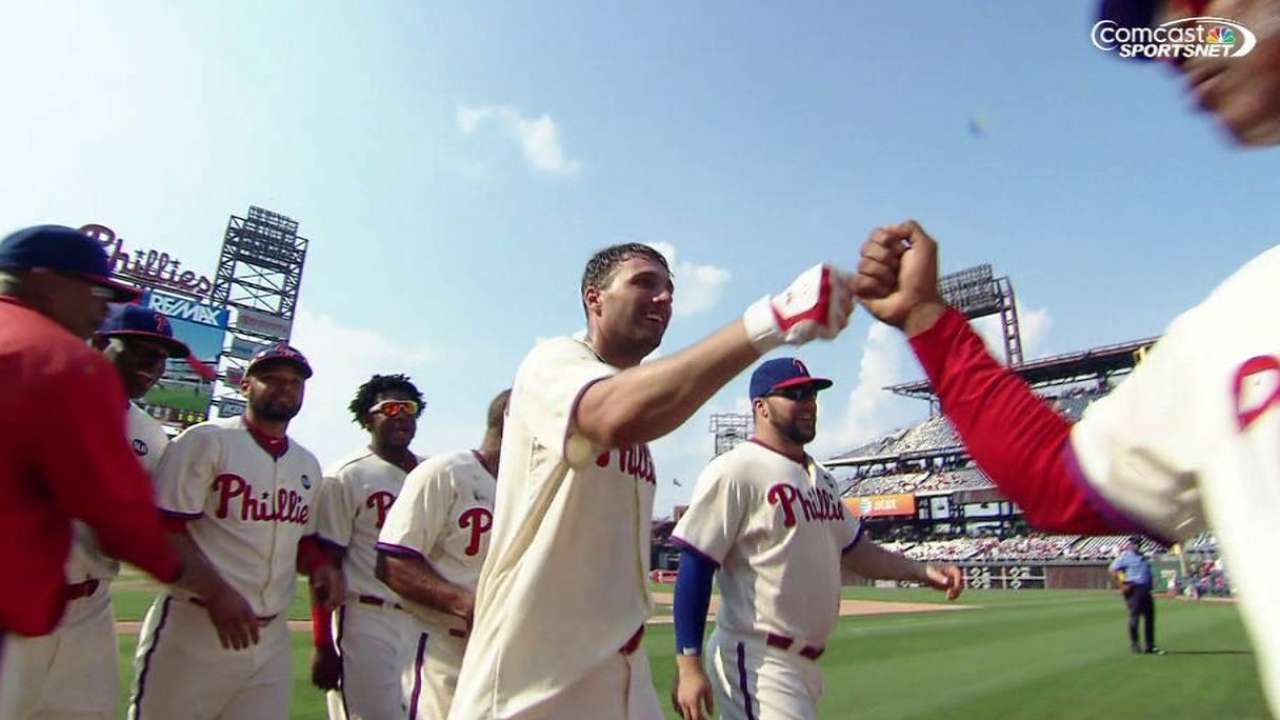 PHILADELPHIA -- The Phillies' lineup for Monday's game against the Rays hasn't been announced yet. But Jeff Francoeur has already been assured that he'll be in it.
"I think I'm going to play him tomorrow," Phillies interim manager Pete Mackanin said. "He's earned the right to play tomorrow. And he's been bugging me about playing."
Mackanin went on to say that he listens to what his players have to say and tries his hardest to satisfy their requests, but it wasn't so much Francoeur's pleas as his play that ensured him a start Monday. In Sunday's 8-7 win over the Marlins, Francoeur supplied the theatrics, going 2-for-2, twice scoring the go-ahead run, including one on a two-run, walk-off home run.
Francoeur said he knew from the second the ball left his bat that he had ended the game. And it showed. The outfielder barely made it out of the batter's box before he thrust his arms in the air and flashed a smile all the way around the bases.
The home run was Francoeur's eighth of the season, his second in three days, and his first walk-off since May 24, 2008. According to Francoeur, this recent hot streak is just a product of his circumstances.
"That's the one great thing about the National League: You get opportunities," Francoeur said. "It's nice being a bench player in the National League, because you know you're going to get some opportunities like that."
Sunday was the 29th time Francoeur had entered the game off the bench for the Phillies out of 70 total appearances. He double-switched into the game in the sixth inning as a defensive replacement in left field, taking over the pitcher's spot in the lineup. He proceeded to lead off the home half of the seventh inning with a single and came around to score two batters later, giving the Phillies a 6-5 lead.
In the 26 games he's played since early June, Francoeur has scored eight runs, driven in 17 and is batting .279. On the season as a whole, Francoeur has 47 hits, just five shy of the 52 he notched in 2013 and '14 combined. In his opinion, this boost in production can be traced back to the time he spent in the Minor Leagues last season.
"One of the best things that happened to me was going back to Triple-A last year and playing every day and working my butt off," Francoeur said. "You have to play well and work hard to be up here. You don't just deserve it and you don't just earn it. To work like I did and come to Spring Training, it feels good to have earned to be back here."
But on a smaller scale, Francoeur was just happy he did enough to help his team complete a sweep coming out of the All-Star break.
"We've probably got the best record in baseball in the second half," he quipped. "It feels good."
Nick Suss is an associate reporter for MLB.com. This story was not subject to the approval of Major League Baseball or its clubs.