Rare command issues plague Gallardo
Of Rangers righty's 93 pitches, only 48 were strikes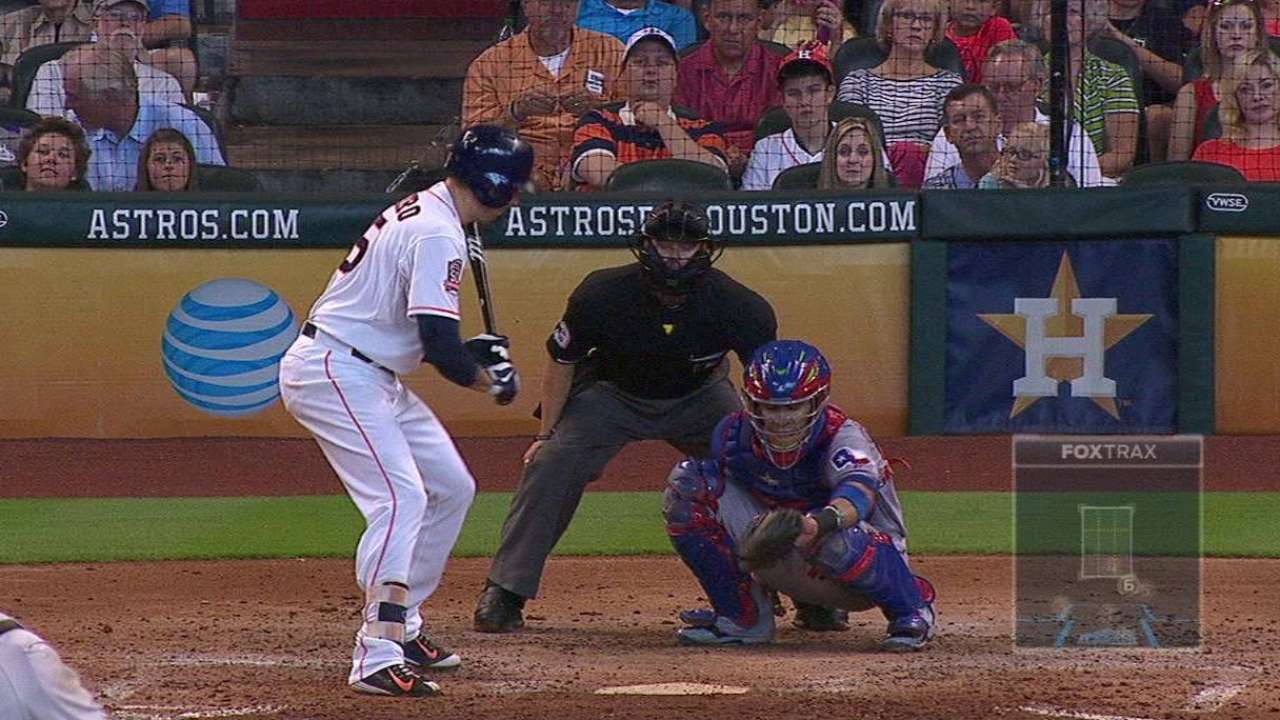 HOUSTON -- Rangers starter Yovani Gallardo faced 22 batters Sunday and was behind 1-0 in the count on 12 of them. That's 54 percent of the time. His season-long ratio of falling behind 1-0 in the count is 37 percent.
That's one tangible sign that something was off with Gallardo in a 10-0 loss to the Astros on Sunday afternoon. Another sign was 93 pitches thrown and only 48 strikes. By comparison, Astros starter Dallas Keuchel threw 102 pitches, and 65 were strikes.
The Rangers tried hard not to point the finger at an inconsistent strike zone from home-plate umpire Will Little.
"I really feel for a guy like Yovani, who is a strike thrower and always will be a strike thrower, you look up at the board and it's 50-50 as far as balls and strikes," manager Jeff Banister said. "I felt like some pitches on the edge, he didn't get. That was a little bit of the story for him. He couldn't find the range and fell behind. That is unusual for Yovani. He usually pitches ahead."
Gallardo lasted just four-plus innings and allowed five runs on seven hits and three walks. He also gave up a home run to end a streak of 65 homerless innings. It was the second-longest such streak in the Majors.
"It's the first time I've felt like that in a long time," Gallardo said. "My command wasn't there. My slider wasn't there. I've had a good curveball the last few starts, but I wasn't able to command it. Even though you don't have command, you still have to go out and make pitches."
So was Gallardo getting "squeezed" in the strike zone?
"I'm not saying that," Banister said. "There were pitches thrown on the edge and he didn't find the range he wanted. That's where he is at. A guy who throws on the edge and is usually precise, he didn't quite get it."
Gallardo blamed himself.
"I thought some pitches were close," he said. "I can't let the certain calls that don't go my way affect the way I'm pitching. I was falling behind in the counts, and when you do that against a team like that, they are going to do damage."
Catcher Robinson Chirinos was the only one who strongly hinted about the inconsistent strike zone.
"When you see so many complaints, you question if he is calling the right pitch," Chirinos said. "But he's human. He is trying to do his best. It happens."
Gallardo started the day with two scoreless innings. That gave him 24 1/3 consecutive scoreless innings on the road, the third-longest such streak in club history. But he fell way short of Gaylord Perry's record of 40 set in 1977.
Gallardo's streak came to an end in the third when Preston Tucker doubled with one out and scored on a single by Carlos Correa. Colby Rasmus followed with a two-run home run to give the Astros a 3-0 lead and end Gallardo's homerless streak.
The Astros scored two more off Gallardo in the fifth. The five earned runs were the most he has allowed in a start this season.
T.R. Sullivan is a reporter for MLB.com. Read his blog, Postcards from Elysian Fields, follow him on Twitter @Sullivan_Ranger and listen to his podcast. This story was not subject to the approval of Major League Baseball or its clubs.