Haren guts out six innings in sweltering heat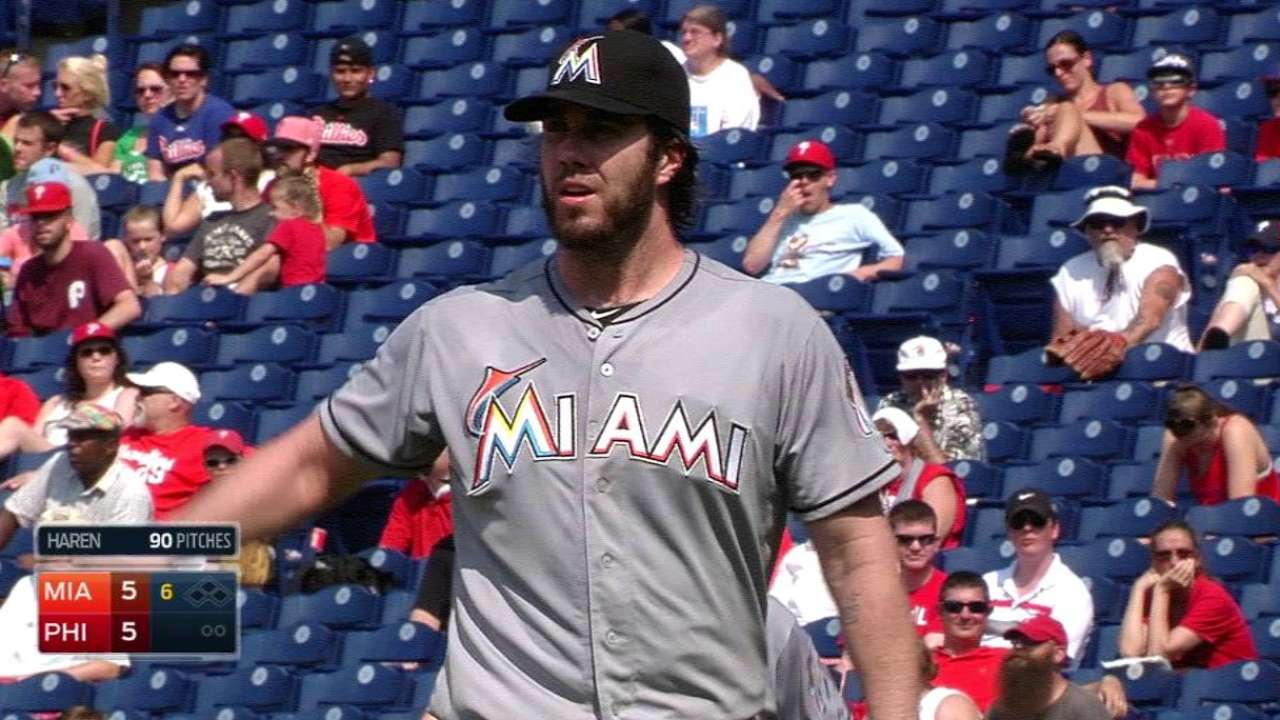 PHILADELPHIA -- Marlins right-hander Dan Haren has made 367 MLB starts and appeared in 378 games, but the veteran can't remember too many outings where he's pitched in as scorching conditions as Citizens Bank Park on Sunday.
On a sweltering afternoon, Haren turned in one of his gutsiest performances, overcoming a five-run second and working six innings in the Marlins' 8-7 loss to the Phillies.
"That's one of the hottest I've ever played in," the 34-year-old said. "It was unhealthy out there."
The temperature was 93 degrees at first pitch, but as the game progressed, Haren heard the readings on the field were more like 106. Between innings, he repeatedly changed his undershirt, and said his feet felt like they were on fire when he removed his cleats.
Haren and Phillies lefty Cole Hamels were both tested by the elements and the offenses. In the second inning, Haren gave up five runs, including home runs to Ryan Howard and Freddy Galvis. He labored through 28 pitches, facing nine batters.
Brad Hand was warming up in the bullpen as Haren got out of the frame. From that point, Haren threw four scoreless innings, and exited the game after the sixth with the score tied at 5.
Hamels was done after three innings and five runs.
"I tip my hat to Haren," Miami manager Dan Jennings said. "That's just a gutty performance on a very hot day. He just grinded his way through six innings and put up zeros after that one five-run inning."
Haren wasn't sure he could make it through two innings, let alone six.
"I was thinking, 'Just get to five and save the bullpen,'" Haren said. "You don't want the bullpen to throw that many innings. Then I got through the fifth. I felt OK, my pitch count was low. It was the bottom of the lineup. It wasn't like I had to go through them a fourth time."
Haren, a free agent after the season, has been the subject of trade speculation. His ability to endure in spite of the elements enhanced his reputation as a competitor.
"He's got mental toughness," Jennings said. "He was not going to come out of that game. He was going to give us everything he had, and he did that."
Haren pointed out that the catchers and umpires also were in tough spots.
"It was nasty -- for the umpires, catchers. It was almost dangerous," he said. "I changed jerseys. I changed undershirts every inning. Threw a short bullpen before the game and tried to relax a little bit. It was just so hot, and a little humid too. It was hard to breathe sometimes."
Joe Frisaro is a reporter for MLB.com. He writes a blog, called The Fish Pond. Follow him on Twitter @JoeFrisaro and listen to his podcast. This story was not subject to the approval of Major League Baseball or its clubs.