MLB.com Columnist
Phil Rogers
Lester leads list of potential second-half difference-makers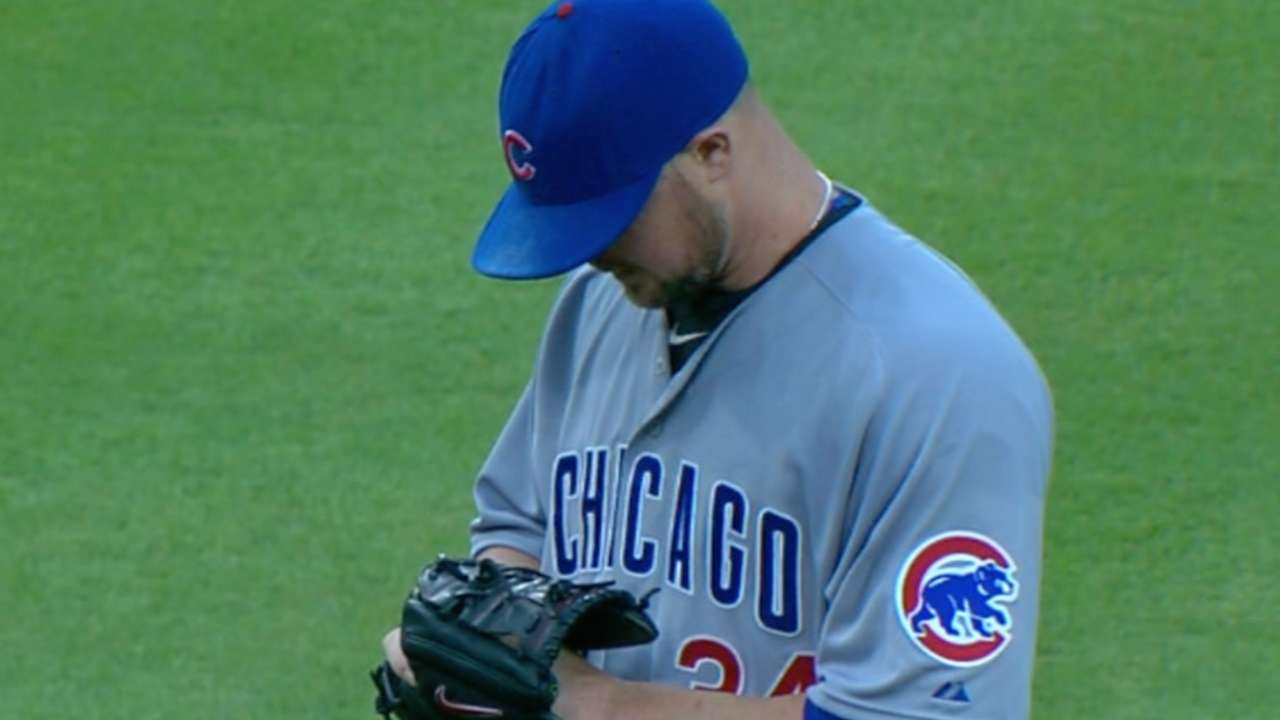 As disappointed as Cubs pitcher Jon Lester was about an inconsistent performance in the first half of the season, he knew he didn't need an overhaul over the All-Star break.
"I'm not really worried about it," Lester said before adjourning last weekend with a 4-8 record and 3.59 ERA in 18 starts. "I just have to worry about my next start day. I don't have to worry about getting on a roll, anything like that. I feel I'm throwing the ball pretty well. I'm just going to worry about my next start and prepare for that."
Lester dominated the Braves on Saturday night in Atlanta, showing how well he knows himself. He worked 7 1/3 innings of a 4-0 victory, allowing only two hits.
Helped by a reversed scoring call, Lester took a no-hitter into the eighth inning. It marked the second time in his past three starts he held his opponent without a hit through six innings, but he has only bad memories from a 6-0 loss to the Cardinals on July 6, when the game blew up on him and the Cubs after he left pitches up in the strike zone to Jhonny Peralta, Jason Heyward and Yadier Molina.
Lester followed that disappointment by losing to the White Sox 5-1 last Saturday, again pitching well but not getting the outs he needed the most. He rarely goes back over video after a game, but he did that afternoon at Wrigley Field, and he was shaking his head afterward. Lester saw only three pitches he'd like to change.
"Somehow I make three mistakes and give up five runs, with no walks," Lester said. "It was a tough one."
While the Cubs finished the first half 47-40 and positioned for the National League's second Wild Card spot, they were 9-9 in Lester's starts.
"I think there's some good in there, but there's some bad," said Lester, who is in the first year of a six-year, $155 million contract. "There's some really good. There's a little bit of everything. I'll be the first one to tell you I haven't thrown the ball the best I've been able to in the past. Had some spurts here and there, but I feel like I had a really good May, had a terrible June. But I feel like I've been OK since then -- OK to the point that I look up at the stats and wonder what's going on. But it is what it is at the end of the day. You can't give up more than the other guy, and I've been doing that."
Lester didn't on Saturday, and since hitting the middle years of his career, he's developed a habit of finishing off seasons. Witness his 7-2 record with a 2.57 ERA in the second half in 2013 and his 7-4 mark with a 2.18 ERA in the second half in 2014.
If Lester delivers like that the rest of the way, this could be a magical season at Wrigley Field. He's not alone in having the potential to make a major impact in playoff races, of course. Here are some other guys who can be difference-makers if they bounce back from surprisingly unproductive first halves:
Chris Tillman, Orioles
Buck Showalter's starting rotation was a key to Baltimore winning 96 games last year. Despite the lack of a big-ticket starter, the Orioles' rotation had a 3.61 ERA, which ranked fifth in the American League. It was sitting at 4.22 through Saturday, good for 10th this time around. Tillman, the Opening Day starter, has been a big part of the difference, but he was terrific on Saturday, blowing away the Miguel Cabrera-less Tigers for eight shutout, one-hit innings that got his ERA below five. He retired the last 23 hitters, providing a huge lift for a team trying to reassert itself in the AL East. "That's one," Tillman said. "I got a lot more to go."
Yasiel Puig, Dodgers
Almost 300 games into his big league career, Puig still mystifies his team and polarizes opponents and scouts. His ceiling is obvious, but his OPS has been in decline through 2014 and '15, and it sometimes seems he's as confused as anyone about whether he should continue to play with the flair he had upon arrival at Dodger Stadium or conform to old-school standards. It wouldn't be a shock if the Dodgers traded Puig -- this is speculation only, but what about to the White Sox for starter Jose Quintana? -- but if he stays put, he needs to rediscover his power, as he's hit just one homer since June 10.
Ben Zobrist, Athletics
At 34 and in the last year of his contract, Zobrist will be in demand at the July 31 non-waiver Trade Deadline. But underneath the trade rumors is the rarely mentioned reality that he has not been nearly as valuable this season as in previous years. Zobrist's versatility and fielding skills always show up well in WAR rankings (an average of 6.3 rWAR the past six years), but he's looking like a one-win player after being traded from the Rays to the A's. The Cubs' Joe Maddon might be one manager able to snap him out of the funk but scouts point to Zobrist losing a step.
Mark Trumbo and Mike Zunino, Mariners
Sure, Robinson Cano is the guy who has received the most attention, but the lack of production in Seattle cuts far deeper. General manager Jack Zduriencik hoped Trumbo would be a quick fix after he arrived in a June 3 trade, but he produced a .570 OPS in his first 115 plate appearances. Zunino has nine home runs, but he can't even see the proverbial Mendoza line from where he stands.
Anibal Sanchez, Tigers
With Max Scherzer having departed and Justin Verlander unable to find the Fountain of Youth, Dave Dombrowski counted on David Price and Sanchez to lead a rebuilt rotation that includes imports Alfredo Simon and Shane Greene. Sanchez led the AL with a 2.57 ERA in 2013, but he has a 4.55 mark through 19 starts, about average for Detroit's rotation, which ranks 14th in the AL in ERA.
David Ortiz, Red Sox
With his 40th birthday approaching in November, Big Papi probably is what you see on a daily basis. If a pitcher makes a mistake, he can still kill it, but the guy who terrorized the Cardinals in the 2013 World Series seems to be gone. Ortiz's batting average has dropped for the third year in a row and his OPS is below .800 for only the second time in his 13 seasons in Boston. If he's got one more tear in him, this would be a good time to start it.
Melky Cabrera, Adam LaRoche and Adam Eaton, White Sox
Chris Sale leads a rotation that could do great things in September, maybe even October, but the offseason lineup "upgrade" isn't paying off. Cabrera, LaRoche and Eaton (a holdover freshly signed to a five-year contract) combined for 11.3 rWAR last season, but they currently are at only 1.6. One good sign is that Cabrera has started hitting, as he usually does in July (.326 career, the highest in July among active players). It wouldn't be a shock if LaRoche was traded to one of the contenders needing more production out of first base, like the Pirates, Cardinals and Astros.
Ian Desmond, Nationals
Free agency beckons. But after three consecutive 20-20 seasons, the stats that Desmond is piling up are strikeouts and errors. He's historically been a second-half player, putting up a career post-ASG OPS of .766 compared to .708 before the break. But Desmond hit .161 in June and has been even worse in July, so a turnaround would essentially come out of nowhere if he pulled one off.
Also worth consideration for this list: J.J. Hardy, Orioles; Dexter Fowler, Cubs; Matt Kemp, Padres; CC Sabathia, Yankees; R.A. Dickey, Blue Jays; Matt Shoemaker, Angels; Jose Reyes, Blue Jays; and Yan Gomes, Indians.
Phil Rogers is a columnist for MLB.com. This story was not subject to the approval of Major League Baseball or its clubs.