Duffy's clutch outing gives bullpen a breather
Over eight-plus innings, Royals lefty allows one run to clinch series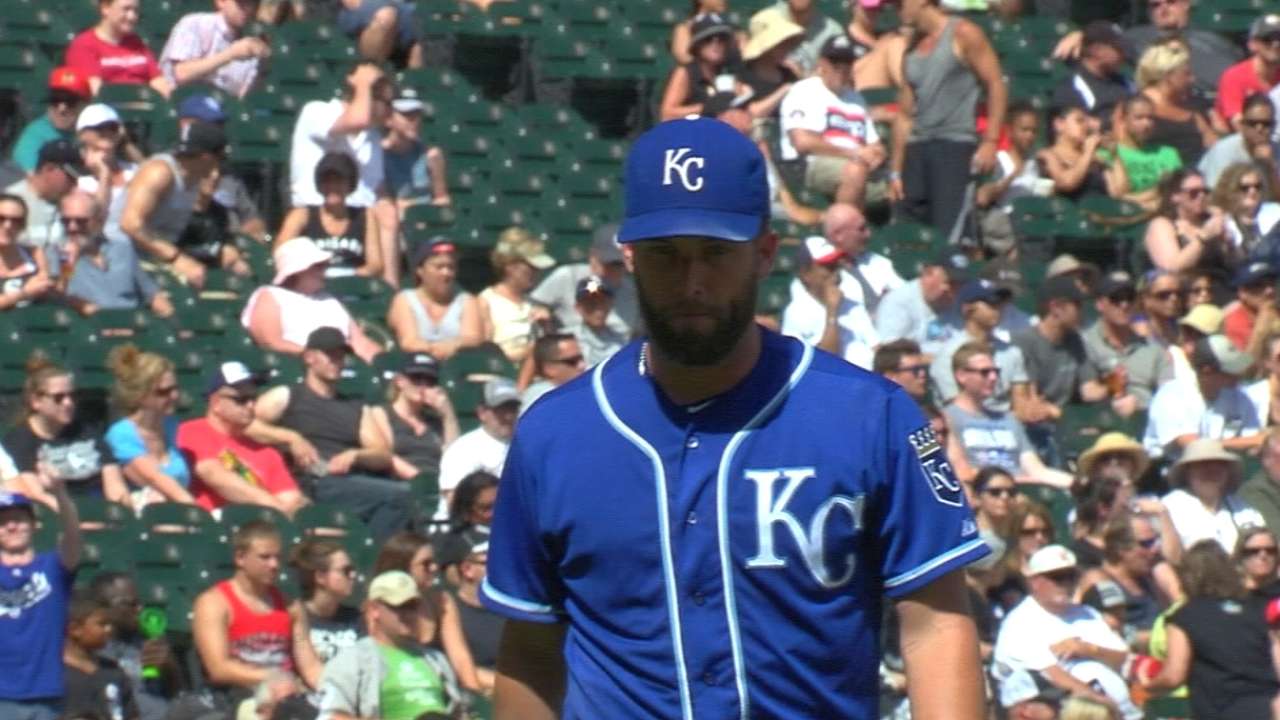 CHICAGO -- Danny Duffy knew his bullpen needed him to extend deep on Sunday against the White Sox to give his team a chance to rest after playing more than 30 innings of baseball in the last two days. He had been in this situation before, aware he needed to stay in the game.
But this time, he didn't let that thought linger in his head. And this time, it paid off in the Royals' 4-1 victory.
Duffy threw a career-high eight-plus innings, allowing one run on six hits while striking out four batters. In his fifth quality start of the season and third straight, Duffy worked efficiently without losing command.
"I've thought about how bad we've needed an efficient start before, and I tried to pitch to that so much that I overdid it, I guess you could say," Duffy said. "But today, I just tried to execute. I'm finally starting to learn that when you have the best defense in the league behind you, all you've got to do is execute."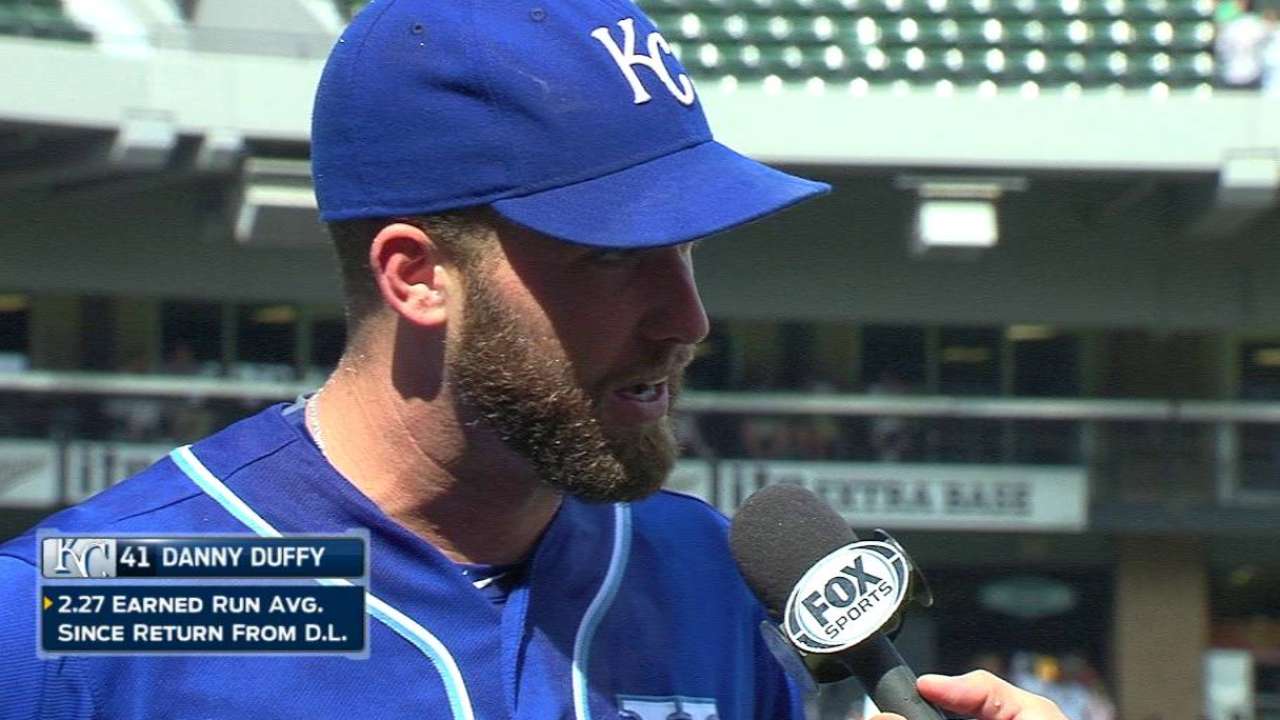 Having missed more than a month between May and June, Duffy was in the bottom 10 of Major League starters in walks per nine innings. Sunday, he walked just one batter, otherwise keeping balls on the ground.
Duffy's defense did the rest, as the double-play combo of Omar Infante and Alcides Escobar -- as well as first baseman Eric Hosmer's outstanding picking ability -- helped escape jams in the second and seventh innings.
Having used every reliever but one on Saturday, the Royals needed Duffy to keep up with White Sox ace Chris Sale. Duffy had previously seen Chicago twice this season, carrying an ERA north of 4.00 into the game, but this time, Kansas City manager Ned Yost said everything was working for him.
"We needed him to stand up today, big time, and he did," Yost said. "You want to go as deep into the game as you possibly can. For him to get us through eight innings without giving up a run was unbelievable."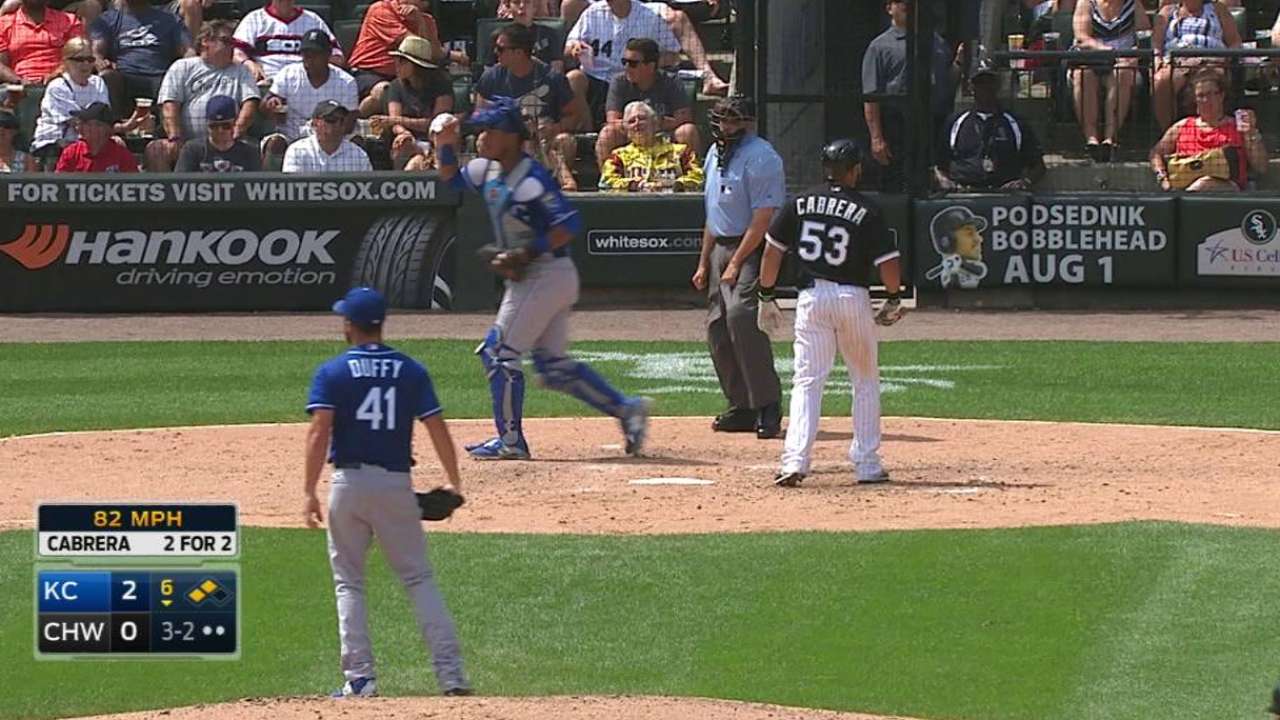 Duffy's only hiccup came when he allowed a home run to lead off the ninth inning. By then, Duffy began to labor, throwing his warmup pitches above catcher Salvador Perez's head. He left one up for White Sox third baseman Tyler Saladino, who homered, and after he tied a season high with 113 pitches, he was done.
"I tried to get out of the dugout as fast as I could," Duffy said. "I knew my pitch count was getting up there. But quite honestly, I appreciate Ned and [pitching coach] Dave [Eiland] giving me the opportunity to go back out there, having the confidence in me to finish the job."
Duffy had never worked more than seven innings this season until Sunday, having struggled before his injury to extend late into games. The last stretch of games has been some of his best work this season, giving up a combined three runs across 22 1/3 innings.
As the Royals balance their starting rotation, Duffy is not worrying about being perfect every game. This time, he's keeping it simple.
"I put a lot of pressure on myself early in the year to try and be that person and fill that void," Duffy said. "I'm not trying to do too much anymore."
Greg Garno is an associate reporter for MLB.com. This story was not subject to the approval of Major League Baseball or its clubs.