Giants soaring on offense without much power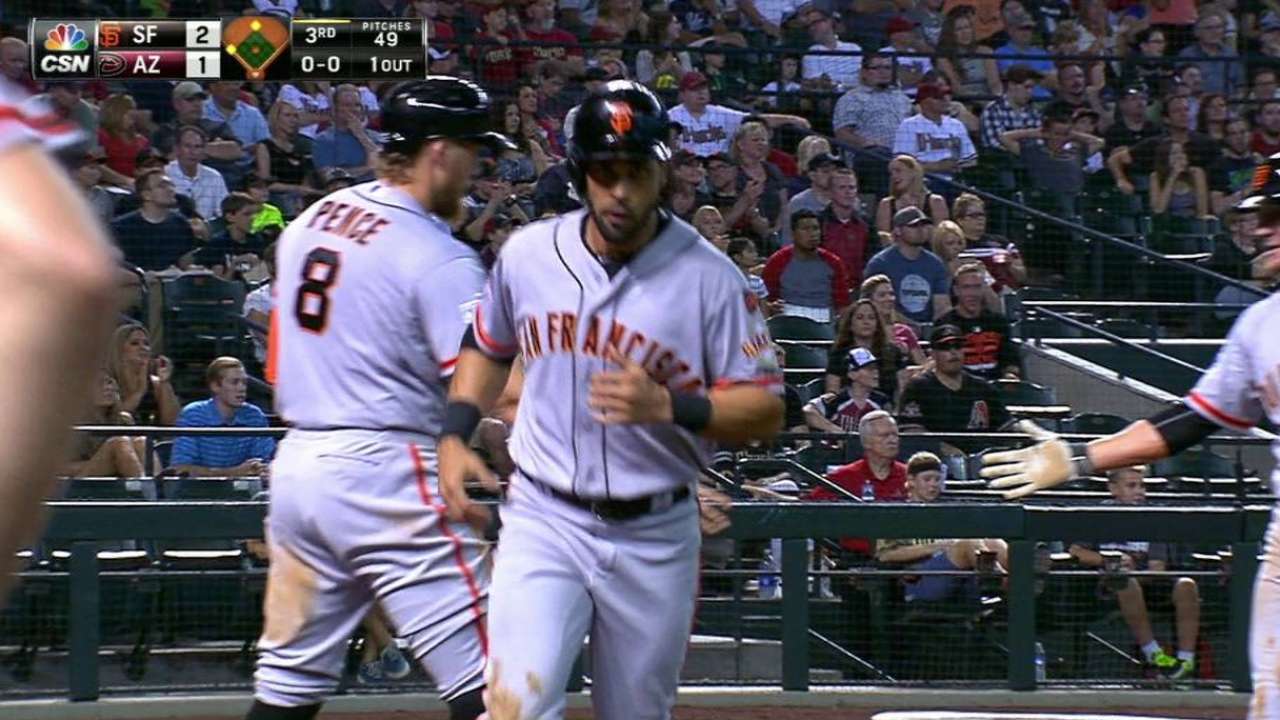 PHOENIX -- As their pitching goes, so usually go the Giants, but San Francisco headed into action Sunday against the D-backs at Chase Field near or at the top of the National League in a number of offensive categories.
They led the NL with a .273 team batting average and a .330 on-base percentage, they were third with a .407 slugging percentage and a .737 OPS, a stat that combines slugging and on-base percentage. Additionally, they were third with 391 runs scored and fourth with 369 RBIs.
For a team that is 11th with 72 home runs, that's a lot of run production built on a number of component parts.
"Yeah, we're getting our hits," Giants manager Bruce Bochy said after his club pounded out 14 hits, 13 of them singles, in an 8-4 win over Arizona on Saturday night, its fifth victory in a row. "[Joe] Panik is up there, [Buster] Posey. [Matt] Duffy missed some time, but he's climbing up there.
"[This] is kind of who we are. We're not a power-hitting club, but we're a team that needs to execute, get on base and find a way to get them in."
Posey had four RBIs on three singles from the cleanup spot Saturday night, but to Bochy's point, the three hitters ahead of him -- Angel Pagan, Panik and Duffy -- certainly set the table. The trio was 7-for-12 and reached base nine times. Pagan drove in a run with a sacrifice fly.
Down further in the lineup, Brandon Crawford has also had a productive series as the Giants knocked out 30 hits to win the first two games. The All-Star shortstop had four hits and three RBIs in those games. Hunter Pence, who hits in the fifth slot behind Posey, had a single, double and tying two-run homer in a game the Giants won, 6-5, in 12 innings Friday night.
Posey, the starting All-Star catcher, entered Sunday batting .318 with 14 homers and 63 RBIs, pacing the team in all three categories.
"He's a good hitter," Bochy said, stating the obvious about the .310 lifetime hitter. "Guys like him do this, as you know."
Barry M. Bloom is a national reporter for MLB.com and writes an MLBlog, Boomskie on Baseball. Follow @boomskie on Twitter. This story was not subject to the approval of Major League Baseball or its clubs.