Sticking to routine keeps Barnes focused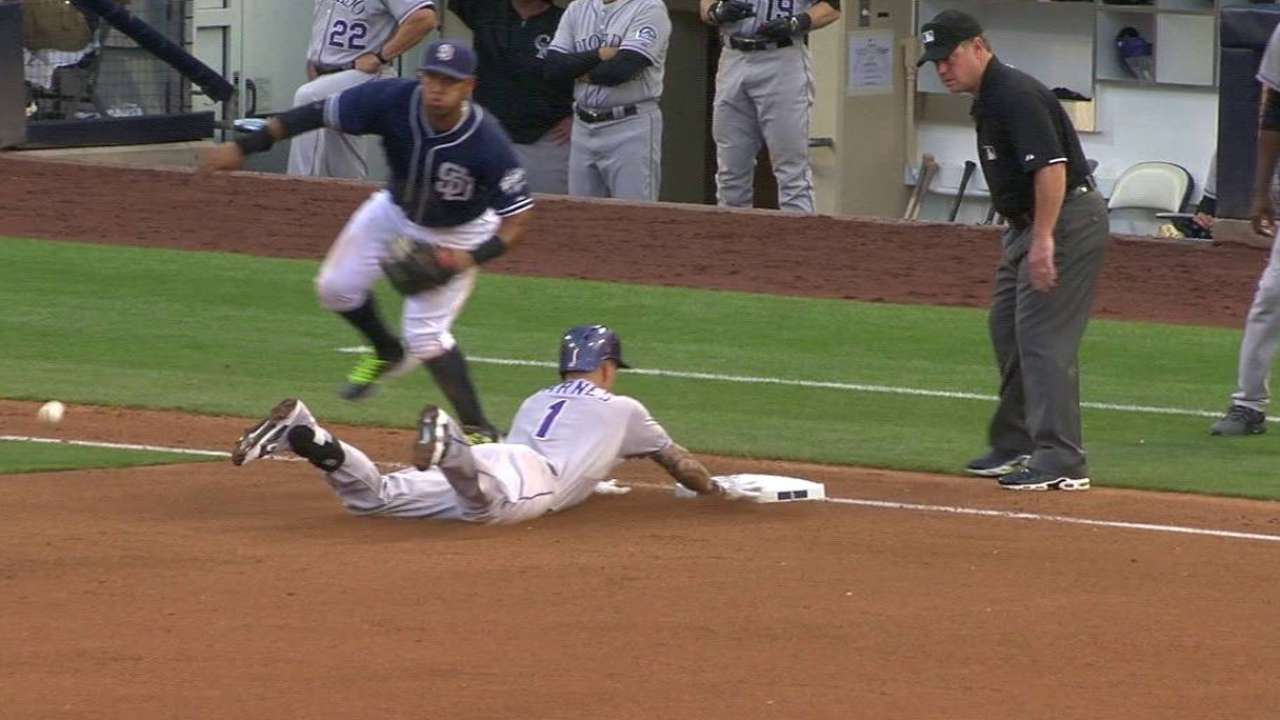 SAN DIEGO -- In a sport with a 162 games, baseball players know all too well the reality of the highs and lows that can occur throughout their careers.
For outfielder Brandon Barnes, sticking to a specific routine has been the key to him staying focused.
The routine is a series of steps that never changes order, from his meal to watching film and practicing in the batting cage.
"I just try to maintain [the routine] on a daily basis, every single day to stay consistent," Barnes said.
The 29-year-old has been solid so far in July, with 11 hits and four runs scored in 33 at-bats. His batting average for the month stands at .333 entering Sunday's game against the Padres. In Saturday's 5-4 loss against the Padres, Barnes went 3-for-4 with an RBI triple.
Barnes said that this year is the only year he has had a consistent and solid routine.
"I have always been a guy that has had ADD, so I'm always been kind of off the wall, so I really had to stick to one routine and it's paid off well," Barnes said. "I needed to do something to better myself, to find a way to get better."
He also added that watching fellow teammates like Troy Tulowitzki, Carlos Gonzalez and Nolan Arenado go through their routines has been a help.
"These guys have strict routines and they're confident when they stay in their routine," Barnes said. "I wanted to be confident every day I went out there, so I felt like being with a good routine would help me be a little more confident every single day."
When Barnes was called up on May 20 after the struggling Drew Stubbs was optioned to Triple-A Albuquerque, manager Walt Weiss said Barnes' energy was something he could bring to the team.
"I grew up a football player. So I have that football mentality of going a 100 miles an hour every second," Barnes said. "So I have had to tone it back a little bit. I love playing the game and being that guy that brings the energy and is loud and picks up my energy and picks up my teammates when they are down."
Worth noting
• Manager Walt Wiess said that Corey Dickerson will be with Class A Advanced Modesto on his rehab assignment and believes he is just doing a workout today.
"He is ready to go and he passed all the tests here. We will hopefully be getting back here pretty soon," Weiss said. "It will be a progressive rehab. The way he runs around there, we think he is able to take on some innings."
• When asked about sticking to nine relievers in the bullpen, Weiss said he doesn't think that will continue for too long.
"I think that is a little overkill, so I don't see that as a long term plan," Weiss said.
• The Rockies have an off-day coming up on July 23, but nothing is decided for how that will effect the pitching rotation.
"On the off-day we could go without bringing in another starter," Weiss said. "We will have those conversations you know on what we feel is the best approach here to bring in another guy or give guys an extra day or keep guys on the regular reps that is something we'll talk about."
Beth Maiman is an associate reporter for MLB.com. This story was not subject to the approval of Major League Baseball or its clubs.