Freeman takes to field, cage in wrist rehab
No timetable for return of Braves first baseman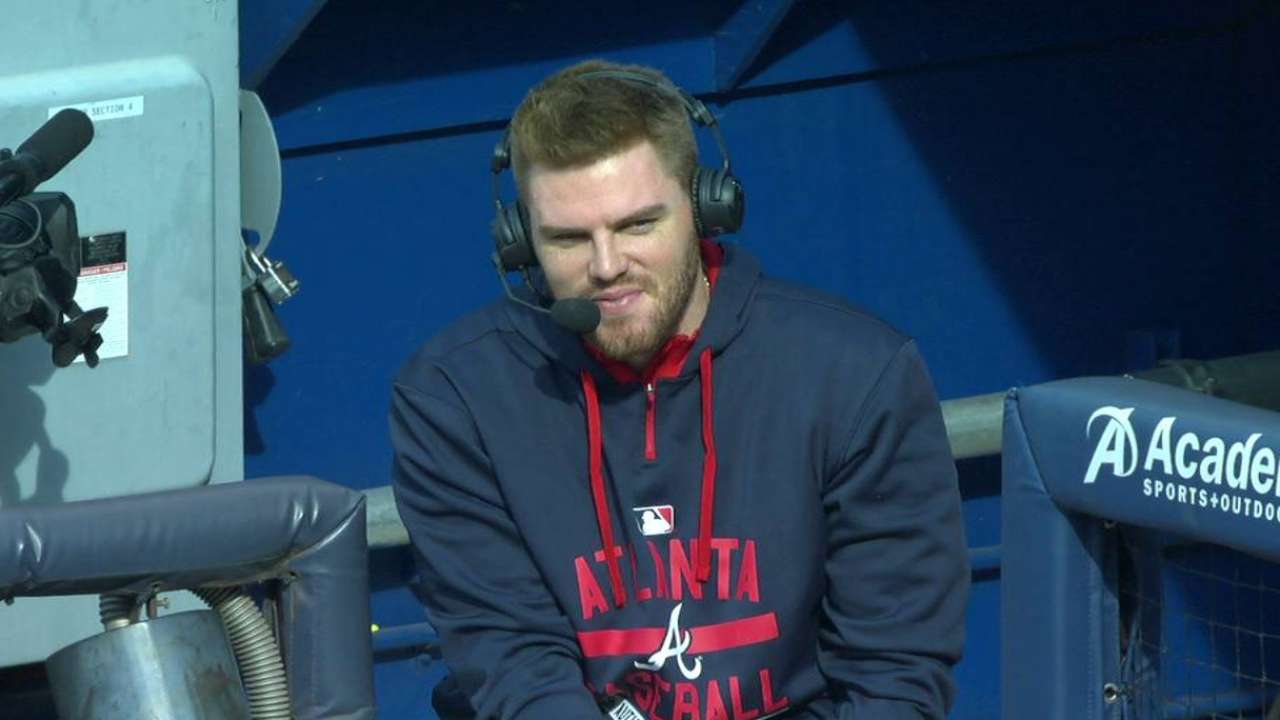 ATLANTA -- Braves first baseman Freddie Freeman threw, handled grounders and took dry swings in the batting cage Sunday -- his first activity in about a month since hitting the disabled list with a right wrist sprain on June 17.
Freeman told reporters that he had an MRI three days ago which revealed fluid in his wrist. The fluid was removed with a needle and Freeman received two cortisone shots.
"I feel pretty good," Freeman said. "I went out today and threw and went into the cage and took about 30 swings; didn't hit any balls, just dry swings. I started off at 50 percent then went to 75. Didn't get to 100, but I got close to 100."
Freeman said he would be reevaluated again Sunday night and monitor the swelling in his wrist and hand Monday.
"The pain is gone, " Freeman said, "so right now it's just sore and achy, obviously, because I haven't done anything for a month. But you know I think we are on the right track and keep taking it day by day.
"I think maybe tomorrow I'll be able to get to 100 percent, depending on how my hand feels, but today it's a step in the right direction."
Freeman had missed 25 games entering Sunday and the Braves have gone 11-14 during that stretch, while scoring the second-fewest runs in the Major Leagues (68) -- only the Mets have scored fewer.
"It's killing me," Freeman said about not being able to help out his teammates. "I tried to tell them today, I don't need any rehab games or anything like that, but I have to take it slow.
"Obviously I would love to tell you guys I'll be back on this specific date, but you just don't know. ... If all goes well, obviously I'm going to push the envelope, but the training staff and the doctors and obviously the Johns up in the front office [don't want that], but I'm going to do my best to get back as soon as I possibly can."
Freeman hit .299 with an .887 OPS and 12 home runs (which still leads the team) in 66 games this season.
Carlos Collazo is an associate reporter for MLB.com. This story was not subject to the approval of Major League Baseball or its clubs.