Castellanos takes shot to left cheekbone
Tigers third baseman listed day to day after X-rays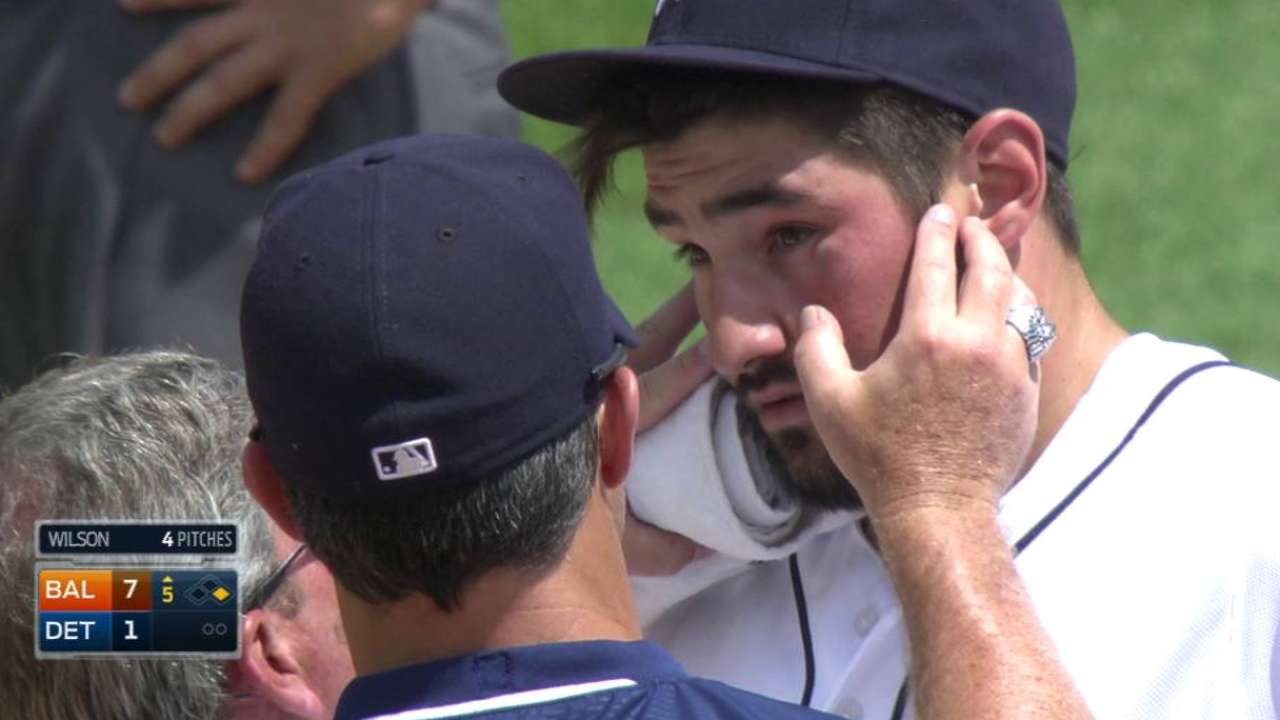 DETROIT -- Following Ian Kinsler's ejection in the third inning of Sunday's game against the Orioles, Tigers utility infielder Andrew Romine was forced to move from third base to second. Regular starter Nick Castellanos, Romine's replacement at the hot corner, didn't last long.
Castellanos was hit in the right hand and his face by a sharp ground ball off the bat of Adam Jones to lead off the fifth inning. Upon being impacted near his left eye, Castellanos briefly remained face down on the infield dirt and was immediately tended to by trainers before exiting the game, a 9-3 loss for Detroit.
Castellanos, who said his vision was "spotty" after the play, was diagnosed with a left cheekbone contusion. X-rays were negative, and the third baseman is day to day.
"Today definitely wasn't one of my favorite days at the yard, that's for sure," he said.
Though Detroit's immediate concern was a possible head injury to Castellanos, the third baseman said his vision has normalized and that he feels OK. Whether or not he plays Monday could depend more on how his hand recovers from absorbing the initial blow.
"It's kind of a blur," Castellanos said. "The only thing I remember is getting down for the ground ball and then like, 'Oh crap' [and] trying to put my hand up. I remember it hitting my hand and then off my face."
Castellanos, who did not make a plate appearance Sunday, was hitting .239.
Jefry Marte, who was called up from Triple-A Toledo on July 4 as a backup first baseman when Miguel Cabrera was placed on the disabled list with a calf strain, assumed duties at third base. Marte has played in three games at first with the Tigers this season, though he's a third baseman by trade. He drew a one-out walk in the fifth inning during his first at-bat of the afternoon and added a run-scoring single in the eighth.
Alejandro Zúñiga is an associate reporter for MLB.com. This story was not subject to the approval of Major League Baseball or its clubs.