Rookie Sano out 3-5 days with ankle injury
Molitor optimistic DH can avoid disabled list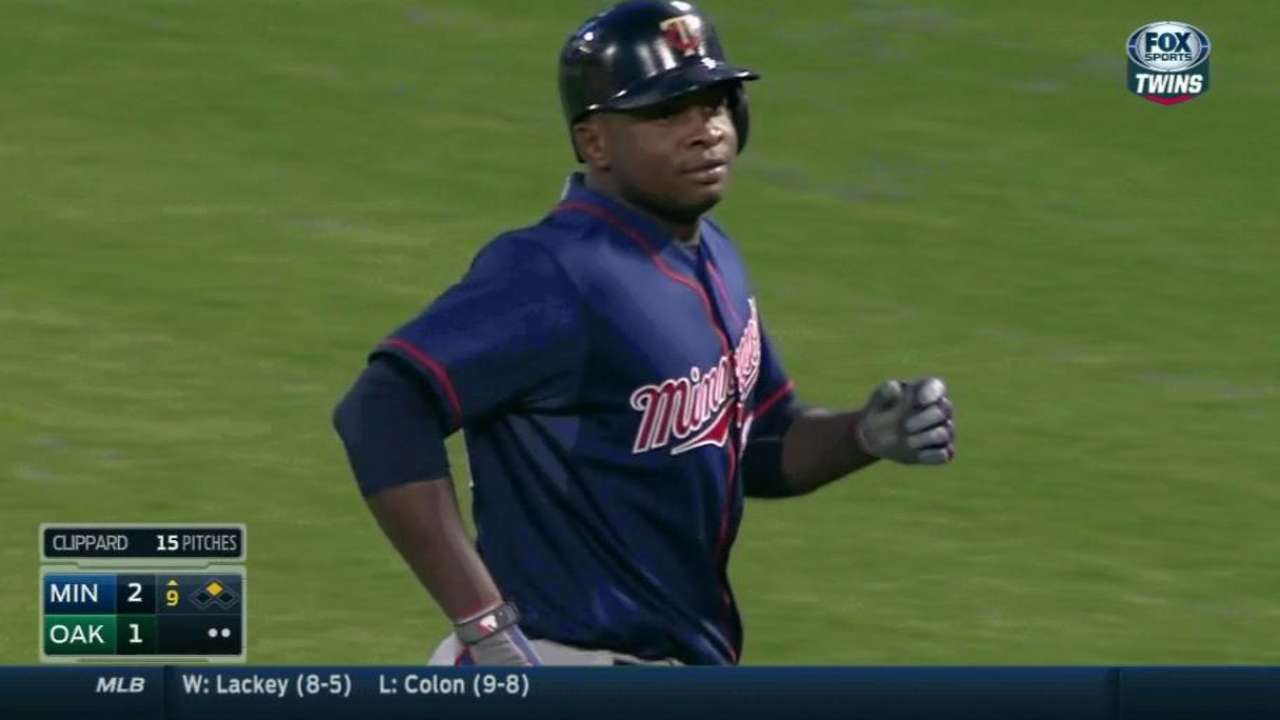 OAKLAND -- Twins rookie designated hitter Miguel Sano was held out of the lineup with a sore right ankle on Sunday, and is expected to be out for at least the next three to five days with the injury.
Sano, who has been a major part of the offense since being called up on July 2, injured his ankle while taking grounders at first base during batting practice before Saturday's 3-2 loss to the A's. Sano played in the game, going 0-for-3 with a go-ahead sacrifice fly in his final at-bat in the ninth. The injury worsened for Sano as the game went along, and he said he felt it the most while running to first base on his sacrifice fly.
He was given crutches after the game as a precaution and entered the clubhouse on crutches again on Sunday, but it was just to keep the weight off his ankle, according to Twins manager Paul Molitor, who added it was more of a rolled ankle than a sprain.
"We're going to give him today obviously and see how he responds with an off-day tomorrow," Molitor said. "We'll re-evaluate when we regroup on Tuesday. The trainers don't really have a gut [feeling]. But we don't think it's too severe. My guess is 3-5 [days], but I don't have the medical background."
Sano said he suffered the injury while stepping on a ball at first base, as he didn't see the ball behind him after it hit off the protective screen. He said he also thinks he'll only be out for a few days, but will stay away from hitting on Sunday.
"It's not too bad today," Sano said. "But I tried walking and the pain was a little bit. But I went to the training room, and I felt normal."
The good news for Sano is that there was only minor swelling on Sunday, and it's not severe enough for the Twins to have him undergo an MRI exam.
"There's obviously some tenderness and having a little bit of difficulty putting weight on it right now," Molitor said. "There's some minor swelling. So that can be encouraging, but also be a little misleading. But I don't think there's anything scheduled for tomorrow."
Molitor added that he saw Sano suffer the injury during batting practice, but didn't notice any issues with Sano during the game. It wasn't until he came off the field after his last at-bat that Sano told him his ankle was feeling worse.
Molitor also said that if Sano is only out three to five days, he'll be able to avoid the 15-day disabled list.
"I wouldn't want to get into a DL situation if he's only out a short amount of time," Molitor said. "A lot of it is going to depend on his ability to hit. If it slows him down on the bases a little bit, it wouldn't be the worst thing, but if he has to change his swing to protect it, that wouldn't be too smart for us."
Rhett Bollinger is a reporter for MLB.com. "Read his blog, Bollinger Beat, follow him on Twitter @RhettBollinger and listen to his podcast. This story was not subject to the approval of Major League Baseball or its clubs.