Rehabbing wrist, Myers to start hitting soon
Padres outfielder will start on tee before progressing to batting practice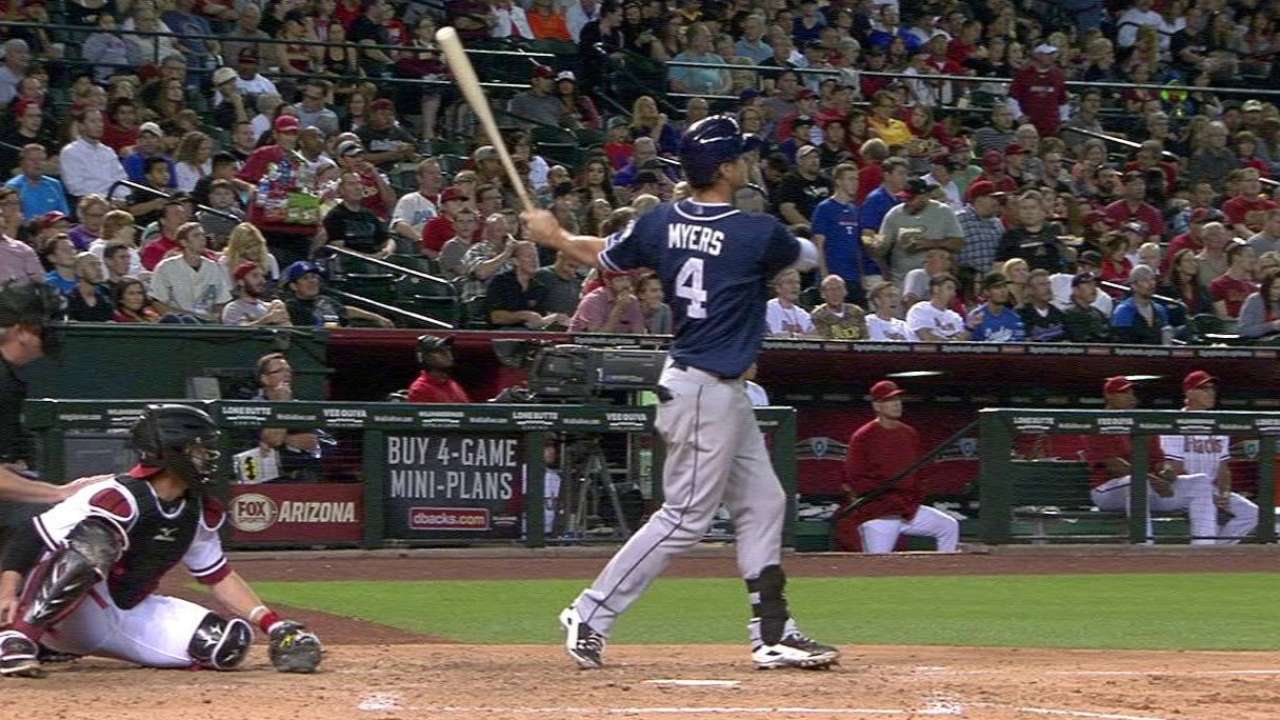 SAN DIEGO -- For as anxious and excited as Wil Myers is to get back in the Padres' lineup, he has vowed to be smart and pragmatic about returning from wrist surgery last month.
"I've had two injuries in my career that I've rushed back from and I haven't performed," Myers said Sunday. "With this one here … I've got to make sure it's ready to go before I get back in a game."
Myers had a sprain and fracture of his right wrist a year ago from which he admits he came back too soon. The same goes for the first of his two disabled list stints this season.
The outfielder/first baseman might not be stuck watching much longer.
Myers, who had surgery last month to remove a bone spur atop his left wrist, will start hitting drills on Friday, hitting off a tee before eventually progressing to taking batting practice.
The hope is that with a Minor League rehabilitation assignment that Myers could return in mid- to late-August. It's a fluid timetable, Myers said, that will be set based on how his wrist feels.
"I don't know how fast the swinging process is going to go. I think it will depend on how I'm feeling the next day," Myers said. "I don't know if it will be five days or 10 days. Once I start swinging, I'll know."
On Sunday, Myers missed his 57th game of the season -- disabled list stints of 28 and 29 games. He was first sidelined with tendonitis in the wrist on May 19. He then returned for three games before landing on the disabled list again because of the wrist.
But the wrist is feeling much better. Myers has been able to field ground balls and take part in baseball activities that don't involve hitting. That will come soon enough, though.
"The wrist is feeling good. I've got some scar tissue I'm dealing with, trying to get out of there," he said. "There's some soreness at the end range if you really crank on it. But other than that, I've got nothing. The strength is coming along."
San Diego interim manager Pat Murphy said that when Myers is ready to rejoin the big league team he'll see time at first base as well as the outfield. He started 29 games in center field this season but looked good in five starts at first base because of the wrist injury in May.
At some point, Myers will eventually land somewhere defensively for good. That remains to be seen, though. Will it be a corner outfield position or maybe first base? Murphy admitted he is a little curious himself.
"He can probably go anywhere he wants if he puts his mind to it," Murphy said. "It's not out of the question that he can play anywhere in the outfield, first [base], third [base]. Those are the favorites.
"But all of them he needs work at, because he's a young player that needs to learn how to become a great defender."
Corey Brock is a reporter for MLB.com. Keep track of @FollowThePadres on Twitter and listen to his podcast. This story was not subject to the approval of Major League Baseball or its clubs.