Mercer's lower left leg injury being evaluated
Shortstop carted off after collision near 2B; Kang to man position for Pirates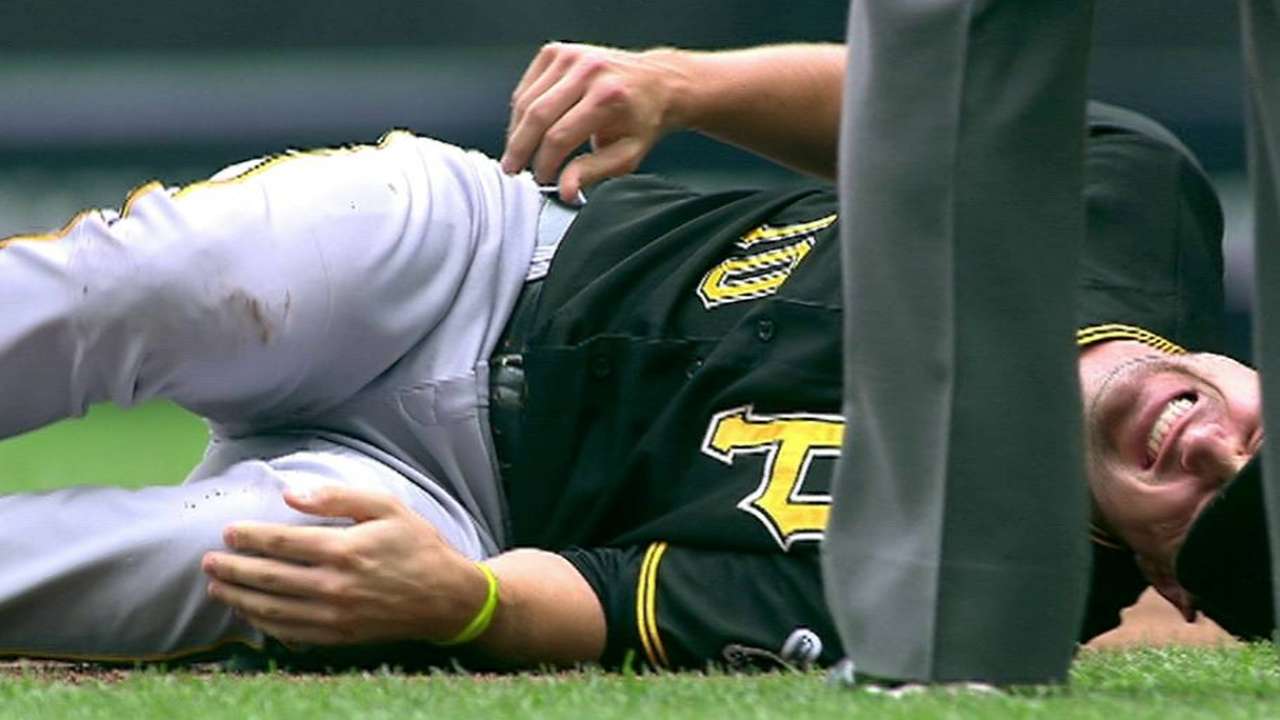 MILWAUKEE -- To a manager and to a man, the Pirates hated losing shortstop Jordy Mercer, possibly to a long-term injury. But they didn't hate Carlos Gomez for the slide that sent Mercer off the Miller Park field atop a cart early in Sunday's game.
Before the Pirates' 6-1 loss was in the books, arrangements had been made for Mercer to return to Pittsburgh, where team doctors will further evaluate the damage done when Gomez, the front victim of a potential double play, took out Mercer's legs as the out-of-position shortstop tried to tag him.
The club's initial announcement referenced a "left lower leg injury." Gomez's right leg appeared to whip into Mercer's left shin.
"I didn't think it was malicious. It may have just looked malicious because he slid short of the bag," said pitcher Jeff Locke, who had the front view of Gomez's scissor-kick slide into Mercer's left lower leg.
"I don't think it was dirty or that he did anything intentionally," said second baseman Neil Walker, who had the rear view. "We all know [Gomez] plays hard."
As such, the players echoed the sentiment of their manager, Clint Hurdle, who even felt that Gomez had followed a basic and common lesson in Baseball 101.
"It's unfortunate when your players get hurt," Hurdle said, "but that's pretty much how you're taught to keep the double play from happening."
With the Pittsburgh infield shifted right against left-handed hitting Adam Lind and Gomez on first in the second inning, Mercer fielded a grounder a few feet to the right of second base. Instead of flipping the ball to Jung Ho Kang covering the bag, Mercer went to tag the onrushing Gomez.
And that decision, which triggered the violent collision, may have been due to the shift placing Mercer in an unfamiliar situation.
"Jordy is not used to being on the right side of the infield, especially in a double-play situation," Walker said. "I was watching to see him flip it, and all of a sudden he went for the tag.
"In talking to him, he said he felt like his only play to turn the double play was to tag and go to first. Jordy felt like [Gomez] was gonna go through and try to get out of the way, but obviously that wasn't the case."
The Milwaukee baserunner lowered into a slide, and with both legs brought Mercer to the ground.
Mercer remained curled up on the ground as Pirates trainers and Hurdle rushed out to check on him. After a few minutes, a cart was waved on the field. Mercer was placed upon it and wheeled away.
The game resumed with Sean Rodriguez taking over at third as Kang shifted to short -- where he will be staying, with Mercer's misfortune fulfilling a desire to play shortstop the former Korean Baseball Organization star had made eight months ago in Seoul before boarding the flight that began his Major League journey.
Mercer goes down as one of the Bucs' hottest recent hitters, having carried an average of .287 since May 1. But Kang has been a .275 hitter all season and a better run producer (30 RBIs in 233 at-bats to 19 in 274 for Mercer).
Of course, depth becomes a bigger problem. Mercer's partner on the left side of the infield, third baseman Josh Harrison, was lost two weeks ago to a broken left-thumb ligament that could keep him out until early September.
Tom Singer is a reporter for MLB.com and writes an MLBlog Change for a Nickel. He can also be found on Twitter @Tom_Singer and on his podcast. This story was not subject to the approval of Major League Baseball or its clubs.