Kinsler ejected after slamming bat on flyout
Tigers lose second baseman in 3rd inning of loss to O's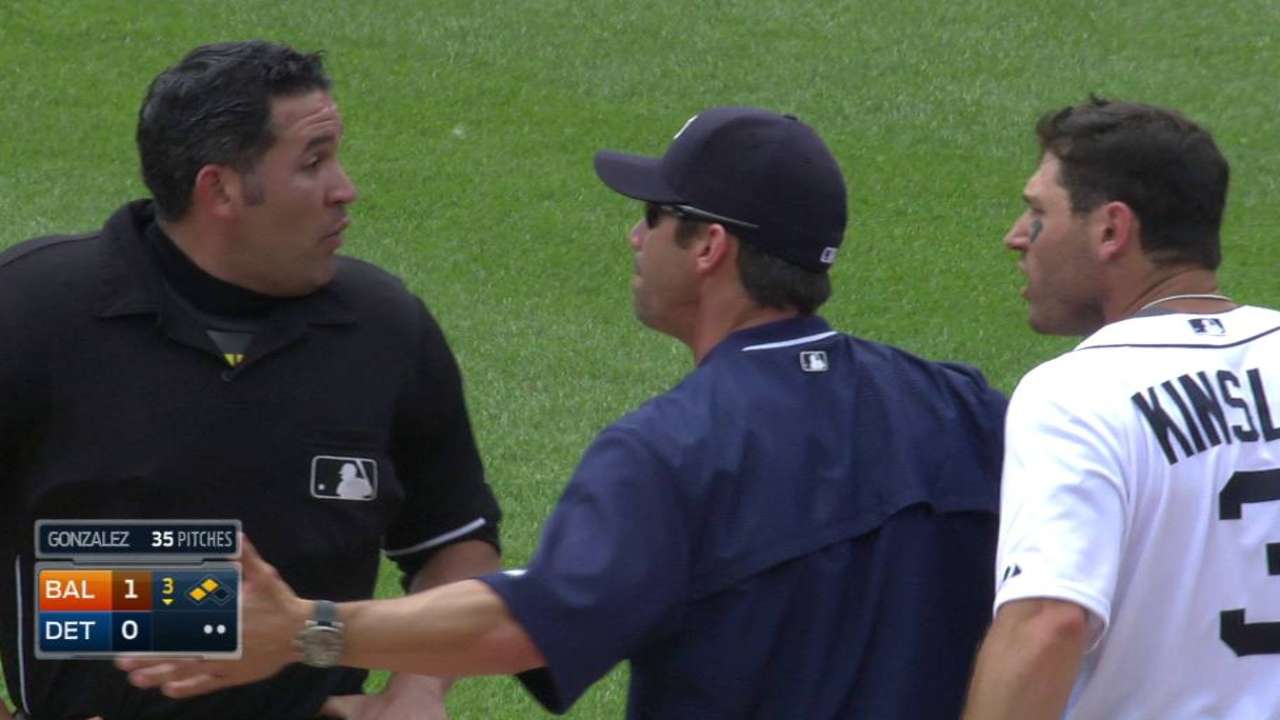 DETROIT -- A day after 26 straight Tigers batters were retired by Orioles pitchers, second baseman Ian Kinsler demonstrated his frustration -- and he was ejected in the process.
After hitting a fly ball with one out and two runners aboard in the third inning of Sunday's 9-3 loss at Comerica Park, Kinsler shattered his bat as he slammed it into the dirt near home plate. Then he tossed the handle back toward the plate while jogging to first.
Home-plate umpire Manny Gonzalez tossed Kinsler as Orioles center fielder Adam Jones completed the play, and Tigers manager Brad Ausmus left the dugout to argue the ejection.
"I thought that [the flyout] was a big moment in the game, and I was upset," Kinsler said. "Broke my bat and threw it, and he must have thought I threw it at him. I don't know how he thought that; I threw it at the ground. And that was it."
It marked Kinsler's eighth career ejection and his first of the year.
According to Kinsler, his disagreement with the umpire began a pitch before the flyout, when the second baseman took issue with a strike call. Gonzalez told the second baseman he had to stay in the batter's box in accordance with the pace-of-play rules.
"I told him, 'I know the rules -- if they want to fine me, they can fine me. Whatever,'" Kinsler said. "'I'll get in the box when I'm ready.'"
Then came the flyout and the ejection, which Kinsler didn't learn of until he had returned to the dugout.
"Well, I have my question as to whether he should've been thrown out, really," Ausmus said. "Maybe you get an equipment fine because you threw your bat. But he was clearly frustrated that he flew out to center in that situation. In my mind, he really shouldn't have been thrown out."
A batter later, Anthony Gose lined a single into center field for Detroit's first run since the fifth inning of Friday's game.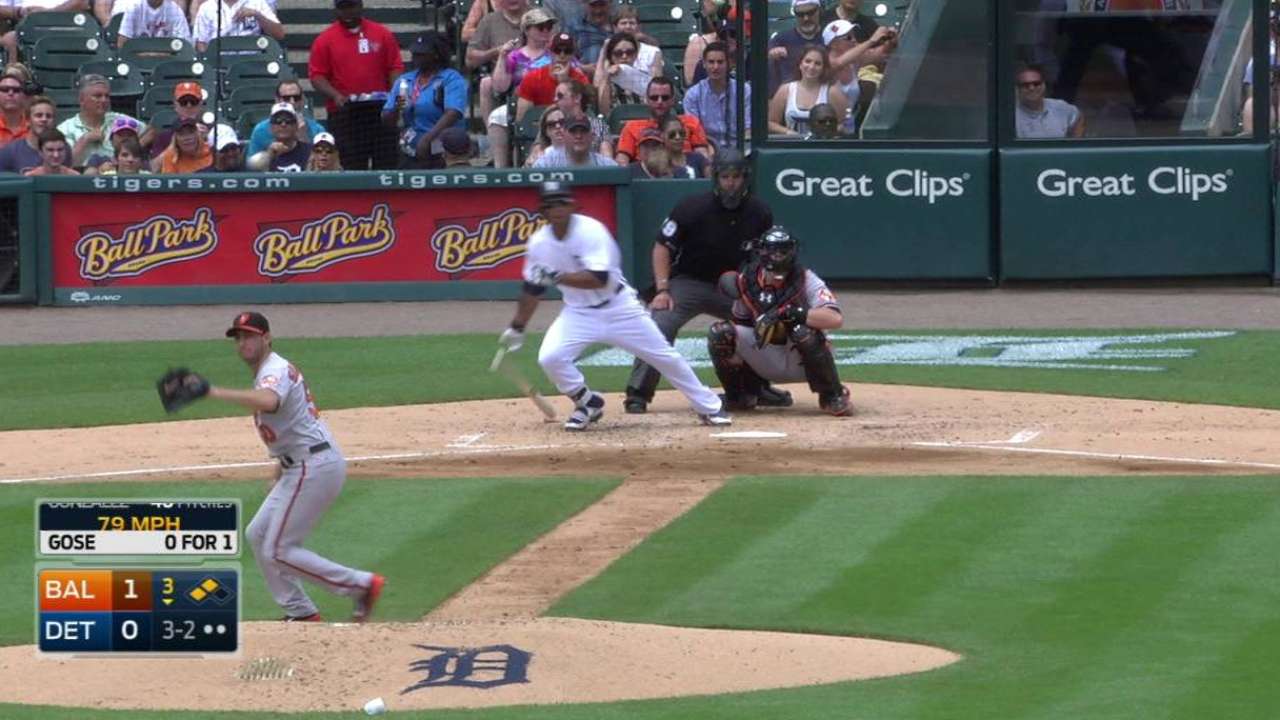 Until first baseman Marc Krauss' infield single in the third, Baltimore pitchers had retired 32 straight Tigers. Right-hander Chris Tillman, Saturday's starter, was responsible for most of them. After yielding a leadoff single to Kinsler and a one-out walk in the first, he didn't allow another baserunner as he tossed eight innings.
In the top of the fourth inning Sunday, utility infielder Andrew Romine moved from third base to second, and Nick Castellanos -- who had a day off -- took over duties at third until the fifth inning, when he left the game upon being hit in the face by a ground ball.
Alejandro Zúñiga is an associate reporter for MLB.com. This story was not subject to the approval of Major League Baseball or its clubs.