Ross extends homerless streak to 15 straight starts, 93 1/3 innings
Kemp's hitting streak reaches seven straight games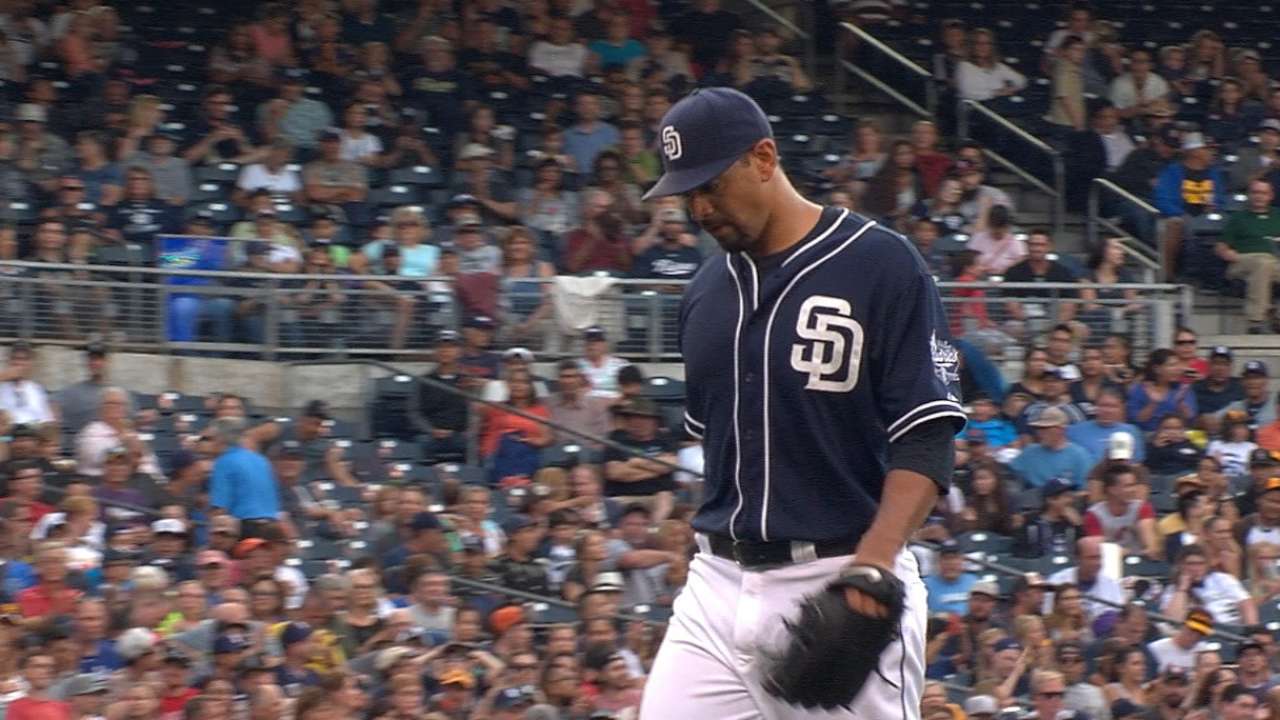 Bill Center, longtime sportswriter for U-T San Diego, is an employee of the Padres.
Tyson Ross tied one Padres record on Saturday and moved closer to another, simply by keeping the baseball inside the barriers of Petco Park.
Ross didn't allow a homer against the Rockies -- and he hasn't allowed a home run since the Astros' Evan Gattis went deep on April 28.
The right-hander has gone 15 straight starts without allowing a home run. That streak equals a Padres record set by Dave Roberts, who also went 15 straight starts without allowing a home run from April 30-July 15, 1971. The homerless streak by the slider specialist is also the longest in the Major Leagues this season.
Ross has also gone 93 1/3 straight innings since Gattis homered. That is the third-longest streak of homerless innings in the history of the Padres. Randy Jones pitched 107 1/3 straight homerless innings in 1978, while John Curtis worked 94 1/3 straight over the 1980-81 seasons.
The right-handed Ross has given up three home runs in 20 starts this year -- allowing a homer in three straight starts in his third, fourth and fifth outings of the season.
Ross has allowed three homers in 117 innings this season -- or 0.23 homers per nine innings.
Two other Padres rank among the National League leaders in home runs allowed. Right-handers James Shields and Ian Kennedy have each allowed 20 homers this season, tying them for the third-most allowed in the National League. Kennedy is allowing homers at a rate of 2.13 per nine innings, while Shields' home run rate is 1.48 per nine innings.
Over his last 15 starts, Ross is 5-5 with a 3.03 ERA. He has won three straight decisions to improve to 6-7, and the Padres are 5-1 over Ross's last six starts. Ross has a 2.23 ERA over those six starts.
FROM THE SCORECARD:
• Right fielder Matt Kemp had a two-run double on Saturday night to extend his hitting streak to a season-best seven straight games. Kemp is 12-for-28 (.429) during the streak -- with four doubles, three home runs and seven RBIs. He now leads the Padres with 50 RBIs and leads the Major Leagues with 23 go-ahead RBIs.
• Closer Craig Kimbrel struck out the side on Saturday night for the second time in his last four outings to pick up his 25th save in 26 opportunities. Kimbrel has been scored upon in only two of his last 20 outings, allowing two runs on 13 hits and nine walks with 29 strikeouts in 19 2/3 innings -- good for a 0.92 ERA over that span. His ERA has fallen from 5.74 to 3.06 since May 25.
• Shortstop Clint Barmes' decisive two-run homer on Saturday night was his third of the season, and his first since June 12. Barmes is hitting .329 (26-for-79) in his last 27 games with a plate appearance since May 29. During the run, Barmes has eight doubles, a triple, two home runs and nine RBIs. He is hitting .308 (16-for-52) at Petco Park this season.
• Infielder/pinch-hitter Brett Wallace has a four-game hitting streak (4-for-10), that includes two pinch-hit singles.
• Catcher Austin Hedges, who has caught Ross in three of the right-hander's last four starts, hit his second homer on Saturday. Hedges is 6-for-27 (.222) since June 16 -- with a double, two homers and three RBIs. Over the same span, regular catcher Derek Norris is hitting .148 (13-for-88), with two doubles, five homers and six RBIs. Norris doesn't have an RBI since June 28.