Francona stresses hustle to rookie Lindor
Manager wants players to run hard out of batter's box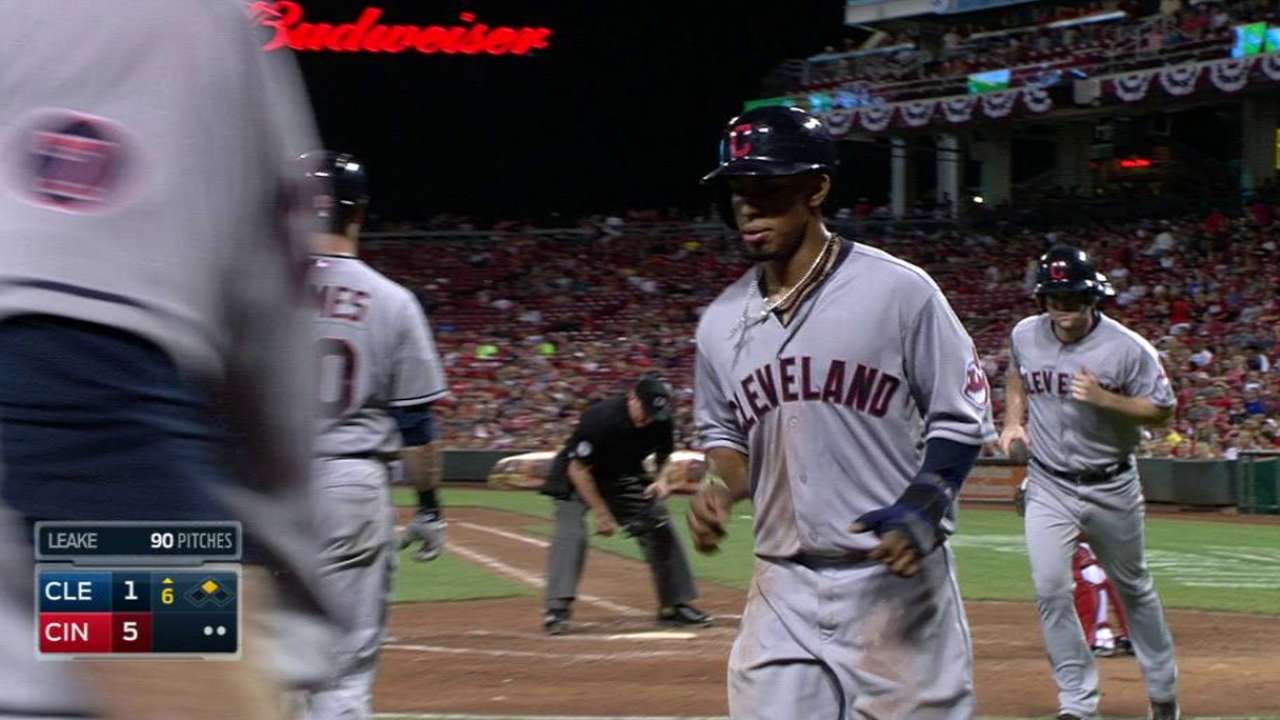 CINCINNATI -- Indians manager Terry Francona saw rookie shortstop Francisco Lindor get caught up in a moment of frustration on Saturday night. The manager felt it was a good chance to sit down with Lindor to discuss the kind of player and leader he wants to be for Cleveland.
In the seventh inning of the Tribe's 9-4 win over the Reds, Lindor flew out to center field and did not run hard out of the batter's box. Throughout his climb through the Minor Leagues, Lindor deservingly earned a reputation as a hard worker with maturity beyond his years, so Francona wanted to make sure that Saturday's momentary mental lapse was a one-time occurrence.
"I think he's a very mature young kid," Francona said on Sunday. "Saying that, he got caught last night where he hit the ball and didn't run. I sat and talked to him this morning about it, because I don't want that to happen. He's not a bad kid. He's not a lazy kid. He got caught up for a second in maybe frustration, and I kind of walked him through it. I didn't yell at him.
"I just walked him through it and said, 'Hey, is this what you want to be?' And he was like, 'No.' I said, 'I agree, because that's not the way you play.' He's a great kid, actually, and plays hard. He just got frustrated, and you saw what happened. Rather than not address, or scream at him, I just don't want it to happen anymore. I would be willing to bet it doesn't."
Francona pointed to second baseman Jason Kipnis as an example. Even on what look like sure outs, Kipnis is known for running hard up the first-base line.
"That's one of the things I respect the most about Kip," Francona said. "Running to first, I think, tells you a lot about a player. ... It's a very good way [to play], because he's also run into some hits, forced some errors, and it sets a really good tone."
"The hustle thing, you either do it or you don't," he added later, "because you don't know when it's going to pay off. But, I guarantee that if you do it every time, it will pay off."
Jordan Bastian is a reporter for MLB.com. Read his blog, Major League Bastian, follow him on Twitter @MLBastian and listen to his podcast. This story was not subject to the approval of Major League Baseball or its clubs.