Abreu not trying to match last year's numbers
Reigning AL Rookie of the Year doesn't 'feel pressure' based on debut season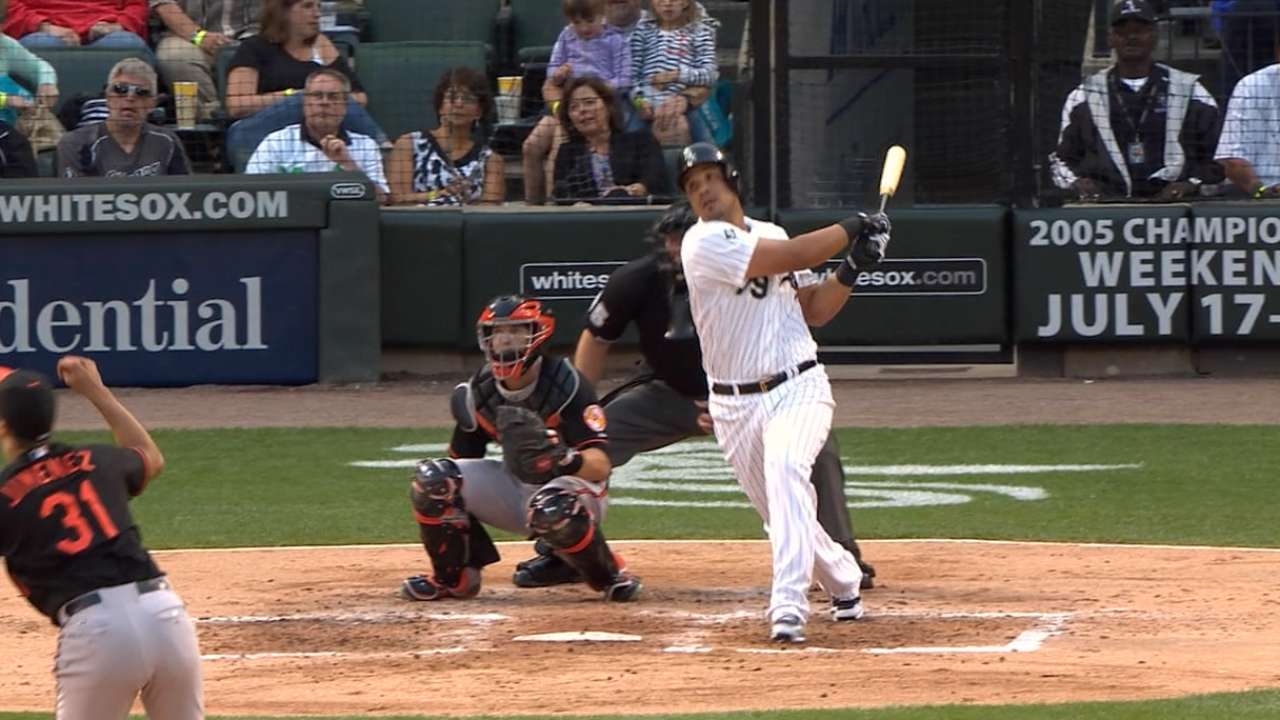 CHICAGO -- Not only was Jose Abreu's first season in the Majors worthy of American League Rookie of the Year Award honors, but it also pushed the White Sox first baseman into 2014 AL Most Valuable Player Award consideration.
Abreu will be hard-pressed to match his 36 homers and 107 RBIs as a rookie. In fact, the affable slugger had 29 homers and 73 RBIs over his first 82 games at the All-Star break. But Abreu isn't pressing to try to live up to those first-year standards.
"I don't feel pressure for that. I see them as reference to measure my performance. It's not something that I said, 'Oh, I have to reach that number.' No," said Abreu through interpreter and White Sox Spanish language broadcaster Billy Russo. "Probably sometimes, I haven't done the adjustment that I have to do to get better results.
"That happens during a long season. Sometimes you are struggling. Sometimes you are good. The things you have to try to find is the rhythm and the consistency in this whole season, and probably the results this year aren't as good as last year. But it's because of me. It's not the pitchers or whatever. It's because of me."
A right index finger injury hampered Abreu for part of the season's first half and affected what he was trying to do consistently at the plate. That malady also might have cut into Abreu's power output, as he had 14 homers entering Sunday.
But Abreu smiled and said everything felt good after the All-Star break.
"I'm fine right now," Abreu said. "I don't have anything to let you know. Physically, I feel good."
"Pitchers are always going to make adjustments. He needs to make adjustments," White Sox manager Robin Ventura said of Abreu. "He's kind of getting over that finger issue that he had for a while. His swing looks good. It's just being able to get his rhythm back and the timing of it. He probably made minor adjustments that weren't very good because of his finger, and now he's on his way to getting it back."
Opposing hurlers also have identified Abreu as the one hitter in the White Sox lineup who they can't allow to beat them. But a better-prepared and fresher Abreu is ready for the finishing kick of his second season.
"In the first half, I just tried to be a little more conservative with my energy," Abreu said. "For this second half, I'm just trying to throw out my energy on the field every day."
Scott Merkin is a reporter for MLB.com. Read his blog, Merk's Works, follow him on Twitter @scottmerkin and listen to his podcast. This story was not subject to the approval of Major League Baseball or its clubs.