Let's play (the equivalent of) 2! Mets win in 18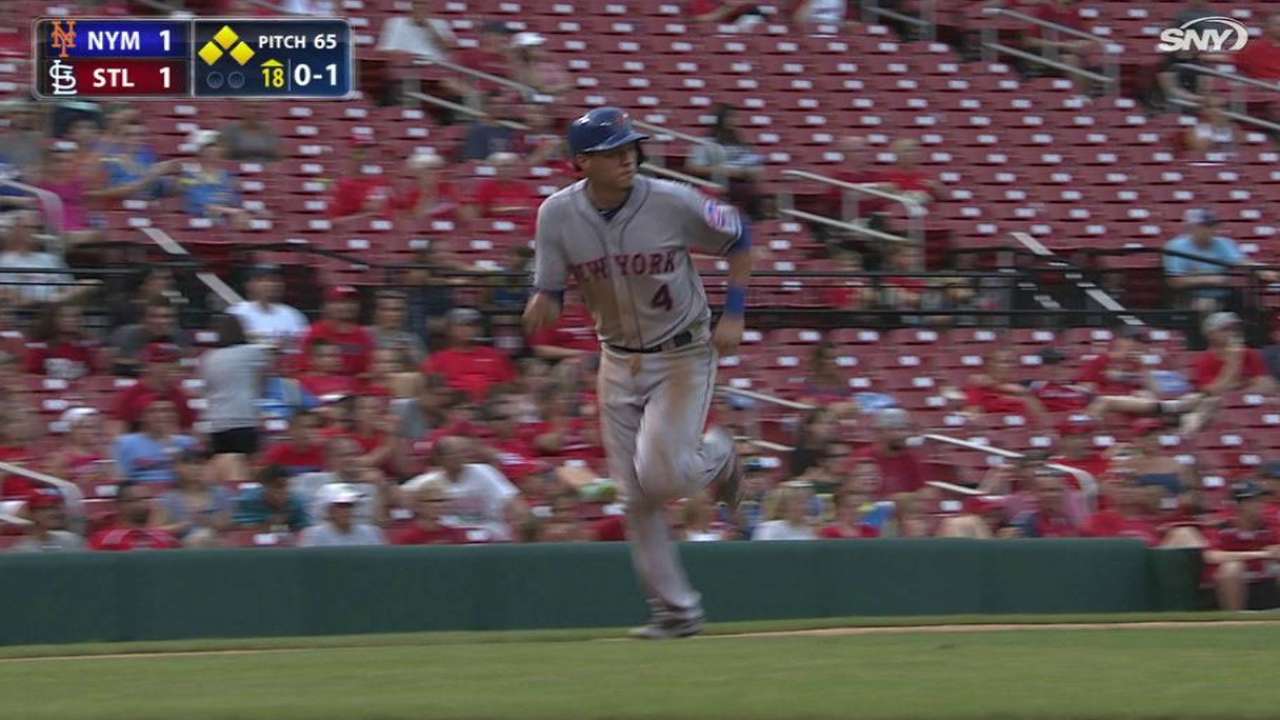 ST. LOUIS -- It took the Mets 13 innings to score a run, and that still wasn't enough, but with Tuesday's scheduled starter Carlos Martinez working his fourth inning for the Cardinals, New York finally pulled away in the 18th for a 3-1 win at Busch Stadium on Sunday that lasted five hours and 55 minutes.
It was the second game of 14 or more innings between the teams this season and the third Major League game to go 17 or more innings, as the teams combined to strand 39 runners, including 25 by New York.
Seven Cardinals relievers combined to throw and 12 1/3 innings while six Mets relievers threw a total of 10 1/3.
If the game had gone to a 19th inning, St. Louis manager Mike Matheny said that a position player likely would have pitched for the Cardinals. With Martinez throwing 72 pitches, the Cardinals' rotation will be altered for the team's two game series at the White Sox this week, with Michael Wacha now likely to pitch Tuesday, Matheny said.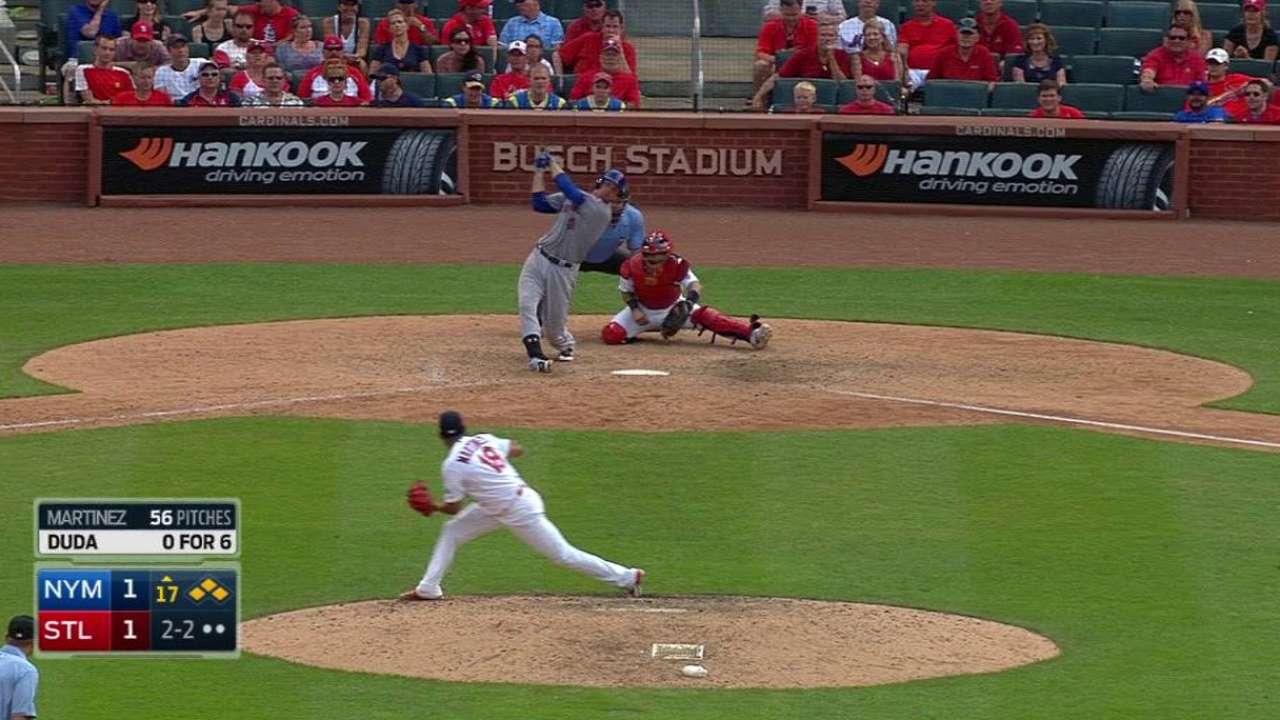 "We had to get every single pitch we could out of [Carlos] Villanueva, trying to stay out of using Martinez if at all possible," Matheny said. "It got to a point where it was not at all possible and we needed him to come in and pitch some tough innings for us."
Before it became a battle of bullpens, St. Louis starter Tim Cooney continued his solid July by striking out seven in a career-high 5 2/3 scoreless innings and notching two hits of his own while the rest of the St. Louis lineup struggled against Mets starter Jon Niese.
Niese scattered five hits over 7 2/3 scoreless innings, striking out three, walking one and hitting one batter. He's now allowed just three runs over 21 1/3 innings in his past three starts and has a 2.01 ERA over his last seven starts.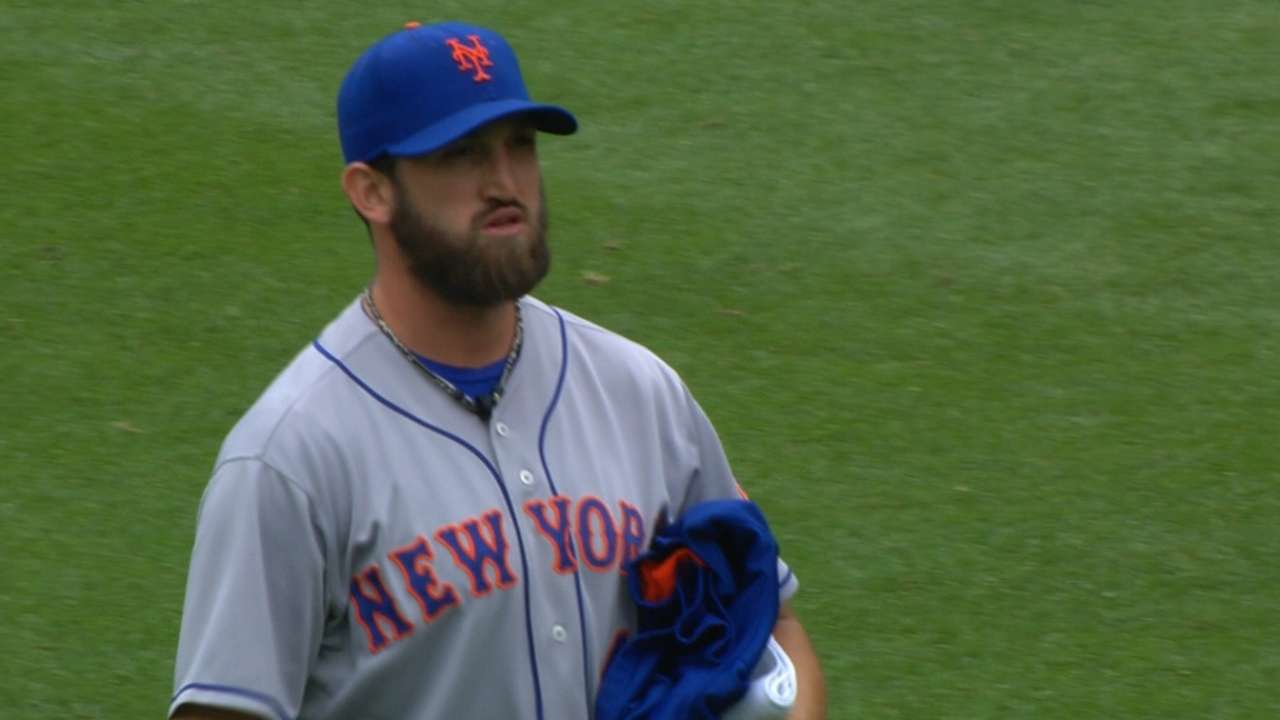 MOMENTS THAT MATTERED
Mets score twice in 18th: Wilmer Flores and Curtis Granderson led off the 18th with back-to-back singles and came around to score. Flores scored the go-ahead run on a sacrifice fly to right field by Ruben Tejada and then Granderson scored on a squeeze bunt by Eric Campbell.
"We've had some extra-inning games, but nothing quite like that one," Mets manager Terry Collins said. "I'm really proud of the way they hung in there. I really am. It's hot, they're exhausted. We were out of players, out of pitching, and they just kept battling against a very, very good club." More >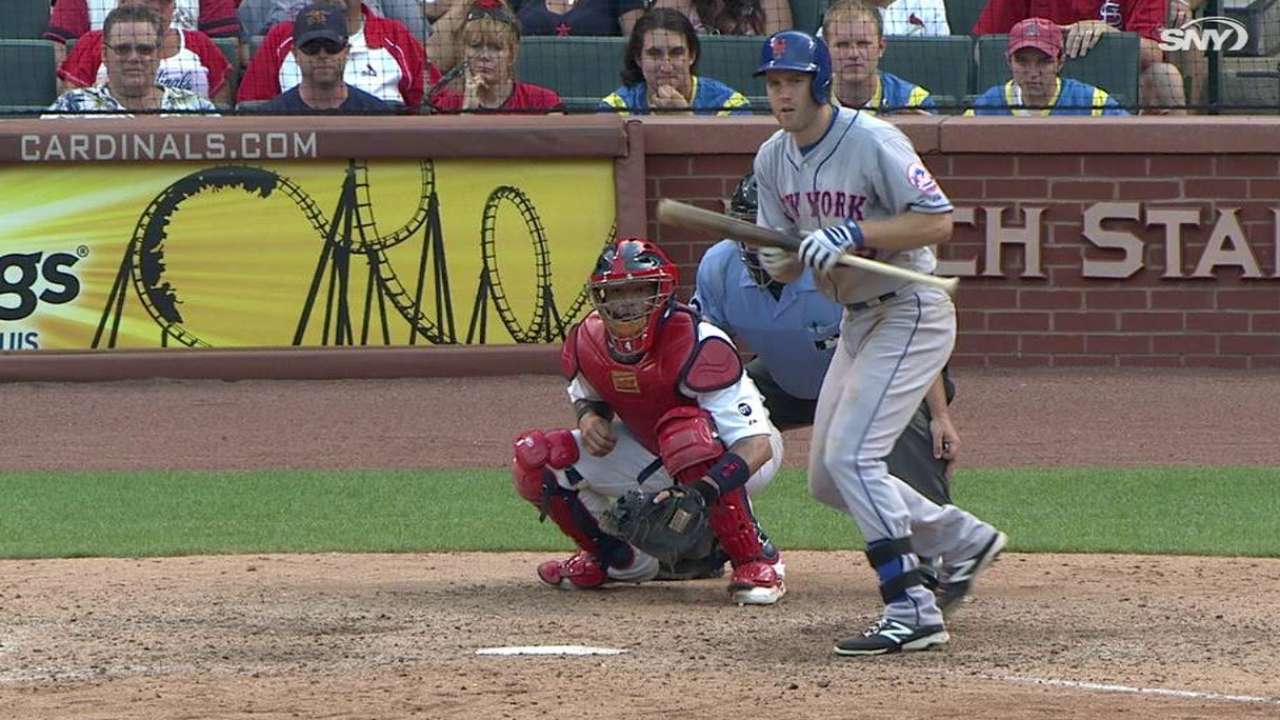 Plawecki comes through: The Mets' rookie catcher came up with runners in scoring position in the sixth and eighth, but made the final out of both innings. In the top of the 13th, he came up clutch with an RBI single to right field to score Granderson from second to give the Mets the lead.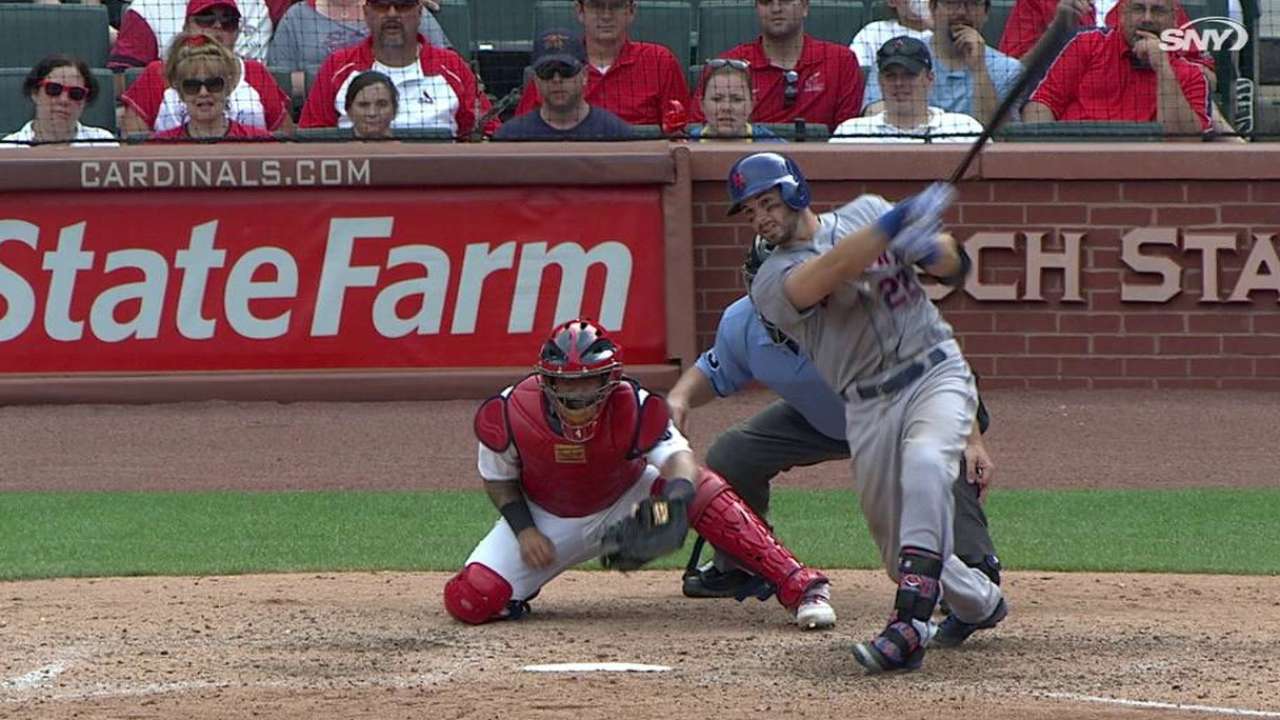 Double trouble: Kolten Wong came to the plate in the 13th inning 0-for-5 on the day with the Cardinals trailing 1-0. With one swing he did what his team couldn't do in the 12 innings prior: score. His lead-off home run to right field tied the game at one and gave the Cardinals life.
"Obviously, it was more than necessary at the point to keep us going, and we all believe as soon as that happens it's our game," Matheny said. More >
Mets' missed opportunities: The Mets were 1-for-26 with runners in scoring position and left 25 runners stranded on base. They would have a runner in scoring position in each of the extra innings, including loading the bases in the 13th after plating the go-ahead run, and failed to score again until the 18th, in which they scored twice without driving in either run with a hit.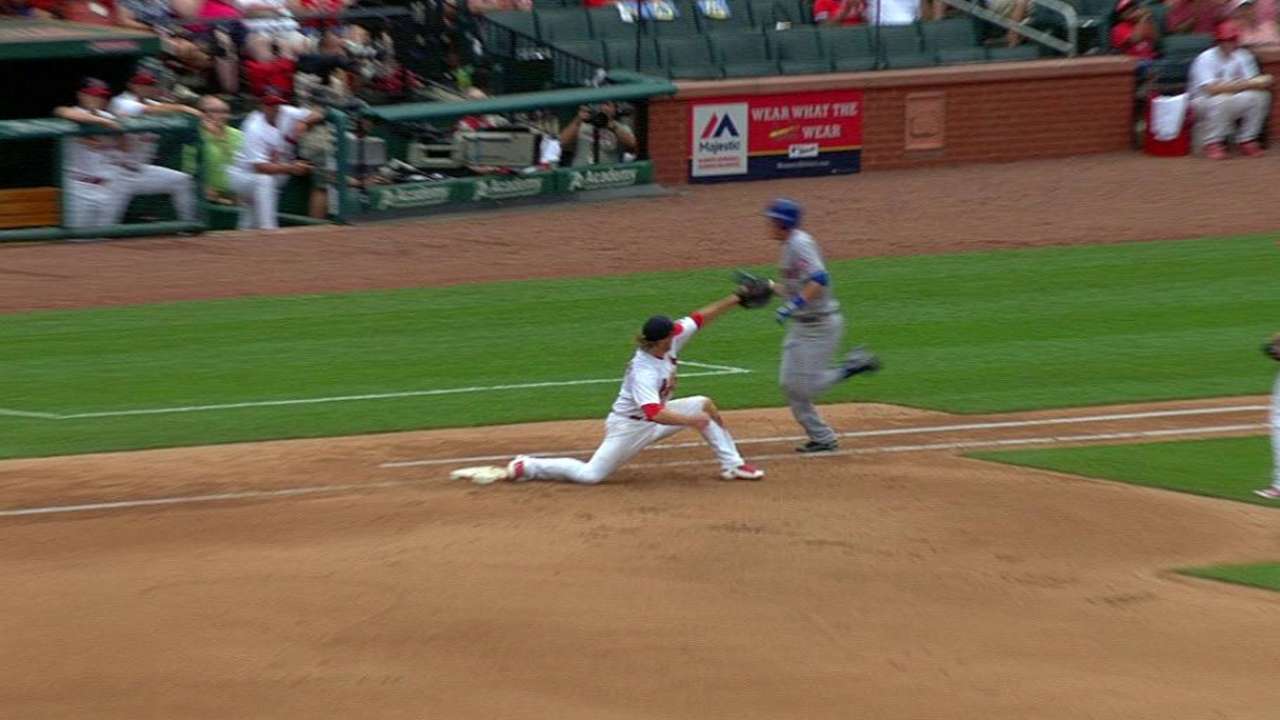 CUDDYER'S KNEE ACTS UP
Collins said he was concerned about Michael Cuddyer because the left fielder was forced to exit the game after experiencing discomfort in his left knee after running the bases in the eighth inning.
"That's my concern because he's starting to swing the bat," Collins said. "… He said I can't run. We have to worry about him tomorrow."
Cuddyer described the issue as a bone bruise just below his kneecap and said the pain grew gradually as the game went on.
"It's concerning," he said. "We're trying different things to be able to get through it and get relief. To start the game it's OK and then as the game progresses it gets tougher and tougher. When I took that passed ball, the ball in the dirt, it got pretty bad."
UNDER REVIEW
It took just 44 seconds to overturn a seventh-inning call that, if it had stood, would have resulted in the Cardinals having speedster Tommy Pham on first with nobody out. However, it was ruled that Mets first baseman Lucas Duda applied a tag to Pham before he reached the bag.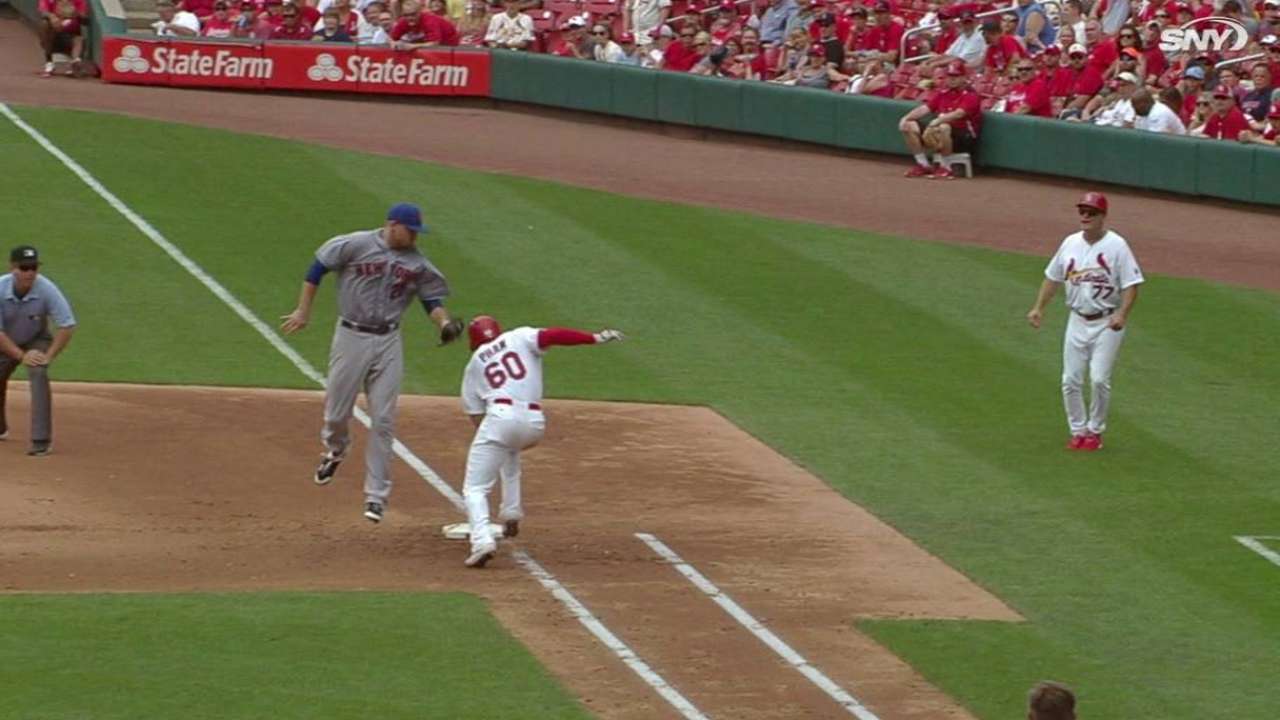 In the 18th inning, the Cardinals challenged a safe call at first on the squeeze play by Campbell. After the review, the call was overturned and Wong, who was covering first on the bunt, was ruled to have kept his foot on the bag with the ball in his glove before Campbell reached first.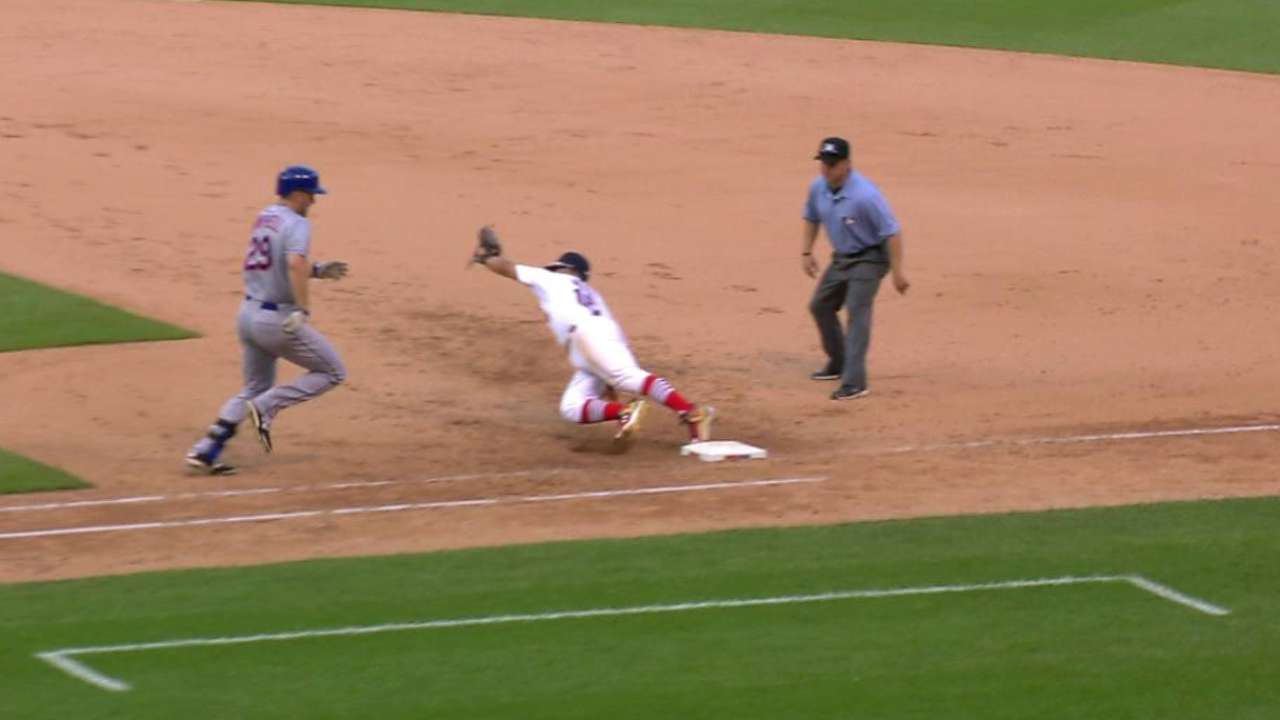 WHAT'S NEXT
Mets: The Mets continue their road trip by opening a three-game series against the Nationals at 7:05 p.m. ET on Monday in Washington. Matt Harvey (8-6) will make his third start of the season against the Nationals.
Cardinals: The Cardinals are off Monday before opening a two-game series at the White Sox on Tuesday at 7:10 p.m. CT. Wacha is expected to move up one day and make the start in place of Martinez.
Watch every out-of-market regular season game live on MLB.TV.
Nate Latsch is a contributor to MLB.com. David Cobb is an associate reporter for MLB.com. This story was not subject to the approval of Major League Baseball or its clubs.