Archer deserving of better fate against Jays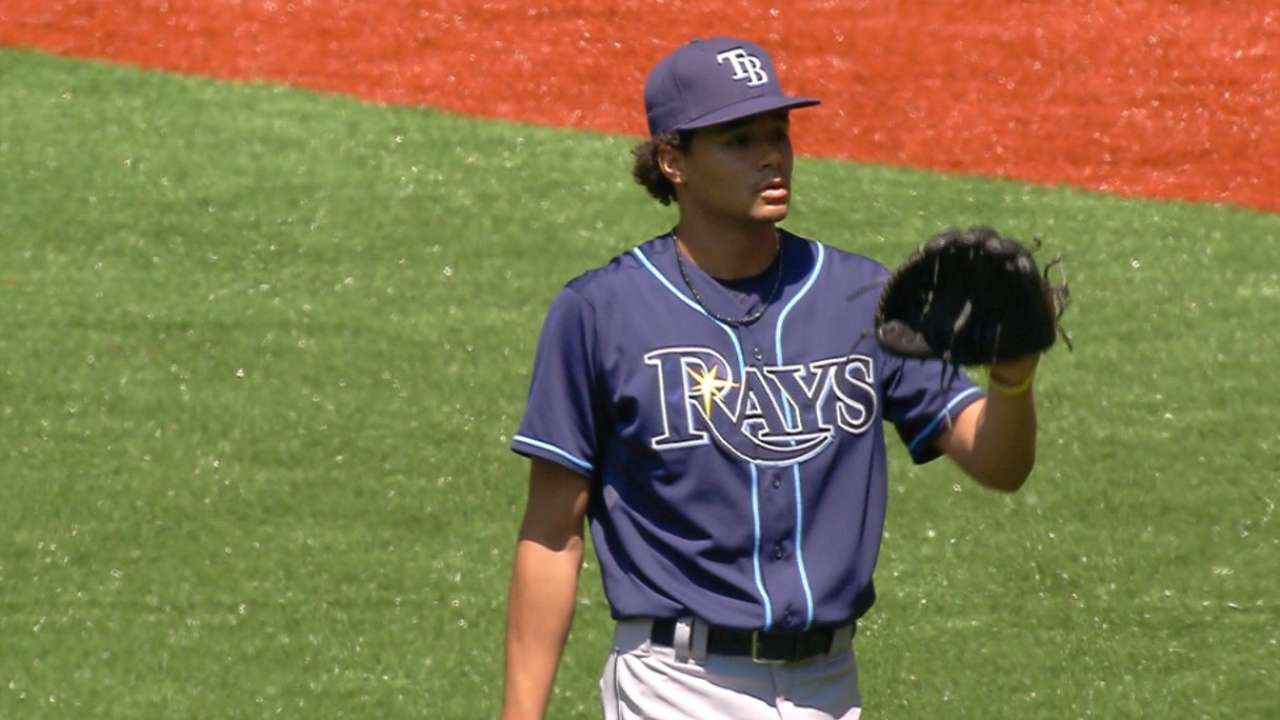 TORONTO -- Chris Archer has the Blue Jays' number, no doubt about it. On Sunday, the ace right-hander once again mowed down one of the toughest lineups in the Major Leagues.
Unfortunately for the Rays, the quality start in the rubber game wasn't enough in a 4-0 loss at Rogers Centre.
Archer entered the series finale riding a wave of success against the Blue Jays. In three previous starts against them this season, Archer had allowed one earned run in 22 innings, giving him a 3-0 record with a 0.41 ERA.
Archer allowed only an infield single through four scoreless innings in Sunday's clash before yielding a big two-run homer to Chris Colabello in the fifth.
"Pitch execution," Archer said. "I had a pretty good feel with everything. The time off [for the All-Star beak] was nice. I was able to rejuvenate. I executed pitches, my body felt pretty fresh."
After retiring the first batter in the fifth, Archer allowed a single to Justin Smoak. He got ahead of Colabello, 0-1, before Colabello uncoiled on a slider and turned the pitch into his ninth home run of the season, giving the Blue Jays a 2-0 lead.
"They handled one pitch off of him throughout the game, it was a slider that Colabello made an adjustment on from his first at-bat to his second," Rays manager Kevin Cash said.
Colabello's home run accounted for all the runs scored against Archer in seven innings. Nevertheless, Archer took his seventh loss of the season. He is 0-3 in his last four starts.
"Not really going to beat myself up over one pitch," Archer said. "The guy before him got on, like a soft contact fly ball, so it was a pitch I executed. The one to Colabello, I mean he's hitting .320 with however many homers for a reason."
Despite taking the loss, Archer has thrown seven-plus innings and held the Blue Jays to two earned runs or fewer in five consecutive starts. Amazing results given the number of times Archer has seen the Blue Jays and the familiarity their lineup has with him.
"It's pretty impressive," Cash said. "I mean, we talk about this lineup all the time. They're as good as anybody in baseball. And Arch really throws well against them for whatever reason."
The Rays' offense continues to scuffle, getting shut out for the eighth time this season. Archer did not take the bait when asked if pitching was more challenging given the run support situation, which translates to little margin for error.
"I don't know how other people think," Archer said. "But my mentality is the same regardless of how they're hitting. How we're hitting. Who we're facing. What batter's in the box. However many pitches I get, I'm trying to execute all of them. So it really doesn't make it any tougher or any easier depending on who's in there. How we're doing."
Archer is always striving for perfection. When asked how many of his 106 pitches on Sunday were executed properly, he answered: "A significant portion."
"Number-wise, percentage-wise, I don't know, but a good amount," Archer said.
Still, Archer had to wear the loss, for which he blamed only himself. He even hung a handwritten sign on his locker after the game expressing a familiar quote from former Rays pitcher James Shields: "If you don't like it, pitch better..."
Cash cut his pitcher more slack than Archer cut himself.
"I thought Archer was outstanding today," Cash said. "Really good. Gave us every opportunity to win."
Tough to be a Rays starter these days.
Bill Chastain is a reporter for MLB.com. This story was not subject to the approval of Major League Baseball or its clubs.