McClendon counting on LoMo to heat up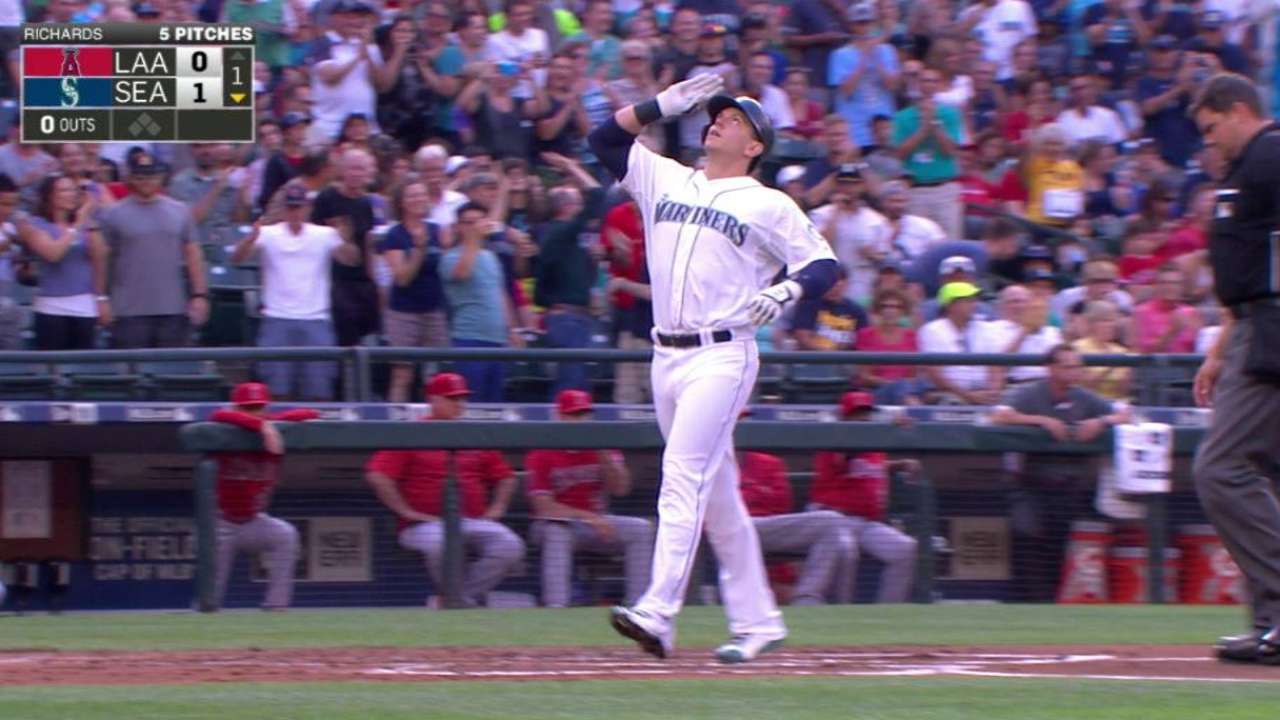 NEW YORK -- Logan Morrison has proven to be a streaky hitter in his year and a half with the Mariners, and manager Lloyd McClendon says he needs the big first baseman to break out one of his hot spells in the final months of 2015.
Morrison was a big part of Seattle's second-half run last season when he hit .321 with an .878 OPS over his final 51 games after taking over at first base for Justin Smoak in midseason. This year, he's been the starter from the outset, but is batting just .225 with a .675 OPS in 89 games.
"When he's going good, it's good," McClendon said. "When he's going bad, it's bad. We need him to get on one of those streaks again. He's somewhat of a streaky hitter to start with, but we need him to drive in runs. We need him if we're going to be successful. He's got to get it going."
Morrison opened the season hitting .149 in his first 67 at-bats, but then batted .307 with seven homers and 21 RBIs over a 163-at-bat stretch from April 29-June 15. Over his past 27 games entering Sunday, though, Morrison was back to batting .133 in 90 at-bats. Mark Trumbo got the start at first base in the series finale against Yankees lefty CC Sabathia.
"He's on the ground a lot," McClendon said. "He's not going to make a lot of money on the ground. His path has got to change and we've got to get him hitting line drives and fly balls to the gaps more than ground balls.
"I think it starts with making sure you're getting ready to attack the ball. Sometimes if you're late attacking, the ball gets deep and you end up hitting a lot of ground balls," said McClendon. "We have to make sure his trigger is where it should be, maybe get the hands up a little more so he can get on top of the ball a little more."
Morrison does have 12 home runs, third on the team behind Nelson Cruz and Kyle Seager, and his most since hitting 23 with the Marlins in 2011.
Worth noting
• Veteran reliever Fernando Rodney arrived in the clubhouse before Sunday's game to cries of "El Rubio" from his teammates as he was sporting freshly dyed hair on the goatee portion of his beard. Rubio means blonde in Spanish, but Rodney's color was actually more copper or gold.
Why the change?
"I don't know," Rodney said. "It's too hot outside. This kind of relaxes me."
• McClendon has tried to be careful with rookie reliever Carson Smith this year and said he'd have to wait and see on the youngster's availability after Smith threw 30 pitches in Saturday's save of a 4-3 win, but Smith said before Sunday's game he was good to go whenever needed.
"It was one inning of work. It wasn't an up-down situation," Smith said. "I've had two innings with 30-something pitches and bounced back from that pretty well. So I don't think it'll have any effect."
Greg Johns is a reporter for MLB.com. Follow him on Twitter @GregJohnsMLB, read his Mariners Musings blog, and listen to his podcast. This story was not subject to the approval of Major League Baseball or its clubs.