Setup role in doubt with Rondon struggling
Hard-throwing righty unable to put batters away of late
DETROIT -- When reliever Bruce Rondon rejoined the club in late June after starting the season on the disabled list with biceps tendinitis, Tigers manager Brad Ausmus asserted he wouldn't be afraid to use the hard-throwing righty in pressure situations.
And Rondon -- who also missed 2014 recovering from Tommy John surgery -- delivered right away, striking out a pair to strand two inherited baserunners in his first outing, then tossing a perfect eighth inning in a tie game and earning the win in his second.
On July 2, though, Rondon allowed four hits and four runs in just one-third of an inning, and he has surrendered multiple runs in two of his last three appearances. Saturday night, the Orioles tallied four hits -- two of them doubles -- in the ninth inning of Detroit's 3-0 defeat.
"He's throwing strikes," Ausmus said Saturday following the game. "It's not an issue where he's getting behind hitters or not throwing strikes. I just think they're taking advantage of a pitch that he leaves over the middle."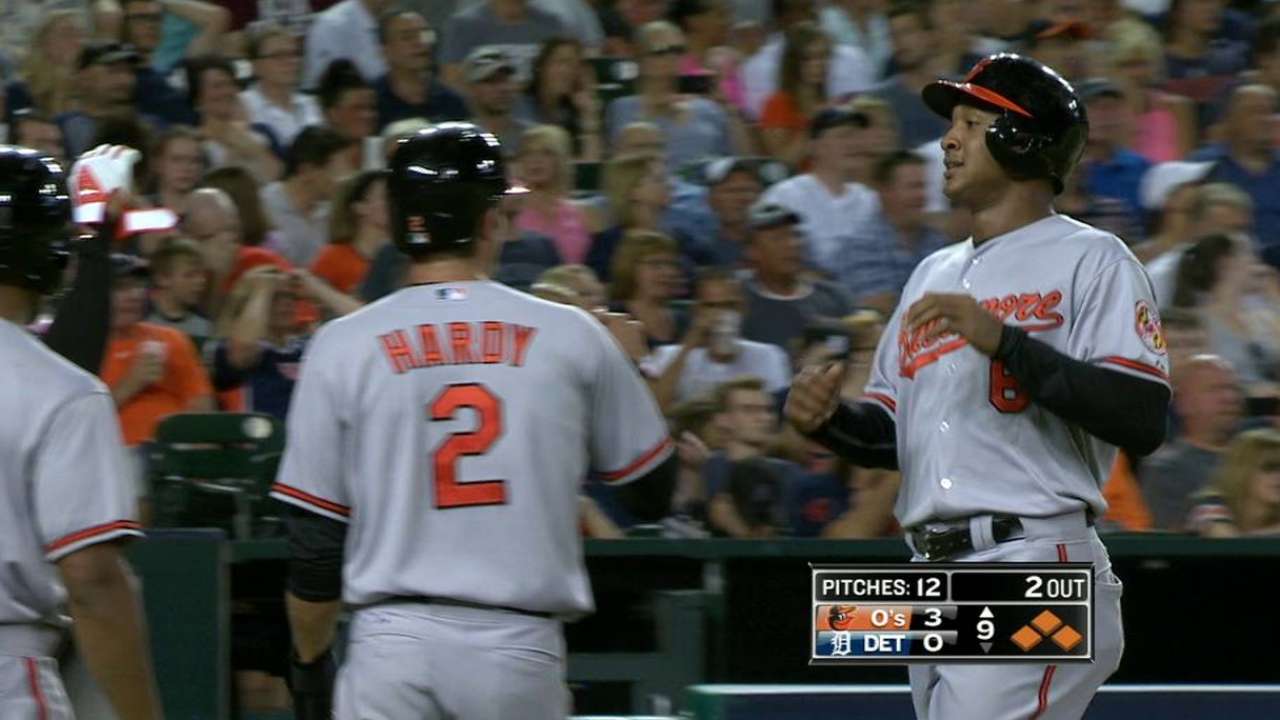 Twice against Baltimore, Rondon got ahead with 0-2 counts. A fastball followed by a slider put J.J. Hardy, the first batter he faced, in a hole, but the Orioles' shortstop caught up to a 99-mph heater and singled to left field. Jonathan Schoop then delivered a double on the first offering he saw, and catcher Caleb Joseph drove both home by connecting with a 101-mph four-seamer.
Joseph may have scored on Manny Machado's line drive to deep right field -- the third baseman had crushed a 101-mph fastball after consecutive sliders were called strikes -- but Rondon and the Tigers caught a break when the ball one-hopped the wall for a ground-rule double.
Ausmus said he hasn't seen any issues with Rondon's mechanics, adding that when he watched film Sunday morning, he came away impressed with the righty's slider. The manager also hinted Rondon's fastball might not overpower hitters as much as its triple-digit velocity may suggest.
"People love the radar guns," Ausmus said. "When you stand in the batter's box, not all 95's are created equal. Some 95's look like 97's. Some 95's look like 95's. Some look like 92."
Aside from closer Joakim Soria, Ausmus has refrained from defining bullpen roles this year. Righty Joba Chamberlain -- who was designated for assignment and then granted an unconditional release this month -- was once the primary setup man, and Rondon appeared destined to replace him in those situations. Now, it seems the Tigers are still searching for options.
"[Rondon] is coming in for an inning, just come in and go after them," Ausmus said. "I'm not saying he can't dial it back at times when you need to throw a strike. Just attack the hitters."
Alejandro Zúñiga is an associate reporter for MLB.com. This story was not subject to the approval of Major League Baseball or its clubs.