Peavy singles while breaking into win column
Giants starter allows four runs, earns first victory this season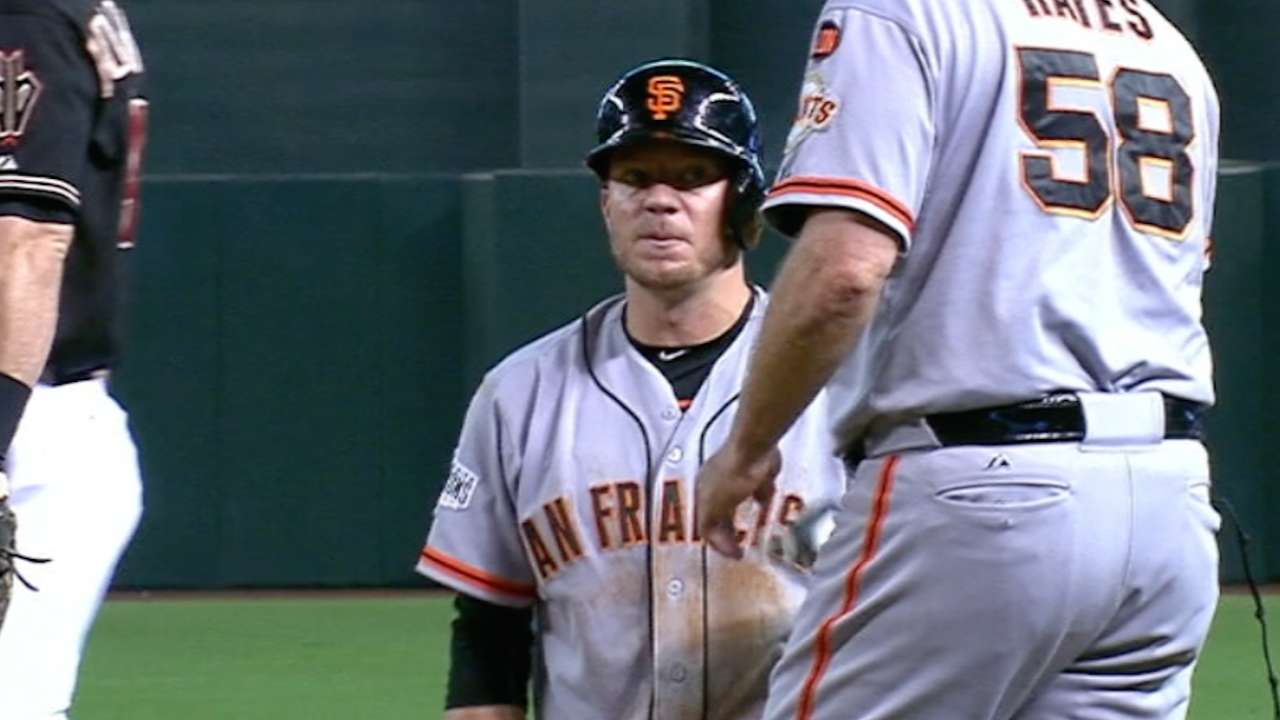 PHOENIX -- It was Jake Peavy's choice of music in the clubhouse prior to his start Saturday at Chase Field and he chose vintage Grateful Dead. After recording his first regular-season win since Sept. 16, Peavy said the strands of the one-time Jerry Garcia-led band could become a regular presence.
"We're going to need more Dead," said the 34-year-old Mobile, Ala., native after the Giants clobbered the D-backs, 8-4, to win their fifth in row. "I know a lot of these guys in here hate it. [Brandon] Crawford said, 'This stuff is awful.' Well, they better get used to it."
Peavy, making his third start since returning from the disabled list after missing 67 games because of a back injury, pitched into the seventh, allowing four runs on eight hits, including two homers. Manager Bruce Bochy came out to get him after Chad Pennington launched a rare pinch-hit homer on Peavy's 93rd pitch of the evening.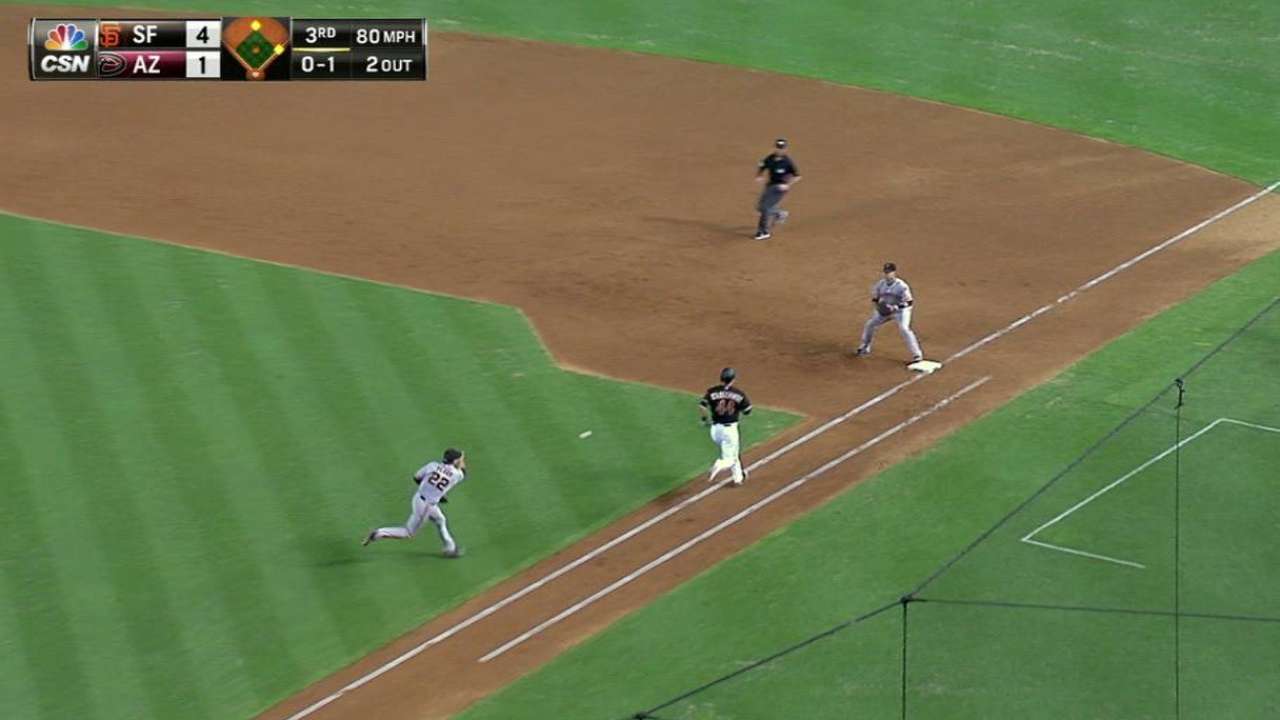 Peavy was almost as interested in talking about his first hit since he doubled for the Red Sox in 2013. This one, the 76th of his career, opened the Giants' four-run third inning. Previously, he had been 0-for-28 for the Giants.
A right-handed hitter, Peavy punched a liner toward the right-field corner and made a wide turn around first base when Ender Inciarte came up with the ball. Peavy had to quickly scamper back, diving in headfirst.
"You have to think double coming out of the box," Peavy said.
Peavy's mad dash back to the bag led to much merriment in the Giants' first-base-side dugout.
"We had a good laugh," Bochy said. "You usually don't see me laugh much during a game, but that was entertaining. I enjoyed watching the old man change his mind, scurrying back. He looked like a cat the way he was clawing the dirt. But he found a way to get back."
Peavy eventually scored on Buster Posey's two-run, bases-loaded single. Posey had three singles and four RBIs on the night as the Giants amassed 14 hits, 30 now in winning the first two games of this three-game series.
"It felt good to put a ball in play and start a rally," Peavy said. "It takes all of us when you're playing a National League game. You take every at-bat seriously."
You also take every win seriously, particularly when they are so few and far between. Peavy had made four starts this season and two at the end of last season before notching a win. And that was after victories in six of his last seven 2014 decisions to help pitch the Giants into the postseason.
As the Dead sing, now he hopes he's like a steam locomotive rolling down the tracks.
"Yeah, we've got to get this thing rolling downhill," he said. "It's nice to get that first win behind you. These last three outings are something to build on. It's funny how life works. Tonight was probably the worst for me of these three games and I get the win. But that's what we tried to do is find a way to win. I can promise you that getting into that win column feels a whole lot better at the end of the night."
Barry M. Bloom is a national reporter for MLB.com and writes an MLBlog, Boomskie on Baseball. Follow @boomskie on Twitter. This story was not subject to the approval of Major League Baseball or its clubs.