A's offense comes through in wild finish
Burns, Vogt, Smolinski all contribute to clutch effort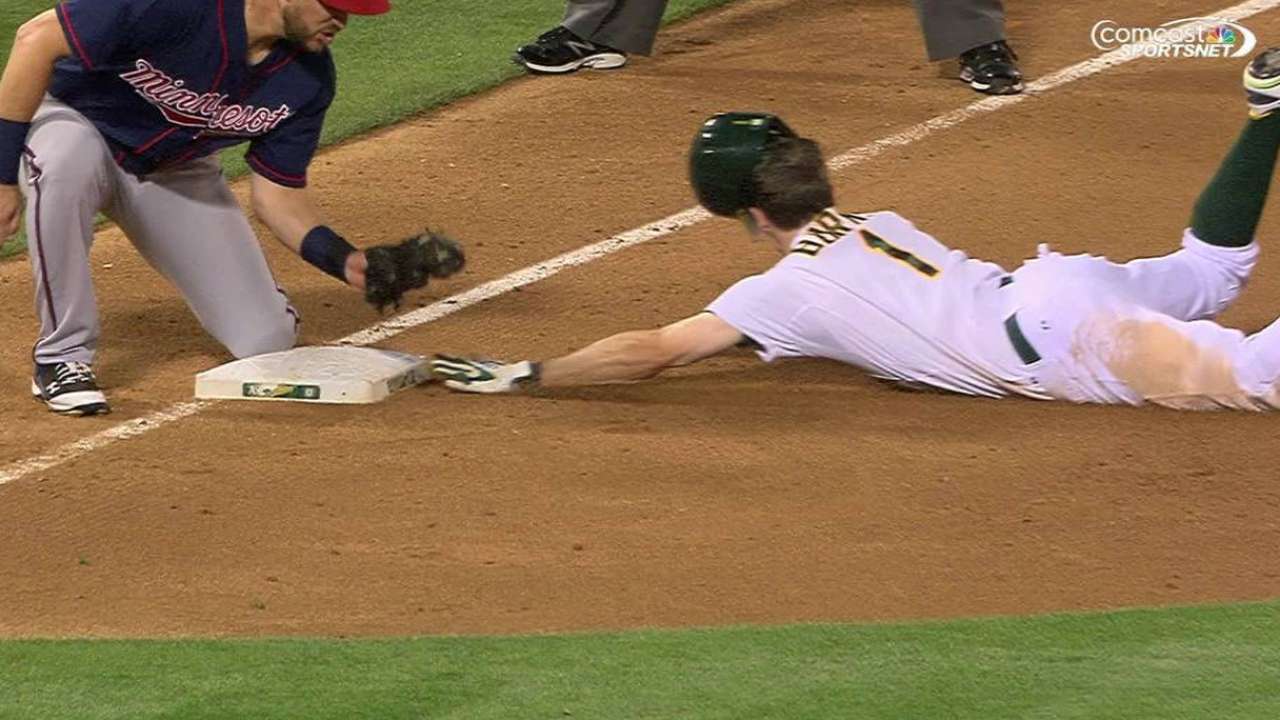 OAKLAND -- With no outs in the 10th and the score tied, Billy Burns bolted from second to third.
It could have been a costly mistake, but instead it was a brilliant baserunning maneuver that helped propel the A's to a 3-2 walk-off win over the Twins at the Coliseum on Saturday.
"He's got a green light, but he's got to get the right pitch to go, and he did," A's manager Bob Melvin said. "Pretty gutsy move right there."
The A's had three chances to send Burns home and erase a ninth-inning collapse after a Scott Kazmir gem, and they only needed one. Stephen Vogt singled between short and third, pumping his fist as he trotted toward first and getting mobbed by his teammates moments later.
It was Vogt's first career regular-season walk off, and it came in a game that nearly slipped away from the A's, but instead turned into a thrilling come-from-behind win.
While Vogt's heroics capped the A's rally, the win wouldn't have been possible without a seventh-inning solo shot from Billy Butler and some timely hitting from Brett Lawrie and Jake Smolinski.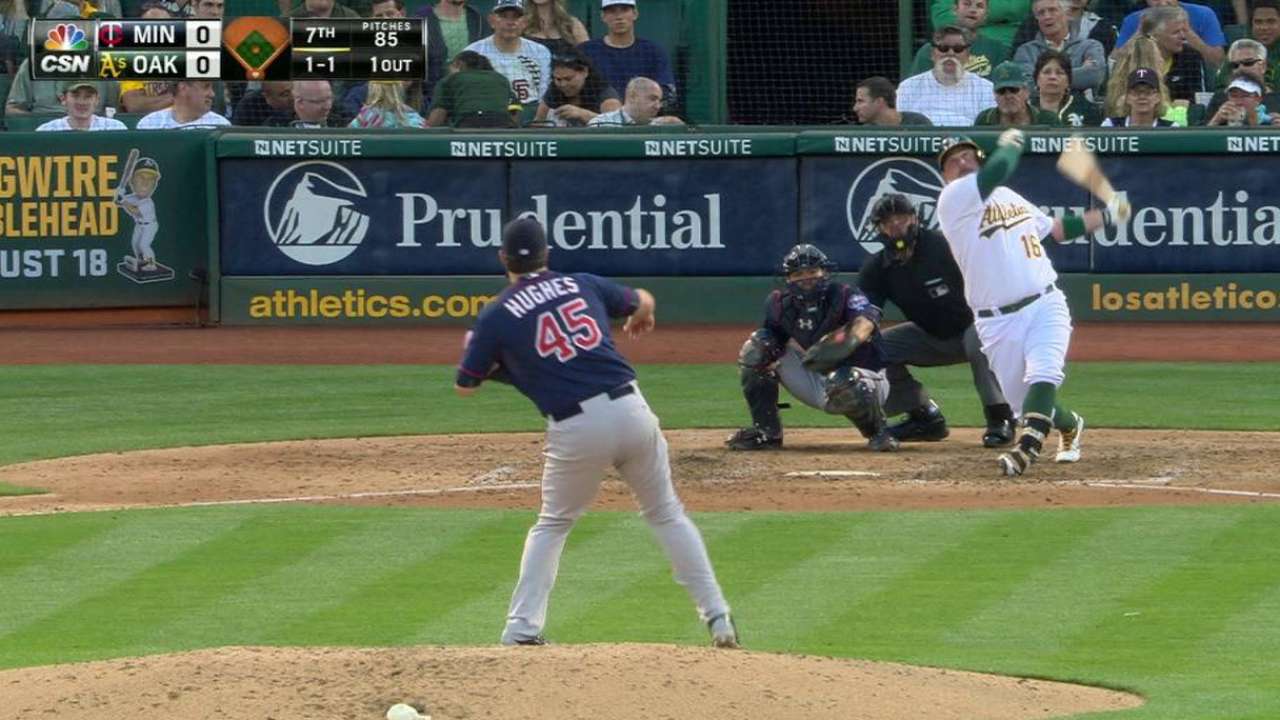 In the bottom of the ninth, Lawrie made up for an earlier fielding blunder when he beat out a throw on a sharp grounder to short with two down. He advanced to second on a wild pitch and put the A's in position to tie the game.
"He ran about a 3:1 down to first I think," Vogt said of Lawrie.
"That ends up being enormous," Melvin said. "It's easy to get frustrated and not run down the line hard and then the game's over, but that effort right there kept it going."
Smolinski brought him home, blooping a single to left on the next at-bat. Many times this year the A's have faltered late in the game and been unable to recover, but not this time.
In the 10th, Vogt was impressed by Burns' speed and followed through on his approach not to do too much. With Burns at third, the pressure was off, Vogt said.
"He's the rookie of the year so far this year, and he's not getting the recognition that he should be nationally," Vogt said, "because he's been probably our most consistent player all year and he's doing it as a rookie."
Then came the Gatorade bath and pandemonium the A's have longed for but often been deprived of throughout the season.
The A's, who are looking to inch back toward .500, won a one-run game for just the ninth time this season (9-22), and picked up their second walk-off win of the year.
"I think the competitiveness has always been there," Lawrie said. "It was there at beginning of year as well. We just couldn't lay the hammer down. We'd always come back, just couldn't do that extra little bit to get that W."
This time they did.
Trevor Hass is an associate reporter for MLB.com. This story was not subject to the approval of Major League Baseball or its clubs.