Kazmir rebounds impressively in no-decision
A's starter escapes jam in first, exits two outs shy of shutout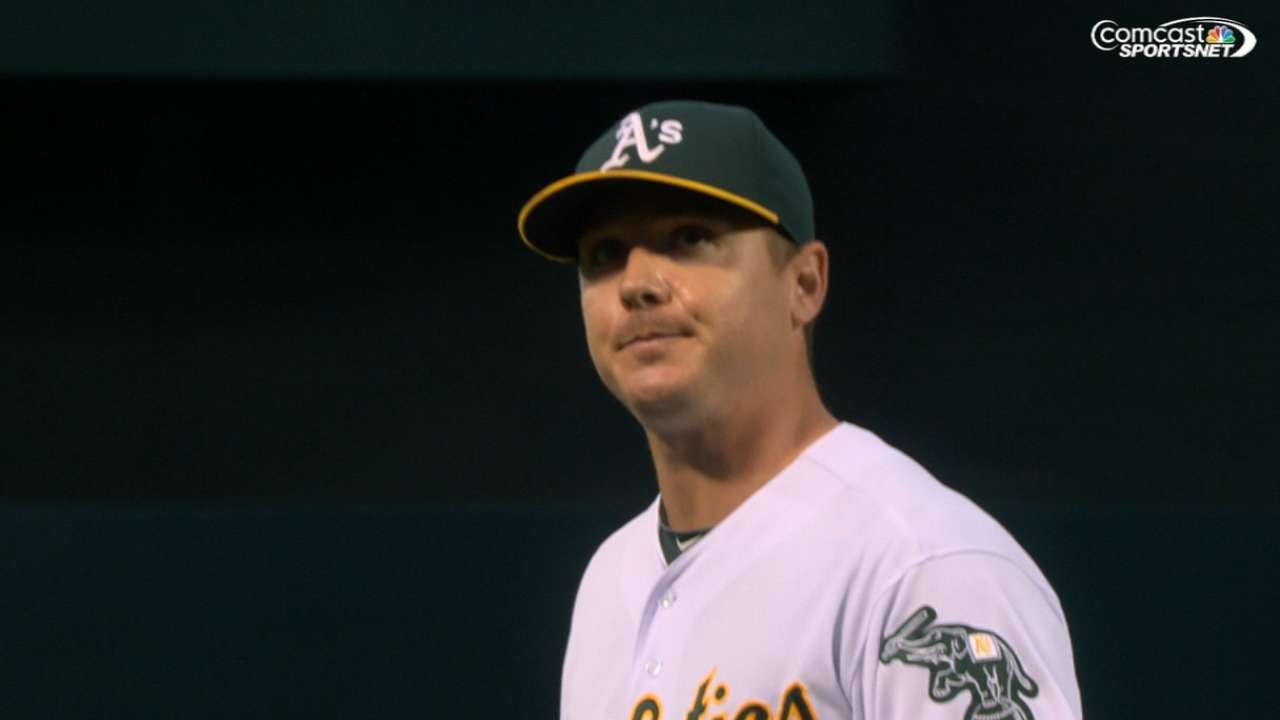 OAKLAND -- Despite being two outs away on Saturday night from his first shutout since 2006, A's left-hander Scott Kazmir didn't even get a win. His team did in 10 innings, though, and Kazmir's efforts were far from forgotten.
That the southpaw was even on the mound for the start of the ninth inning of a 3-2 victory over the Twins, before departing after a season-high 8 1/3 innings, was "pretty miraculous," manager Bob Melvin said.
Kazmir endured a 25-pitch first but worked his way out of a no-out, bases-loaded jam and faced the minimum in each of his next seven innings, allowing just two hits with no walks in that span.
"As a manager," Melvin said, "you're sitting there at 25 pitches in the first, hoping to get maybe seven if he can get his pitch count under control, but it was Houdini-like to be able to get it that under control to get in position to go out there in the ninth. He was terrific."
"After you go through a first inning like that and come out of it with nothing, that really gives you a lot of confidence," Kazmir said.
Kazmir entered the ninth at 102 pitches and induced a ground ball from Eduardo Escobar. He got the same from Brian Dozier, except third baseman Brett Lawrie threw away what was ruled an infield base hit, allowing the Twins infielder to reach second base.
With Kazmir sitting at 112 pitches, Melvin turned to his closer. Tyler Clippard quickly got ahead of Torii Hunter, 0-2, before hitting him with a pitch to put two on for Joe Mauer, who proceeded to tie the game with a double in advance of Miguel Sano's go-ahead sacrifice fly.
"I wanted [Kazmir] to go out and have a chance to get the shutout," Melvin said, "but once there was a guy on second base and one hit can tie the game, with a long ball, you could end up losing it, and I didn't want to put him in that position."
Instead, Kazmir left with a no-decision and a 2.38 ERA, good for fifth in the American League.
Before he was touched for a ninth-inning run, he had not allowed an earned run in his previous 20 innings dating to June 27. Going back to his last seven starts, he has a 1.35 ERA, having limited the opposition to a .175 batting average over that span -- all amid trade rumors.
"You want him pitching for you every fifth day," catcher Stephen Vogt said. "We love Scott and what he's done for us to this point this year is pretty phenomenal. Our entire rotation, really, but he's been some kind of good."
Jane Lee is a reporter for MLB.com. This story was not subject to the approval of Major League Baseball or its clubs.