Small ball hurts Anderson in short start
D-backs righty keeps Giants homerless but allows 10 hits to take loss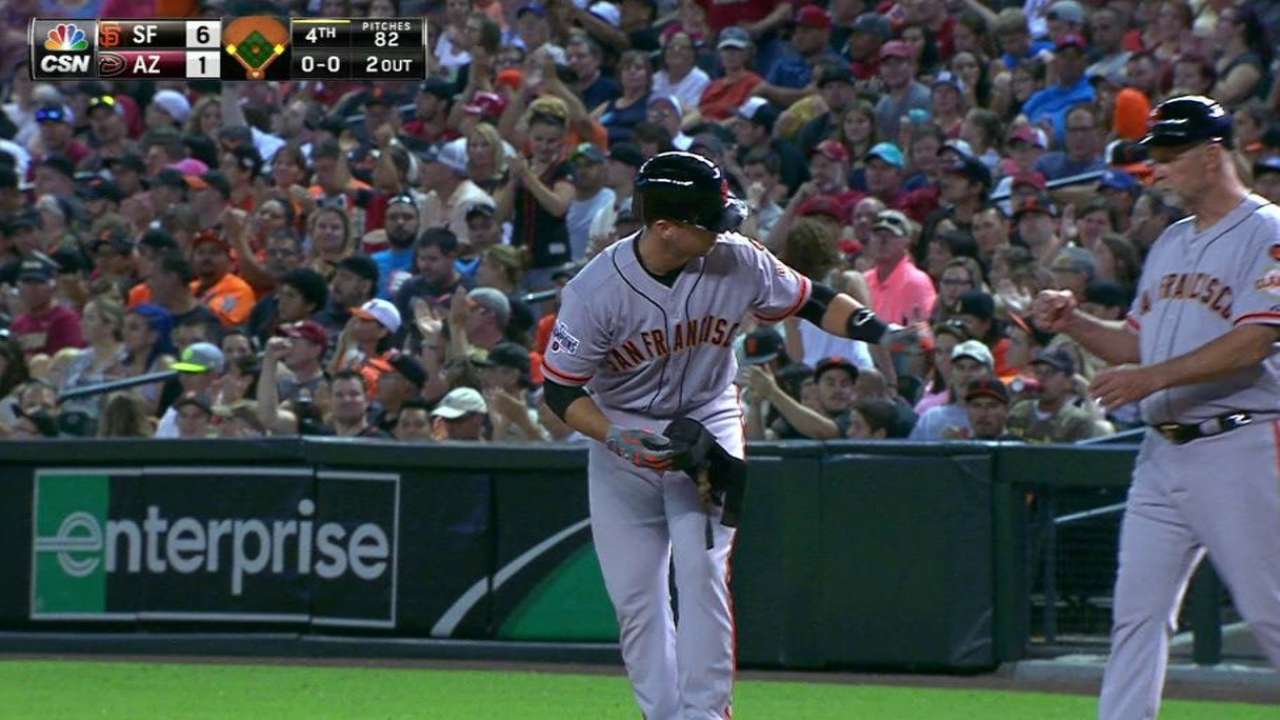 PHOENIX -- D-backs starter Chase Anderson was struggling to keep the ball in the park in his last few outings before the All-Star break. That wasn't an issue Saturday.
But the right-hander still had trouble keeping his pitches down, often leaving them too high up in the strike zone. And the Giants made him pay, tagging Anderson for seven runs on 10 hits in the D-backs' 8-4 loss, their fifth in a row.
"At this point in the season, I feel like just the last three or four outings I've been in some sort of slump, I don't know if it's mentally, physically, whatever it is," Anderson said. "Obviously I'm trying to fix it because I don't want to prolong this. I feel fine overall but I'm just not executing pitches."
Anderson was chased in the fourth inning, completing 3 2/3 innings, his shortest outing of the season. Over his last five starts, the right-hander is 1-3 with a 9.12 ERA.
In his four starts prior to Saturday, Anderson had allowed nine home runs. The Giants took a different approach, as nine of the 10 hits Anderson allowed were singles.
"They're too good of hitters to pitch that way and not hit your spots and elevate the ball," D-backs manager Chip Hale said. "They just hammered him pretty good."
Anderson was pitching on seven days of rest and threw 10 extra pitches in his last bullpen session, hoping he could translate that into some better results.
It didn't work out that way, as Anderson wasn't able to replicate what made him so successful earlier this season. After his outing June 17, Anderson was 3-1 with a 2.84 ERA. He's now 4-4 and has seen his ERA inflate to 4.37.
"He had proven that he could pitch that way," Hale said. "That's the tough thing; you create some higher expectations for yourself and hopefully that motivates you to pitch better. He doesn't seem to have that extra gear on the ball right now."
Anderson said he feels fine physically and the issue may be coming from being too rushed with his mechanics.
"My velocity's fine, just the ball's up and it's not where I want it to be," Anderson said. "I'm leaving the ball up a little bit. I've got to get back to what I was doing in April, May, June."
Jake Rill is an associate reporter for MLB.com. This story was not subject to the approval of Major League Baseball or its clubs.