Bettis delivers second straight quality start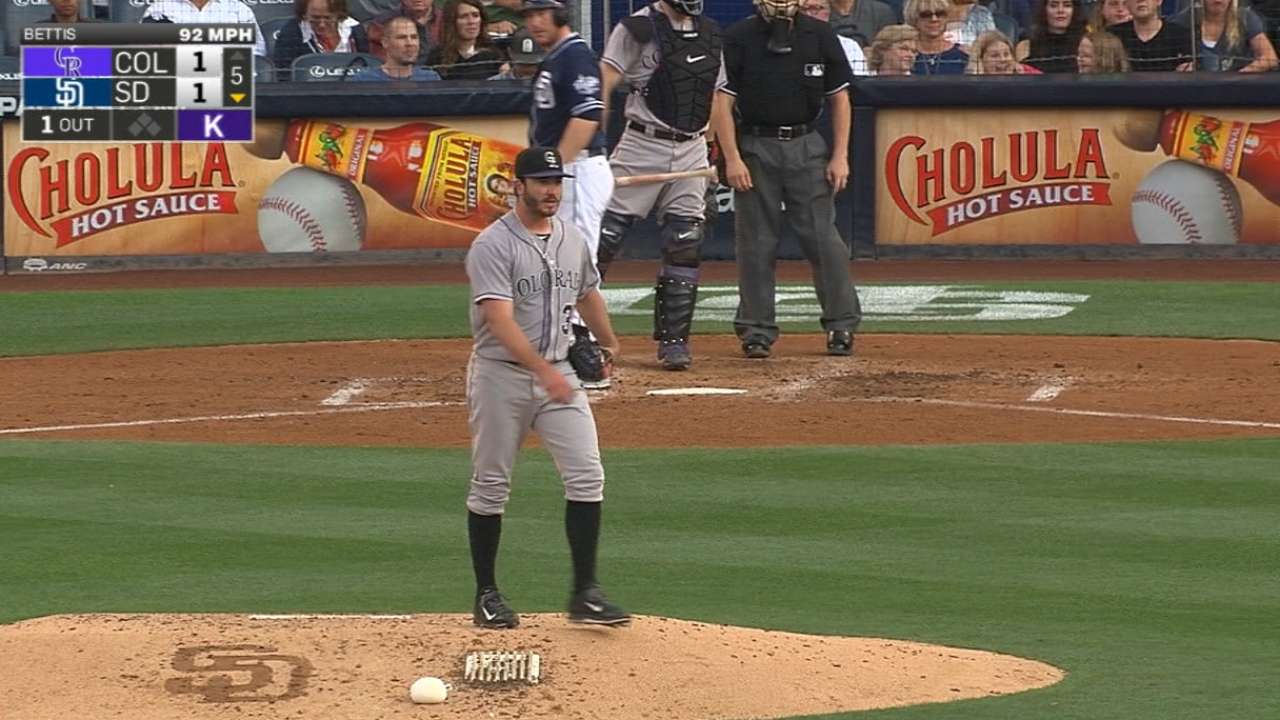 SAN DIEGO -- Although right-hander Chad Bettis had a solid outing Saturday night for the Rockies, the team fell, 5-4, to San Diego, dropping their record to 39-51.
But the start was an encouraging sign for Bettis, who completed back-to-back three-run, six-inning outings, coming on the heels of his rough 10-run performance on July 7.
Bettis, who entered the game with a 5-4 record and 4.91 ERA, allowed his ninth homer of the season to catcher Austin Hedges in the third, but kept his composure until the sixth inning. Bettis walked two straight batters and then allowed a two-run double to Matt Kemp with two outs to give the Padres a 3-1 lead.
Manager Walt Weiss and Bettis agreed that fatigue got the best of the pitcher.
"He started throwing balls in the middle of the plate that inning and that is usually a sign that there is some fatigue setting in," Weiss said.
Bettis said on the pitch to Kemp he was trying to go down and away, but thought the ball came back a little bit.
"I couldn't find the strike zone after I got two outs," Bettis said. "It's not acceptable, especially, after giving up that double to Kemp. I can pitch a lot better than that. Right there that is a pivotal point in the game, so for me that's not acceptable."
Bettis ended the day pitching six innings, allowing three hits, three runs (all earned) and walked three batters. He struck out five.
"You don't initially want to get tired, especially after two outs, I had to fight my way through," Bettis said. "But I think I probably should have thrown a different pitch to Kemp."
Successful starting pitching is going to be key for the Rockies in the second half of the season. Entering Saturday's game the Rockies' starting pitchers had the second-worst ERA in the Majors at 4.99, just behind the Phillies at 5.40.
On Sunday the Rockies are slated to start Eddie Butler, who will be called up from Triple-A Albuquerque. The right-hander is 3-6 with a 4.80 ERA in 11 starts for the Rockies this season.
Beth Maiman is an associate reporter for MLB.com. This story was not subject to the approval of Major League Baseball or its clubs.