Time at home suits recharged Lester well
Left-hander carries no-hitter into 8th inning Saturday vs. Braves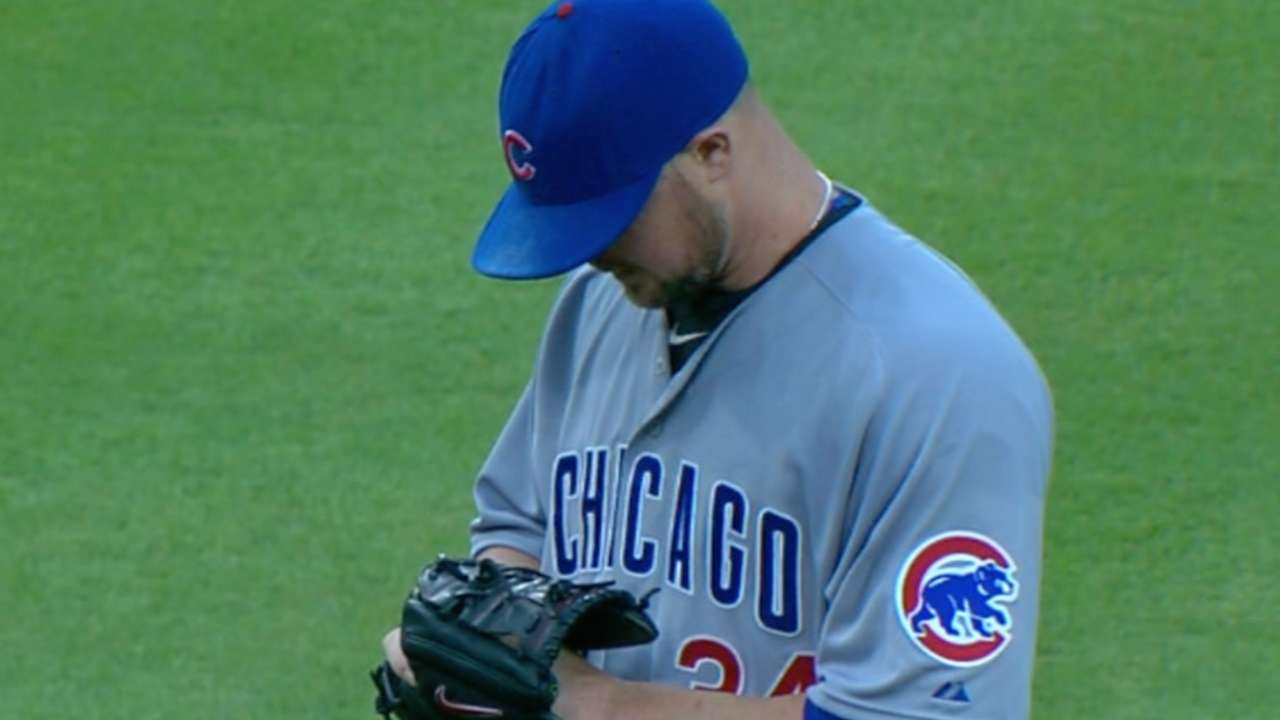 ATLANTA -- Jon Lester spent the week at his Atlanta area farm, fishing with his kids and ignoring his cell phone. He may want to do that before every start.
In his first outing after the All-Star break, the Cubs left-hander held the Braves to two hits over 7 1/3 innings Saturday night in a 4-0 victory. It was Lester's first win since May 16, although he hadn't pitched badly during that stretch.
This was the ninth time in Lester's career in which he went 7 1/3 innings and surrendered two hits or less. However, he almost didn't give up a single hit.
Nick Markakis reached on what was originally ruled an infield single with two outs in the bottom of the first, and was Atlanta's only hit over seven innings. In the top of the seventh, official scorer Jack Wilkinson changed his call on Markakis' ball to an error -- the ball had bounced under third baseman Kris Bryant's glove -- and Lester suddenly had a no-hitter going.
"I really thought when [the play] occurred that it could be changed at some point during the game," Cubs manager Joe Maddon said. "My reaction was that makes my mindset different. He could have 120 pitches going into the ninth inning and with the no-hitter, he's going back out there."
But A.J. Pierzynski singled to lead off the bottom of the eighth, and one out later, Andrelton Simmons singled to center to chase Lester, who had thrown 110 pitches.
Usually, the crowd buzzes with anticipation of a no-hitter, but that wasn't the case on Saturday. The Cubs players didn't avoid talking to Lester in the dugout. He doesn't like to hide.
"I have to socialize, I have to talk," Lester said. "If I've given up 10 hits or no hits, it's the same."
What was important was that Lester was executing his pitches well. Catcher David Ross noticed.
"I thought he did a great job of pitching to a hitter's strengths, as well as a hitter's weaknesses when he needed to," Ross said. "Whatever I asked him to do, he did it."
The first half most likely wasn't as Lester hoped it would be in his first season with the Cubs. He entered Saturday's game 4-8 with a 3.59 ERA, riding a career-high six-game losing streak. That streak is over.
Lester could enjoy Saturday night at his farm with family and friends. His week-long vacation is over.
"That's why the All-Star break is so good -- whether you're doing good, bad or indifferent, whatever it is, you can use those three-and-a-half days to get back to neutral and take those days off and really appreciate that time off," he said. "It was definitely tough coming in [to Turner Field] Friday after being home for four-and-a-half days.
"It was a good break," he said, "and now we're back to business."
Carrie Muskat is a reporter for MLB.com. She writes a blog, Muskat Ramblings. You can follow her on Twitter @CarrieMuskat and listen to her podcast. This story was not subject to the approval of Major League Baseball or its clubs.