Davis, Gennett answer call for Brewers
Despite late lineup change, both adjust to contribute at plate
MILWAUKEE -- When was the last time Brewers second baseman Scooter Gennett was a late addition to the starting lineup in his career?
"High-A ball, I think," Gennett said after the Brewers' 8-5 win over the Pirates Saturday at Miller Park. "I wasn't suppose to play that day and ended up getting four hits."
It was a similar situation for Gennett on Saturday. Pirates' lefty starter Francisco Liriano was scratched from his scheduled start roughly 20 minutes before game time, prompting Brewers manager Craig Counsell to shuffle his original lineup.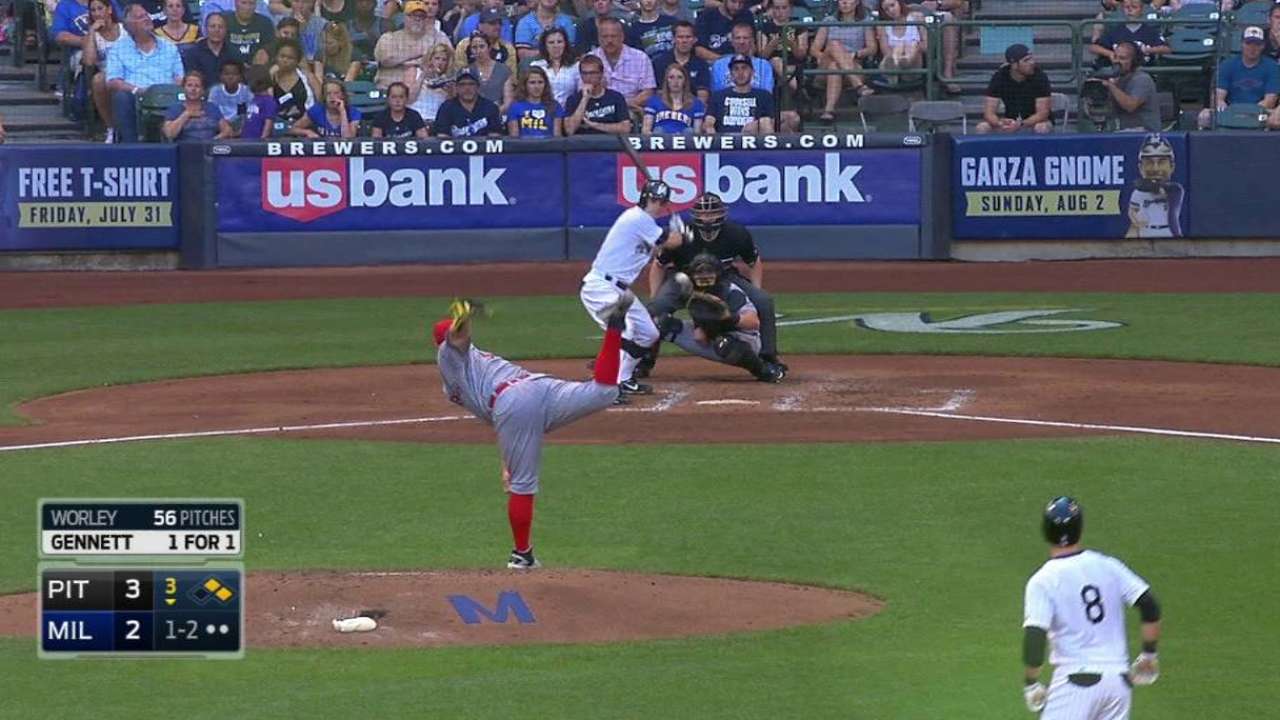 Gennett entered at second base, replacing Hernan Perez, while lefty-swinging Gerardo Parra took Khris Davis' spot in left field. Gennett would deliver with three singles, extending his streak of reaching base safely to eight straight plate appearances before flying out in the sixth.
"For me, in my position, I have to be ready at all times," Gennett said. "Whenever I'm not in the lineup, I still prepare like I was playing."
That approach has led to strong numbers for Gennett since being recalled from Triple-A Colorado Springs on June 11. Since then, the second baseman is batting .320 (32-for-100). In July, he's hitting .378 and owns a .440 on-base percentage in 12 games.
Counsell believed it to be a tougher transition for Davis. The outfielder didn't let it affect him, though, as he belted his third career pinch-hit home run in the seventh inning. The solo shot was Davis' seventh homer this season.
"I think it was more difficult for Khris," Counsell said. "Getting ready and having to tell him he's not playing. The guy is getting ready to play, has his pregame preparations and is ready to play."
Nevertheless, Davis could find his name in the starting lineup on Sunday, as the Pirates are scheduled to throw another lefty in Jeff Locke.
Like Gennett, Davis was clearly ready when his name was called, something the second baseman believes to be vitally important.
"If I hadn't [been prepared], it probably would've been a tougher transition," Gennett said. "I'm ready to play always. It's kind of my approach every day."
Brandon Curry is an associate reporter for MLB.com. This story was not subject to the approval of Major League Baseball or its clubs.