MLB.com Columnist
Mike Bauman
Pirates search for post-break momentum
Errors, high pitch counts give Milwaukee edge over Pittsburgh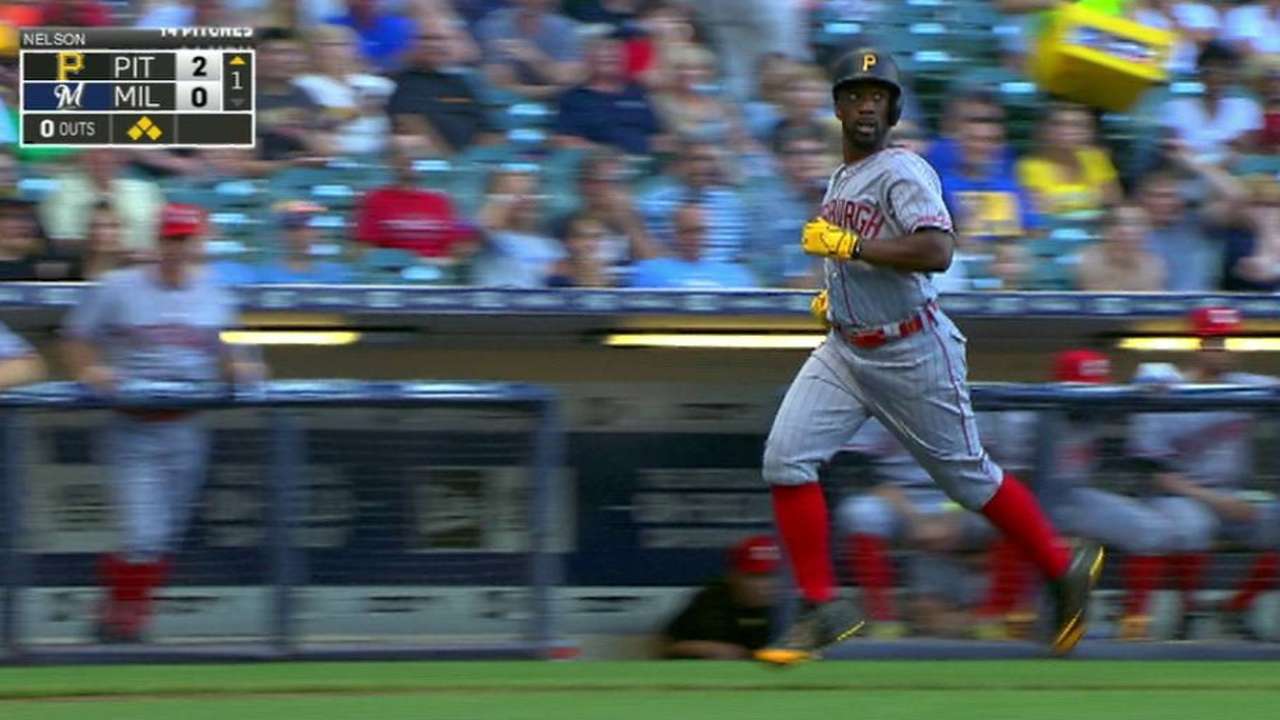 MILWAUKEE -- A two-game losing streak coming out of the All-Star break hardly qualifies as tough times. But this one could work as strange times.
If you watched the first half-inning of the Pittsburgh-Milwaukee game Saturday night, you knew that, the way the Brewers were playing, the Pirates couldn't possibly lose. Except that they could.
"It was a crazy game," Bucs manager Clint Hurdle said.
Hurdle was not guilty of any sort of overstatement. The Pirates had the best record in the Majors since May 9. The Brewers were 18 1/2 games out of first in the National League Central and, not coincidentally, 15 games behind the Bucs.
The Pirates did get bad news when scheduled starter Francisco Liriano was scratched not long before game time with neck stiffness. Vance Worley, who had not started since May 14, became the emergency starter. He has pitched well in relief since Charlie Morton took over his spot in Pittsburgh's rotation. But this was not to be Worley's evening.
Initially, it was all too easy for the Bucs. In the top half of the first, Milwaukee starter Jimmy Nelson gave up four hits and one walk, hit a batter and threw a wild pitch. In addition to that, his teammates committed two errors.
When you looked up at the Miller Park scoreboard after that first half-inning, the three runs for Pittsburgh seemed to be a truly conservative estimate. And the problem turned out to be that the Pirates, after scoring the three runs, had the bases loaded with none out and did not score after that. The key play came on Francisco Cervelli's fly to medium depth in right, on which Starling Marte tried to score but was thrown out at the plate by Ryan Braun.
Still, after starting the second half with a 4-1 loss Friday night, it appeared obvious that the Bucs were headed back to their winning ways. But not quite yet.
In the second, the Brewers were allowed to rejoin the contest when Worley gave up a two-run single to Nelson. Prior to this, Nelson had 58 at-bats in the Majors without an RBI. He was batting .091 coming into this at-bat.
Milwaukee scored an unearned run in the third, following an error by shortstop Jordy Mercer. The Brewers took the lead for good in the fourth on a two-run homer by Jonathan Lucroy. Worley departed after the fourth and took the loss. Theu continued to add on against the Pirates' bullpen, scoring in six consecutive innings, eventually winning, 8-5.
On the other side, Nelson settled in and allowed no more damage until the seventh. The Bucs rallied to within two runs in the seventh, but they would come no closer.
"Their pitcher was able to regain himself," Hurdle said. "We give Worley a yell 25 minutes before the game that he was going to start. He put everything he had into the outing, he battled, had some adversity. A couple of misplays got 16 pitches added on to his pitch count, and his tank ran out."
Worley threw 80 pitches over the four innings.
"He was all in with his effort," Hurdle said. "He's a tough man. That's one of the things we like about him."
A 10-pitch walk to Brewers left fielder Gerardo Parra came immediately before the home run by Lucroy.
"I think it was just another punch in the gut that probably took some more wind out of [Worley]," Hurdle said.
For his part, Worley refused to accept any of the convenient excuses, like being told that he was starting just minutes before the playing of the national anthem.
"You deal with a lot of adversity in this game, and this just happened to be one of the ones that I had to deal with today," Worley said. "I did as much as I could for these guys today.
"I felt fine. I've been built up to go deep and I've had some games where I've come out of the 'pen and gone deep. It wasn't any different today."
Asked about the effect of the 10-pitch walk to Parra, Worley said with a small smile: "I threw him a lot of different pitches, man. He put up a good at-bat. I wasn't going to throw him anything good, so he ended up walking."
And what looked like a romp at first turned out to be defeat for the Pirates. No gloom and doom was generated here, just a generalized hope that Liriano's neck loosens up and the realization that the next time the bases are loaded with nobody out, Pittsburgh needs to score more runs.
Mike Bauman is a national columnist for MLB.com. This story was not subject to the approval of Major League Baseball or its clubs.