'Extra outs' cost Koehler, Marlins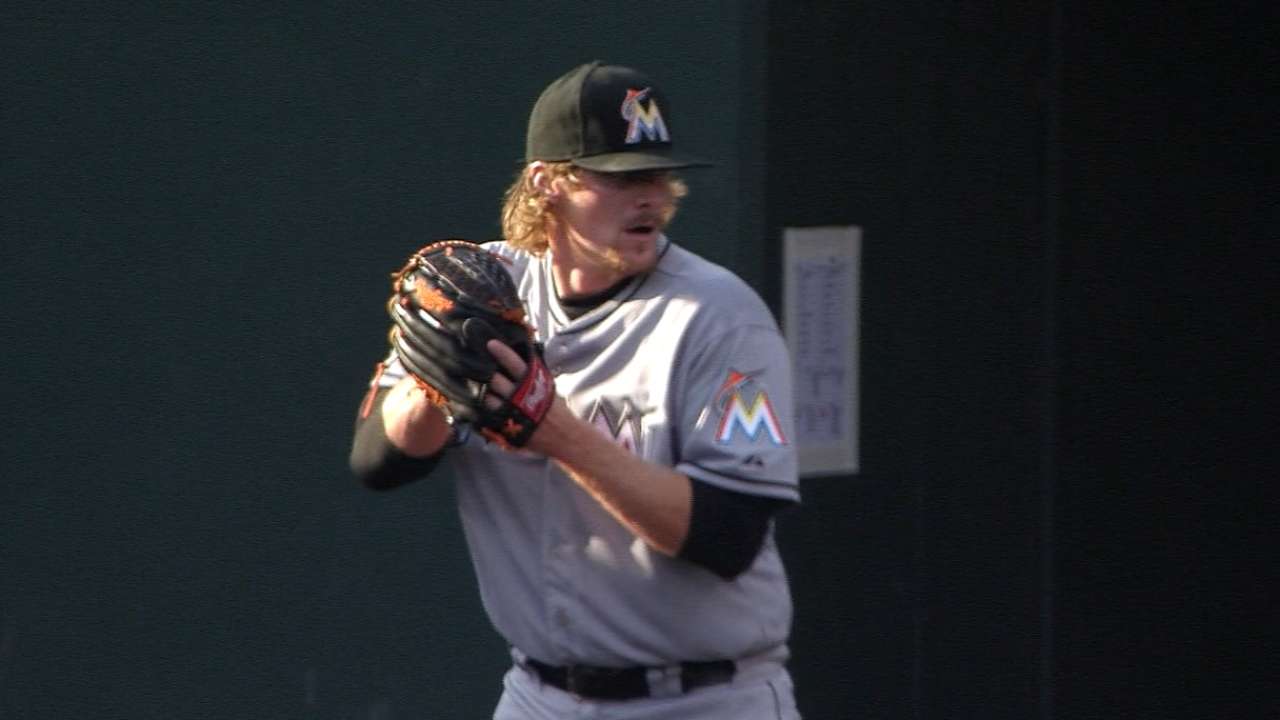 PHILADELPHIA -- For a club that takes so much pride in its defense, Saturday was another uncharacteristically sloppy game for the Marlins, who lost, 3-1, to the Phillies at Citizens Bank Park.
Tom Koehler, who battled through six innings, gave up three runs -- two of them earned. But the right-hander committed one of his team's two errors, and that compounded the frustration of losing the first two in the series.
"I don't know if guys are trying too much," Koehler said. "Everybody in here is a professional and knows what they need to do. It's obviously not the way you want to start off the second half. We know we need to play cleaner baseball now to get those wins."
The Marlins went into the All-Star break by taking three of four from the Reds, and thought they had built momentum to make a push before the July 31 non-waiver Trade Deadline. But in the two losses at Philadelphia, Miami has allowed nine runs -- only four earned.
"It's frustrating, especially when I have something to do with it, as well," Koehler said.
After scoring two in the first, the Phillies made it 3-0 with an unearned run in the second. An error by first baseman Justin Bour allowed Cody Asche to reach to open the inning. Koehler then made a high throw to first on pitcher Chad Billingsley's sacrifice bunt.
"The guy sac bunts, you're trying to get one out," Koehler said. "You leave a throw too high. Any time you give any team extra outs or allow them to get guys in scoring position when they wouldn't be, it makes it harder. It doesn't matter who you're playing."
The Marlins entered Saturday with a .988 fielding percentage, which is second in the National League to the Dodgers.
But the misplays put the team in an immediate hole.
"We all need to step up, whether it's making the pitch when we need to or getting that big hit," Koehler said. "We've been talking about it all year -- we're just one pitch or one hit away from our record being completely different. It's unfortunate. We've got to go back to playing good, quality baseball."
After a sluggish start, Koehler retired the final 12 he faced on 46 pitches. When he exited, Miami was down by two runs.
"He seemed to settle in nicely," manager Dan Jennings said. "He gave us an opportunity. He gave us a shot. We had a look at it late, even though we didn't get the job done. We had a chance. We brought the tying run to the plate."
Joe Frisaro is a reporter for MLB.com. He writes a blog, called The Fish Pond. Follow him on Twitter @JoeFrisaro and listen to his podcast. This story was not subject to the approval of Major League Baseball or its clubs.