Pierzynski helps Braves sidestep history
Veteran catcher breaks up Lester's no-hit bid in 8th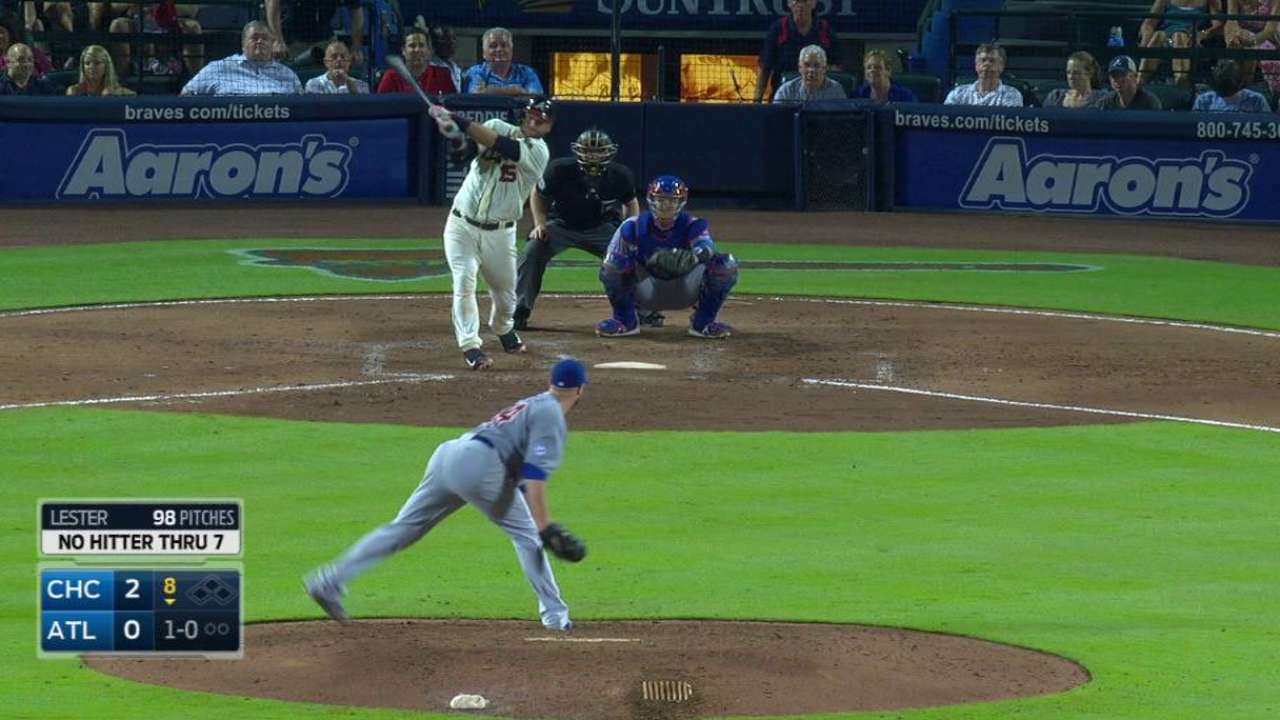 ATLANTA -- Braves catcher A.J. Pierzynski prevented the Braves from being no-hit for the sixth time in franchise history -- after a scoring decision turned Nick Markakis' first inning single into a Kris Bryant error -- but Atlanta still couldn't do enough to avoid a 4-0 shutout from the left hand of Cubs starter Jon Lester.
With the official scorer's decision to turn Markakis' hit into an error, Lester reached the eighth inning with his no-hit bid intact before Pierzynski drove an 88-mph cutter that broke over the heart of the plate into right field.
"It's big," Markakis said of Pierzynski's hit, "especially as tough as [Lester's] been on the mound. He's not an easy at-bat, especially for a lefty.
"For A.J. to come up there with a nice hit, [it's] encouraging. [We] got things going there and we just came up short."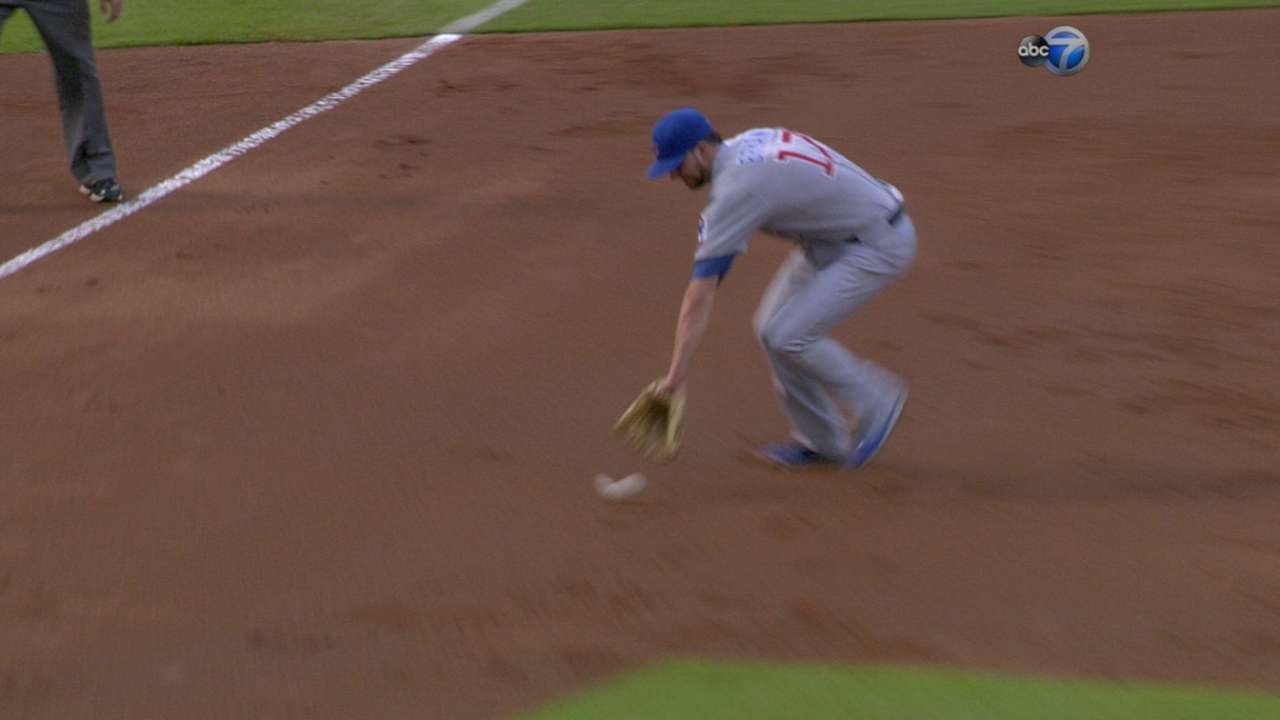 Braves left fielder Jonny Gomes, who hit a ball over the left-field fence just foul in the seventh inning, said he wasn't surprised at all that Pierzynski came through to break up the no-hitter.
"I've seen him get plenty of hits, I've seen this team get plenty of hits," Gomes said. "But I've never seen a hit get taken away five innings later if you want to talk about what I've seen and what I've not seen."
Braves manager Fredi Gonzalez said he didn't pay too much attention to the call, and thought it was a hit, but also said that if anything, the call might have helped the Braves out.
"You know what it does, I think it puts pressure on the opposing team; pitcher and manager," he said. "Because all of a sudden it goes from a one-hitter to a no-hitter, and you may run him out there a little longer.
"You may be able to get him."
And while the Braves "got Lester" in the sense that they avoided the no-hitter, they suffered their eighth shutout of the season and Lester, an Atlanta native, still went 7 1/3 innings, struck out seven batters, walked just one and allowed just two hits.
"He was commanding his fastball, he really was," Gonzalez said. "Both sides of the plate, keeping it down. I thought [Cubs catcher David] Ross did a nice job with him mixing pitches.
"I thought his command of his fastball was as good as I've seen -- not only of him, but anybody I've seen command the fastball."
Lester snapped a streak of 10 straight winless starts (the longest such streak of his career) to help the Cubs end an eight-game losing streak at Turner Field, while proving he was much better than his record might indicate.
"I've seen that a whole lot, to tell you the honest truth, from him," Gomes said of his former teammate. "That outing was not that uncommon out of him.
"He was good tonight, obviously he works well with David Ross. He's from here, had some people in the stands. Tip your hat to him."
Carlos Collazo is an associate reporter for MLB.com. This story was not subject to the approval of Major League Baseball or its clubs.