Indians' offense breaks out with trio of homers
Consistent contributions from Brantley, Moss, Gomes and Santana could help Tribe climb in AL Central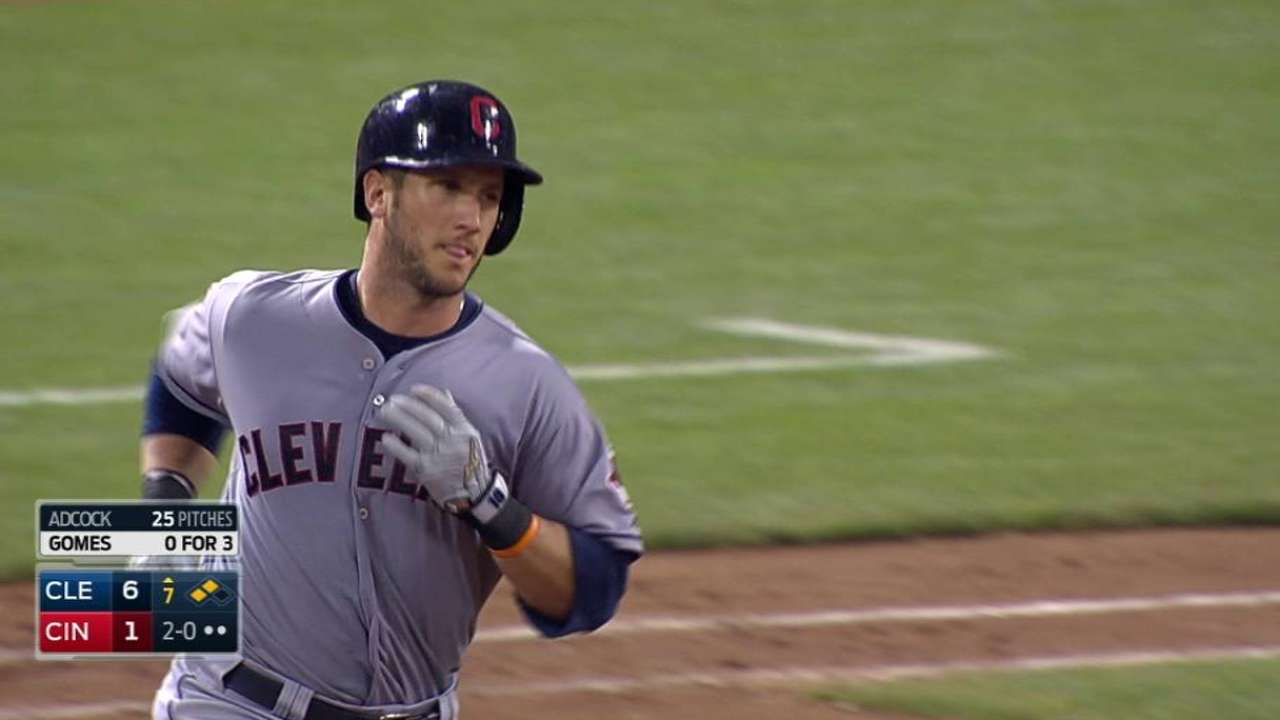 CINCINNATI -- Six pitches into Saturday night's 9-4 win over the Reds, the Indians scored more runs than in their previous two games combined. Jason Kipnis and Francisco Lindor singled, and Michael Brantley knocked them in with a three-run home run that hushed the Great American Ball Park crowd.
It was like something out of an old comic book.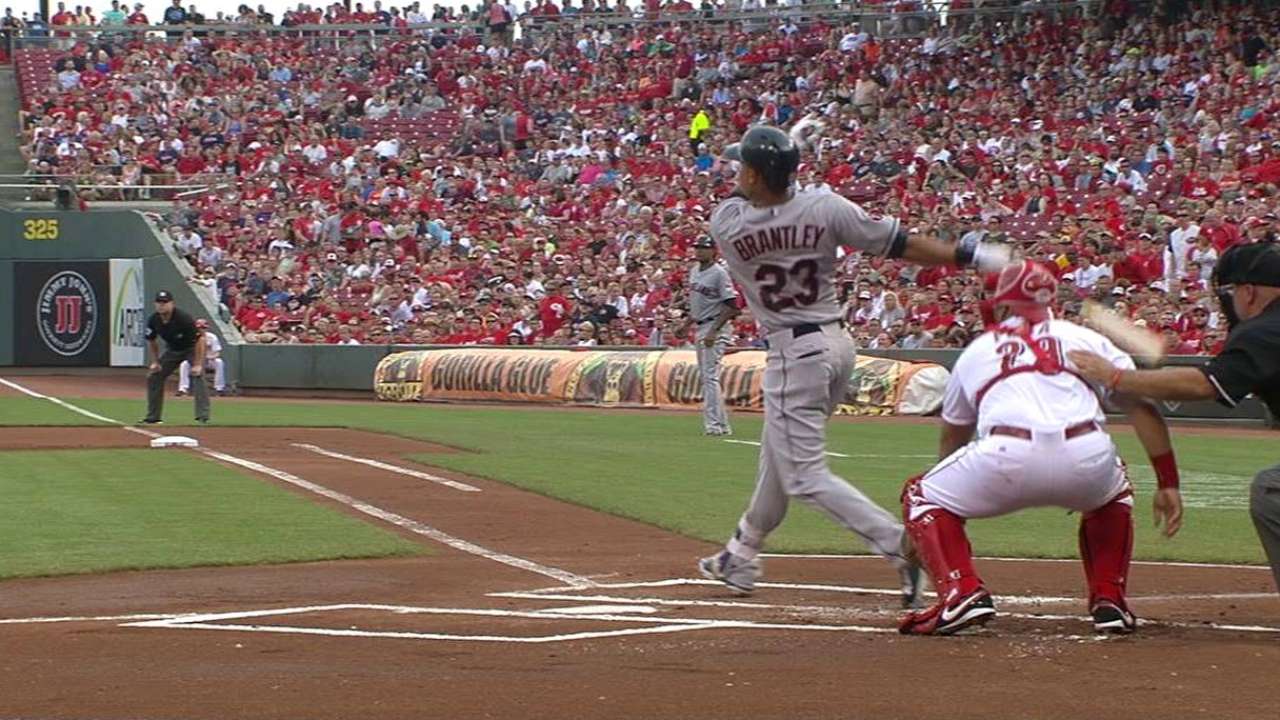 Pow! Thwack! Bang!
"Hit, hit, homer," Indians outfielder Brandon Moss said after the victory. "That's a great way to start the game."
Not to mention that it's how Cleveland's offense started on a night when ace Corey Kluber took the mound. The right-hander's 5-10 record does not tell the story of his season, which has been statistically sound with the exception of abysmal run support. That was no problem on this night, when Brantley, Moss and Yan Gomes drove in a combined eight runs via a trio of homers.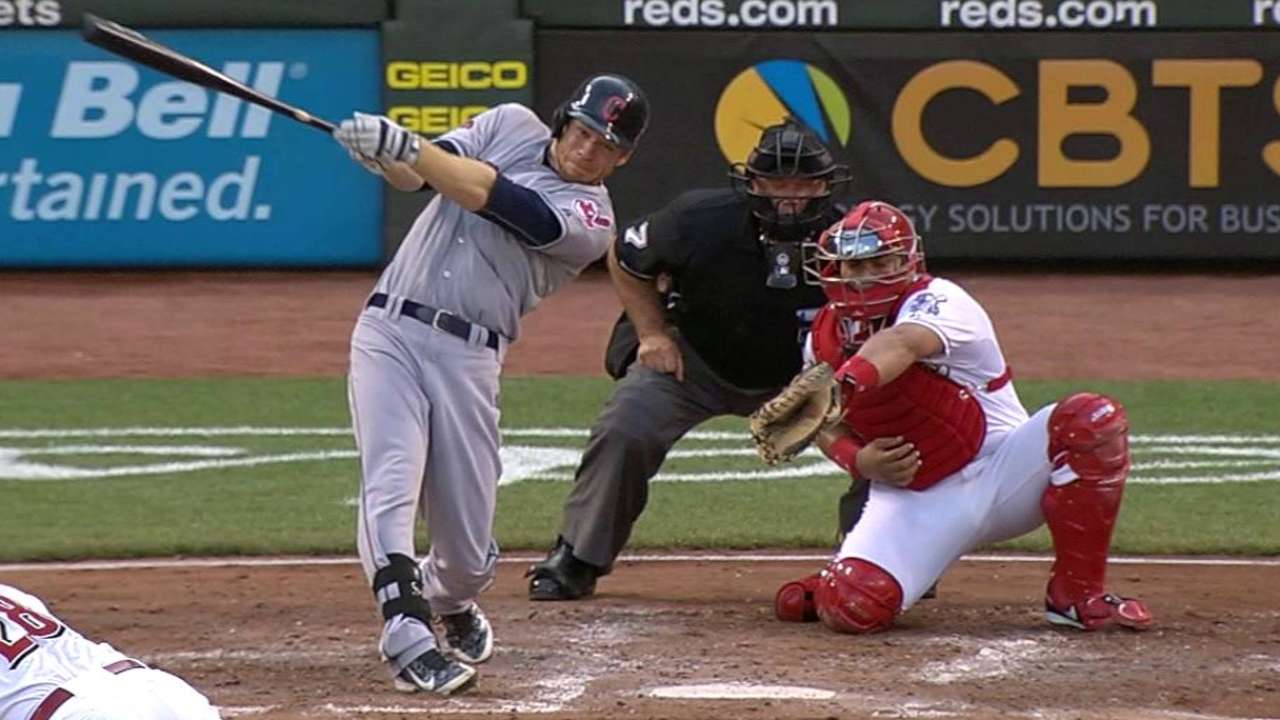 If the Indians want to tick their way up the American League Central and Wild Card standings, the offense will need to be more consistent over the final two-plus months. Players who have dealt with health issues like Brantley and Gomes, and those who have labored through slumps like Moss and Carlos Santana, will need have more nights like Saturday.
That foursome combined to go 5-for-17 with three walks, five extra-base hits, five runs scored and nine RBIs in the win over Cincinnati. Within that, Santana became only the ninth Indians hitter since at least 1914 to enjoy a game with at least one stolen base, two doubles, two walks and two runs. All-Star Kipnis did his part, too, collecting two hits, drawing a walk, stealing a base and crossing the plate twice.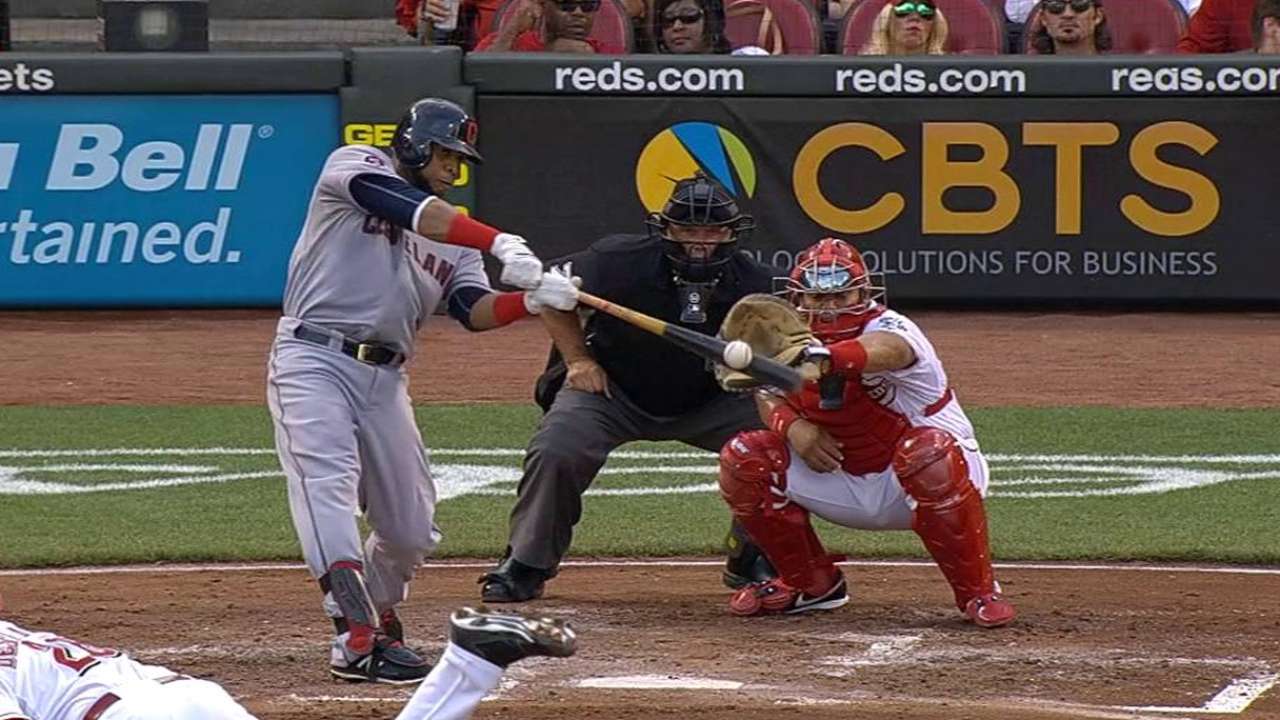 "We need everybody to contribute," Kluber said. "We've got some ground to make up, so we kind of all need to start clicking. But, yeah, it was good to see those guys have good nights."
The Indians were up 3-0 after the first thanks to Brantley's home run and then pushed to a 6-1 lead in the third, which was capped off by Moss' two-run blast. Gomes provided the exclamation point with a towering shot in the seventh that soared high over left field before crashing into the second deck.
Cleveland had not scored at least nine runs in a game since May 27.
The Indians also managed just nine runs total during Kluber's time on the mound in his previous five starts.
"They're good hitters. We need them all," Indians manager Terry Francona said. "If you start to get contributions from all over the map, it makes it harder for pitchers to attack our lineup. That was good to see."
The hitters agreed.
"Everybody swung the bat great today," Moss said. "We were aggressive. We swung the bats with authority. We weren't just trying to get hits and panicking [while] trying to do whatever we can to get a guy in."
Having three runs on the board before recording an out always helps, too.
"The way those first three guys started," Gomes said with a smile, "that's exactly how we want them to do it every time."
Jordan Bastian is a reporter for MLB.com. Read his blog, Major League Bastian, follow him on Twitter @MLBastian and listen to his podcast. This story was not subject to the approval of Major League Baseball or its clubs.