Hitting contagious for Grichuk, Cardinals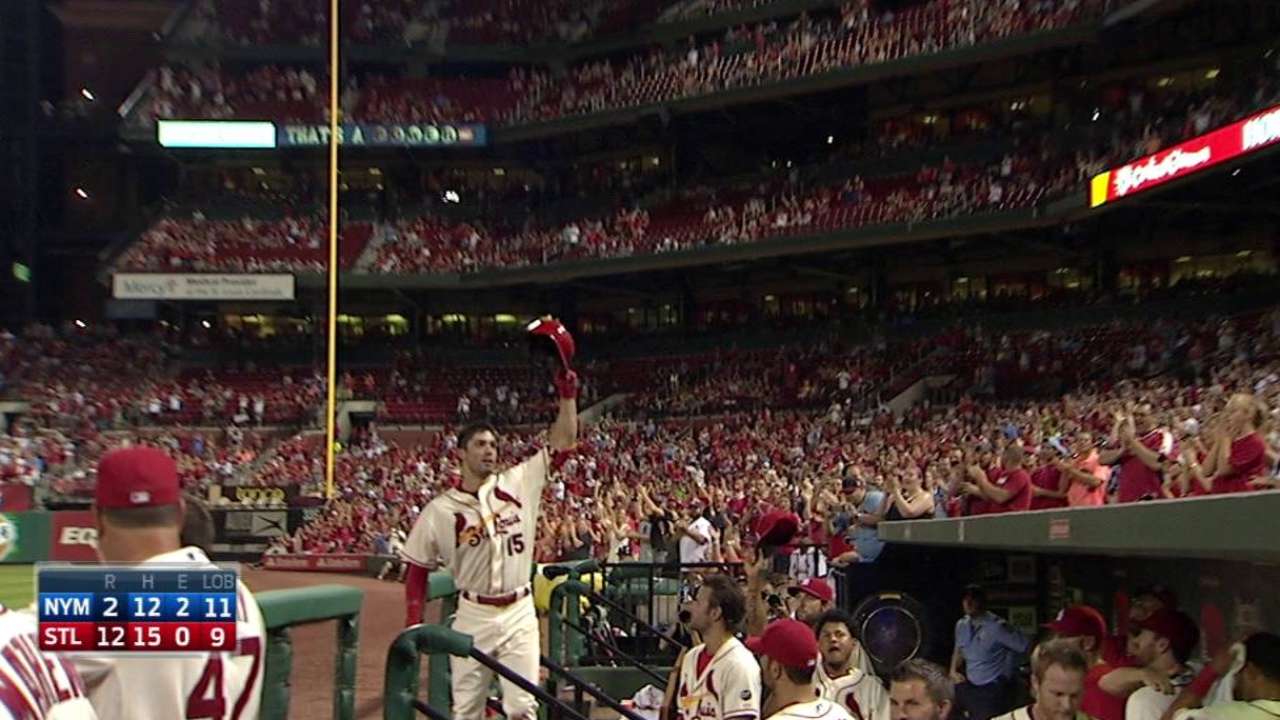 ST. LOUIS -- Randal Grichuk took the first curtain call of his Major League career after his second home run of the Cardinals' 12-2 win over the Mets on Saturday night at Busch Stadium, but he was just one member of a deep cast that contributed to one of the club's best offensive games of the season.
The Redbirds posted a four-run first inning, their first of three such frames on a night when offense was seemingly infectious everywhere except for the top of the lineup, as Kolten Wong and Matt Carpenter combined to go 0-for-9.
Eight players hit safely; the team's 15 hits were its most since June 20, and its run total was its highest since June 19.
"I think [the hitting was] kind of contagious," said Grichuk, who batted eighth in the order. "You see the guy ahead of you swinging it well, getting a hit, it makes you kind of want to lock in a little bit more and get a hit. Hitting is definitely contagious. We all swung it well tonight. That's a good sign, and hopefully, it continues."
Grichuk's six RBIs were a career high, and he became the club's first player to drive in six runs since Matt Adams did so on June 23, 2014. The homers were his first of the month.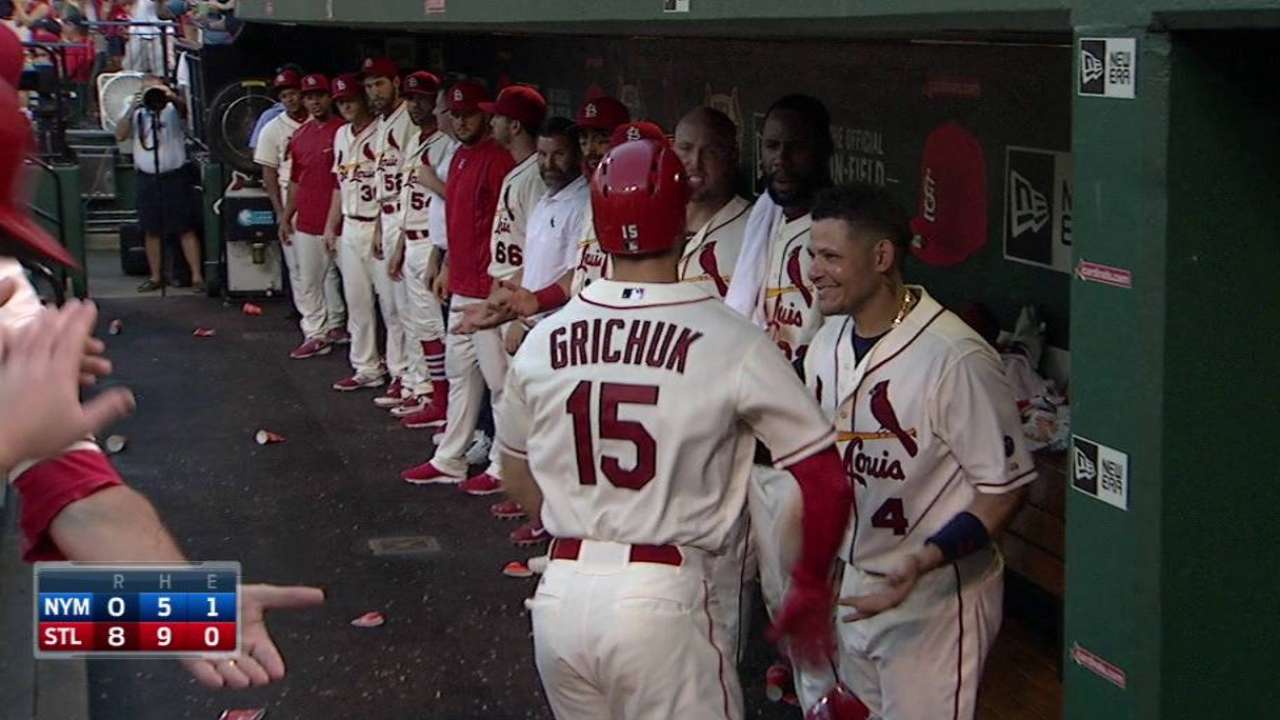 "Impressive," manager Mike Matheny said. "It's just impressive the kind of power he has. You start that day off in the eight-hole getting hit by a pitch, getting walked and still mixing in six RBIs with three hits from that spot in the lineup, that's impressive."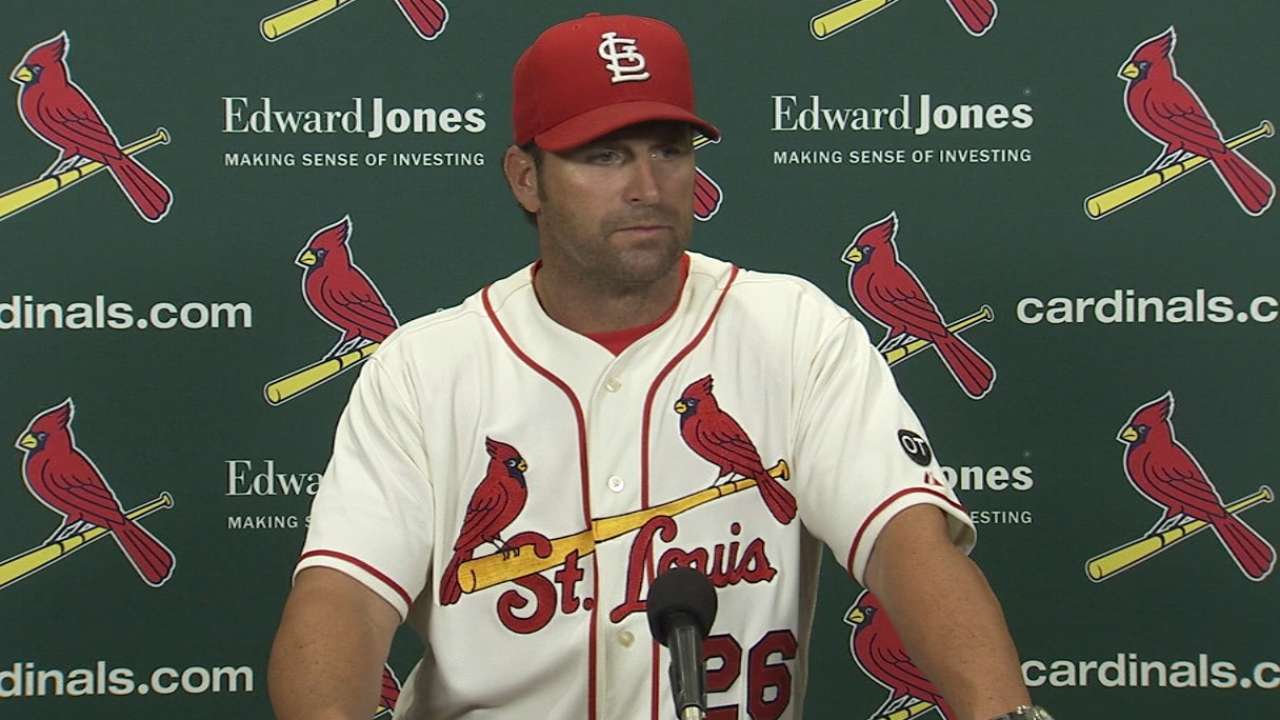 Jason Heyward, who tied a career high with five hits, credited Matt Holliday with revitalizing the lineup. Holliday ripped a double to left in the first inning for his first hit since returning from the disabled list on Friday.
"Good night," Heyward said. "Getting Matt Holliday back is awesome. It makes us that much deeper and takes some of the pressure off of everybody. We jumped on them early, didn't let up, and that's huge for us to get to play a game like that and let [starter John] Lackey go out there and do his thing."
Grichuk's second homer, a blast to center, put the game's final runs on the scoreboard and brought the crowd to its feet, yelling for him to emerge from the dugout to offer a wave.
"That's something you kind of look at and hope one day you get it," Grichuk said. "I couldn't hear anything and just heard Mike yelling at me to go up there. It's a pretty special moment."
David Cobb is an associate reporter for MLB.com. This story was not subject to the approval of Major League Baseball or its clubs.