Hunter thankful to still be playing at age 40
Twins veteran receives gag gifts from teammates for birthday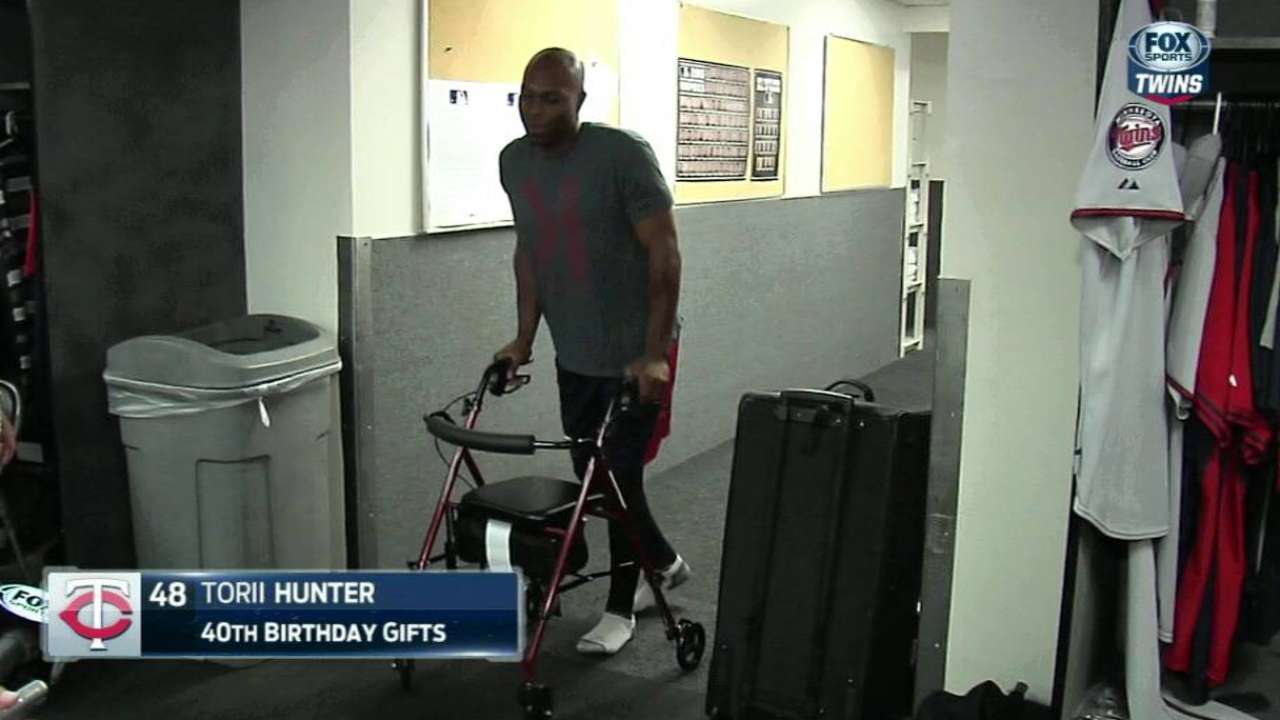 OAKLAND -- Twins right fielder Torii Hunter joined some rare company Saturday, as the 19-year big league veteran celebrated his 40th birthday.
He became the first Twins player to play at 40 years old since Jim Thome in 2011, and just the fourth for Minnesota dating back to 2005. He joins Miami's Ichiro Suzuki as the only position players in the Majors over 40.
"I'm blessed to be 40 years old and in this game," Hunter said. "I never thought I'd be playing baseball at 40. But I thank God for the opportunity and the health to go out there and play on an everyday basis and keep on performing in a kid's game. So I'm very thankful and blessed."
Hunter also received some fun gifts from his teammates, as he arrived at his locker with his chair switched out for a walker, which also had adult diapers in it. Hunter took it in stride and said he wasn't sure what else his teammates had planned for him.
"I had a lot of gifts, some senior-citizen diapers," Hunter said. "I tried them on but I think I put them on backwards. And then I got this new walker with all the bells and whistles. It's got left brakes and right brakes, so it's pretty cool."
But on a serious note, Hunter said he never thought he'd play this long in the Majors, but that his production in recent years made him want to keep going. He said he's still not sure if he'll play again next year, but said that if he does, it'll be with the Twins, as he started his career with them and he'd like to finish his career in Minnesota.
"We'll just have to see," Hunter said. "I really want to retire in a Twins uniform and hopefully that happens. That's why I'm here. So whether it's this year or next year, it'll be with the Twins."
Hunter's longevity has impressed Twins manager Paul Molitor, who played until he was 42 during his Hall of Fame career. Molitor said he's talked with Hunter about keeping him fresh throughout the season, and it's worked, as he's remained productive this season.
Hunter addressed his teammates after getting two hits in Friday's 5-0 win over the A's.
"I thought he was going to get a little emotional after the game last night, saying, 'Man, that was my last game in my 30s,'" Molitor said. "I said I know the feeling and can relate to that. You can kid about it, but there's really not that many guys who turn 40 in the game. For him to be doing what he's doing and wearing the same uniform size as he did his rookie year, it's just an incredible career and hopefully there's a lot more to come."
Rhett Bollinger is a reporter for MLB.com. Read his blog, Bollinger Beat, follow him on Twitter @RhettBollinger and listen to his podcast. This story was not subject to the approval of Major League Baseball or its clubs.