Kershaw puts 3-pitch arsenal on full display
Dodgers lefty strikes out season-high 14 in win vs. Nationals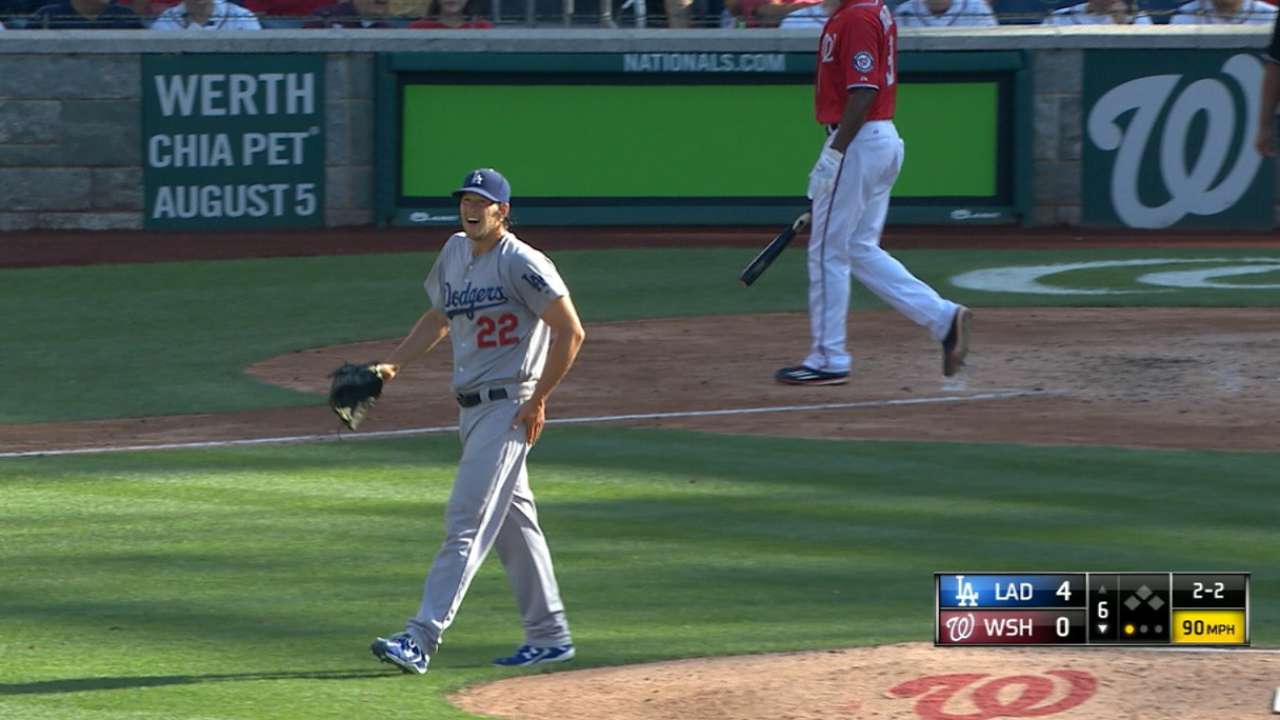 WASHINGTON -- With an exploding fastball and a vanishing curveball, Clayton Kershaw's toolbox already contained the weapons to dominate. Add to it the best slider the National League MVP thinks he has had all season and it became an unfair fight on Saturday in the Dodgers' 4-2 win against the Nationals.
"It's probably as close as I can remember his stuff being to his no-hitter day back last June," catcher A.J. Ellis said.
Kershaw struck out a season-high 14 over eight scoreless innings without allowing a walk, and, in an act of nearly perfect symmetry, he fanned two batters in every inning except for the eighth. During that frame, he settled for three groundouts.
"I think more than anything, I was just able to throw all three pitches," Kershaw said. "The curveball has felt pretty good all year. Today was no different."
Kershaw allowed three hits and generated 30 swings and misses, tied for the most in a single game by any pitcher in the last seven seasons, according to ESPN Stats & Info.
"The way both breaking balls were working, either weapon I wanted based on how we pitched [the batter] earlier in the at-bat or earlier in the game, we were just trying to make the right choice," Ellis said. "About the fourth, fifth inning, you realized there was no wrong choice with the way he was throwing the ball."
The big, sweeping curveball was on prominent display all game, but never more so than against All-Star Bryce Harper. Harper struck out swinging three times in as many at-bats, either as a direct result of the 12-6 knee buckler or after being set up by it. In his career, Harper is 1-for-9 with six strikeouts and a home run against Kershaw.
"He went out there like the MVP that he is," Harper said. "He was pretty devastating. We tried to go in there and did what we could. I think he is the best pitcher in baseball."
Over his last four starts, Kershaw has struck out 43 batters in 31 innings while walking two. He's allowed two earned runs in that time, good for a 0.58 ERA.
"We had a pretty good idea of what we wanted to do," Ellis said, "And then he went out and threw [101] amazingly executed pitches."
Jacob Emert is an associate reporter for MLB.com. This story was not subject to the approval of Major League Baseball or its clubs.