Outstanding run continues in Cain's big day
Royals All-Star crushes go-ahead HR in 13th, pushes average to .490 over past 13 games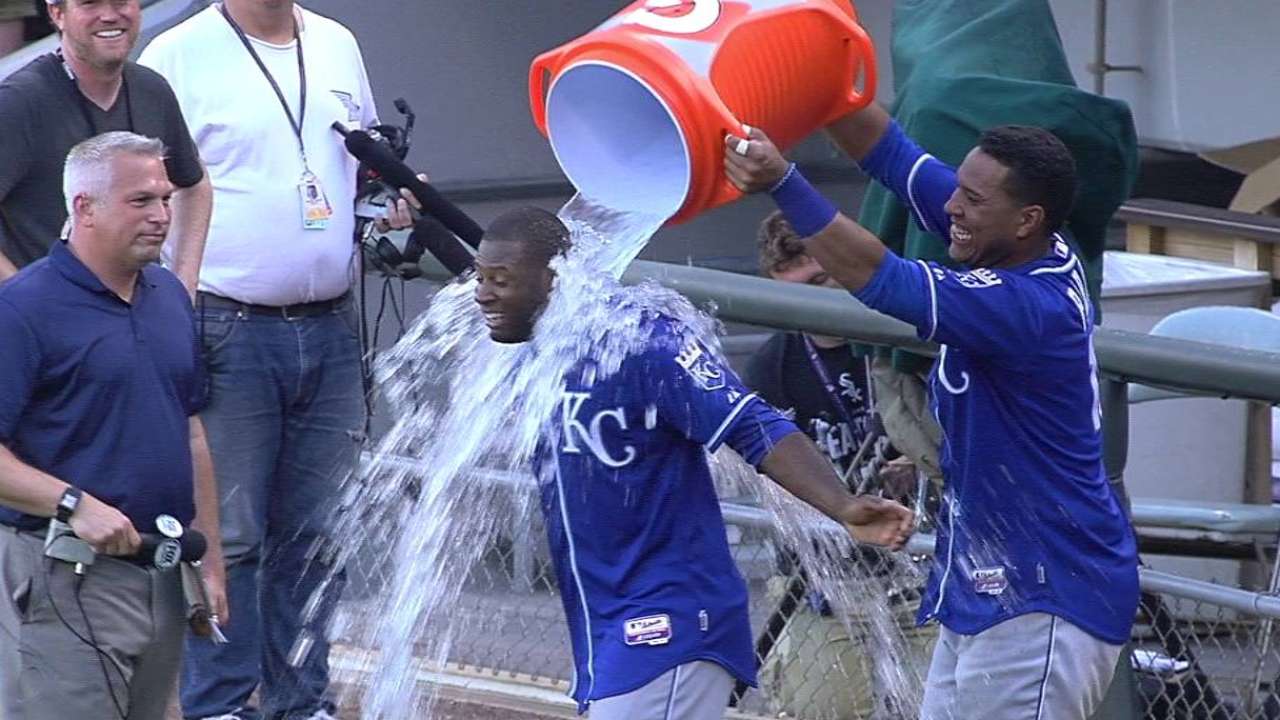 CHICAGO -- By the 13th inning of the Royals' 7-6 win over the White Sox on Saturday, Lorenzo Cain didn't care if he hit a home run to end the game. He was ready for anyone to end it.
But following a doubleheader on Friday and a rain-soaked extra-innings contest today, it was Kansas City's hottest hitter of late who stepped up and sent a shot beyond the left-field wall to push the Royals ahead.
"I was just hoping for anybody on this team to hit a home run at that point," Cain said with a smile. "I ended up doing it and helping everybody get out of here and move on to tomorrow. It was well-needed.
"We hung in there. I know both teams are tired after yesterday and then coming here this morning to play another day game, so it's definitely not easy for each team, but we found a way to come out here, play great baseball."
White Sox reliever Dan Jennings threw two sliders to Cain, setting him up with the same pitch the third time around. So Cain said he sat on the pitch, connecting for his ninth home run of the season.
"Luckily, he threw it," Cain said. "I'm glad he didn't throw a fastball there. I just tried to put a good swing on it and it went out for me."
Cain's home run accentuated a day in which he reached base five times, including a 3-for-5 performance with two walks and two runs. It's marked a recent stretch of games in which Cain has carried his team.
The center fielder has hit safely in 12 of his past 13 games, going 25-for-51 in that time with 11 RBIs and 12 runs. Without outfielder Alex Gordon, who injured himself midway through the span, Cain is stepping up to fill in for one of the team's best hitters.
"I've just been seeing the ball really well as of late," Cain said. "I've been getting good pitches to hit and laying off the bad pitches. That's kind of the biggest difference. ... It's a tough grind each and every day, but I'm just trying to stay locked in as long as possible."
Greg Garno is an associate reporter for MLB.com. This story was not subject to the approval of Major League Baseball or its clubs.