White Sox come up just shy in comeback bid
Ventura elects to stay with Jennings in 13th, but reliever allows decisive homer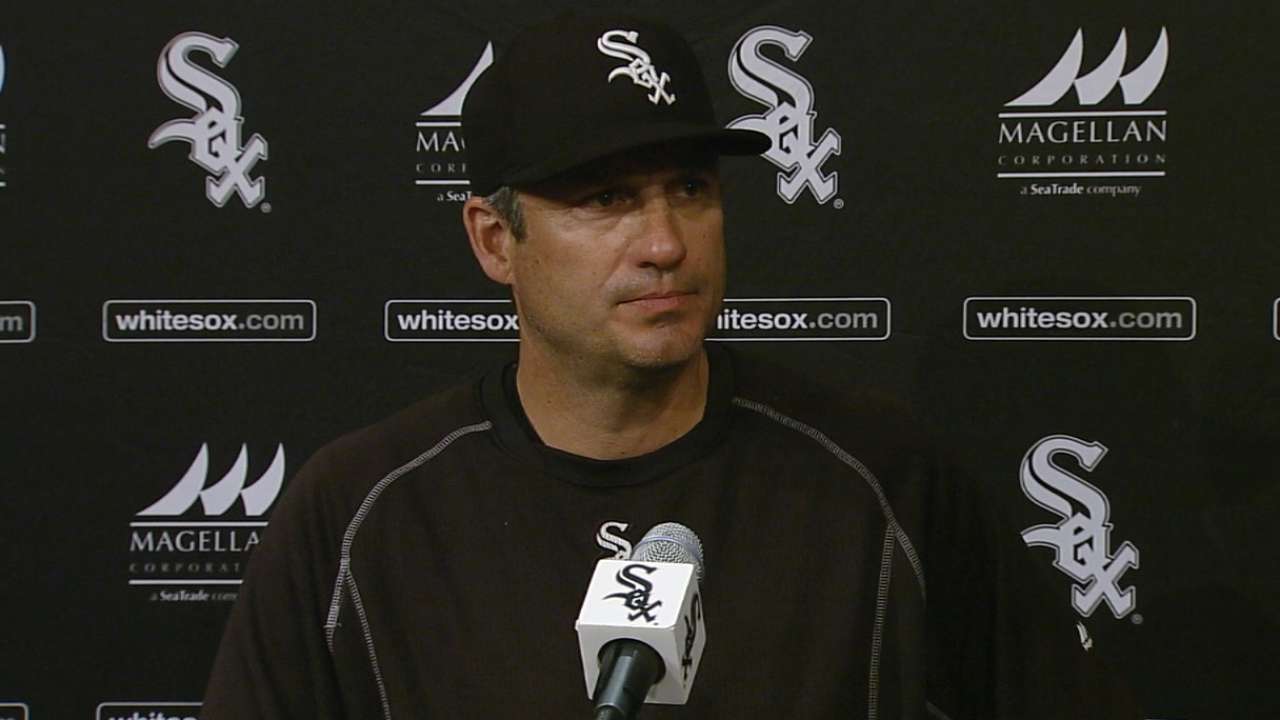 CHICAGO -- The story of the 2015 White Sox season can be summed up in two at-bats from Saturday's 13-inning, 7-6 loss to the Royals at U.S. Cellular Field.
In the bottom of the 12th, Geovany Soto launched a two-out double to left-center off of reliever Brandon Finnegan that hit the base of the wall. This drive could have been a walk-off shot and completed a comeback that had the White Sox down to their last out with nobody on base in the ninth inning against closer Greg Holland. Carlos Sanchez grounded out to second to end the inning.
Lorenzo Cain then connected in the top of the 13th for a leadoff homer off Dan Jennings, giving the Royals the win and guaranteeing at least a split in this four-game series to start the second half of the season. The White Sox have missed out on that big hit all season, leaving them at 42-47 and 12 games behind the Royals in the American League Central.
"You would rather have the win, but I'm really glad how this team competed against them," Soto said. "We come from behind and we keep battling, and it didn't go our way. But it feels good to share the feeling with all these guys in here. They want to play ball and they are competitors."
"We were behind all day and we seemed to just chip away," White Sox manager Robin Ventura said. "We couldn't find that one to go ahead. We had a couple opportunities, but didn't get it. The guys battled the entire time. We just got beat today."
Moral victories, hinted at by Soto in his comment, won't cut it at this point for the White Sox. Yes, they have 73 games remaining, but pretty much every game holds high importance for Chicago to even entertain AL Wild Card thoughts.
With that idea in mind, questions will arise as to why Ventura stayed with Jennings when closer David Robertson was available. Jennings, who worked a career-high 3 2/3 innings and threw 49 pitches, admitted to being a bit out of gas by the 13th. But Ventura didn't want to go to Robertson for one inning as the last reliever, possibly calling Tuesday starter Carlos Rodon into action.
"Once I went out there, tie game, I kind of had that mindset that I'm going to keep pitching until they pull the ball out of my hand," Jennings said. "I wanted to make it tough for them to do that. Obviously, I made it tough for them. It's just unfortunate it didn't work out in the end."
"Robby was there if you needed one," Ventura said. "Danny again, he did a great job, but the one guy got him, and it ends up you lose the game. A lot of stuff could have happened if Robby is in there and you go to Carlos."
Ventura indicated a bullpen arm will probably be added for Sunday. Then again, with All-Star Chris Sale going, the White Sox could try to make it until Tuesday.
"We'll be all right. We have a day off Monday," Jennings said. "We'll piece it together."
Scott Merkin is a reporter for MLB.com. Read his blog, Merk's Works, follow him on Twitter @scottmerkin and listen to his podcast. This story was not subject to the approval of Major League Baseball or its clubs.