Lobstein in early stages of shoulder rehab
Lefty begins throwing at Tigers' facility in Florida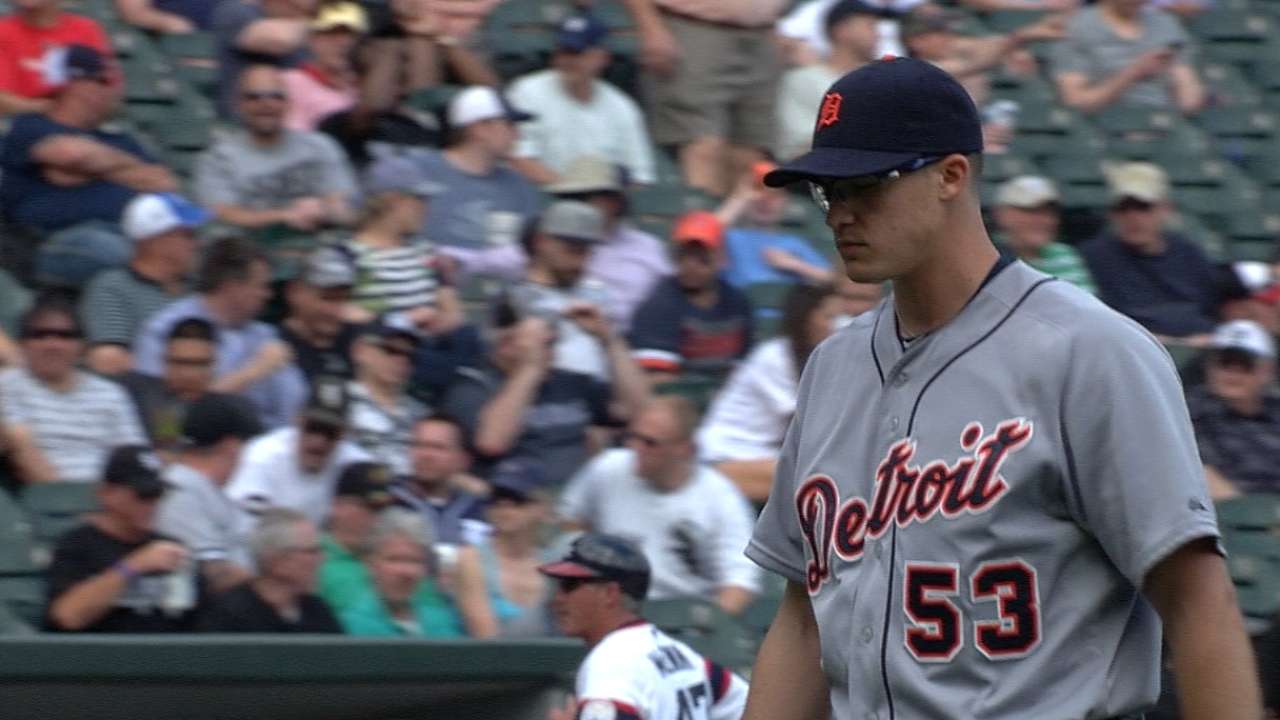 DETROIT -- Tigers starter Kyle Lobstein, who has been on the 15-day disabled list since May 24, has begun throwing from flat ground as he recovers from a sore left shoulder that has sidelined him for much longer than expected.
The southpaw has thrown up to about 120 feet while rehabbing at the club's training facility in Lakeland, Fla., according to manager Brad Ausmus. Lobstein told Ausmus he felt fine following a session Friday.
"He said he feels good, no pain," Ausmus said Saturday. "He's doing better."
Soreness had bothered Lobstein on and off throughout his eight starts this year, during which the left-hander went 3-5 with a 4.34 ERA. Lobstein, who was called up as a replacement for an injured Justin Verlander at the beginning of the season, last pitched May 23.
Verlander has made five starts since returning from the DL, and he tossed 7 2/3 solid innings on July 10, but the Tigers have had issues with the back end of their rotation. Shane Greene and Alfredo Simon each have allowed at least four earned runs over their past five starts. No other team has more than one pitcher who has done that this season. Detroit's 4.30 team ERA ranked 27th in baseball entering Saturday.
After struggling through his last four starts in late May and early June, Greene spent nearly a month at Triple-A Toledo, where Ausmus said the right-hander worked on improving his changeup.
The Tigers also have used Buck Farmer and Kyle Ryan as starters this year.
Before being placed on the disabled list, Lobstein expressed optimism about the results of an MRI, which revealed inflammation and no structural damage. The lefty was cleared to resume throwing in early June but was shut down when the soreness persisted.
Ausmus said Lobstein will continue to work on regaining strength in the shoulder, and the lefty will likely need to throw multiple bullpen sessions before the club considers a rehab assignment.
Alejandro Zúñiga is an associate reporter for MLB.com. This story was not subject to the approval of Major League Baseball or its clubs.