Williams set to return, but rotation job in flux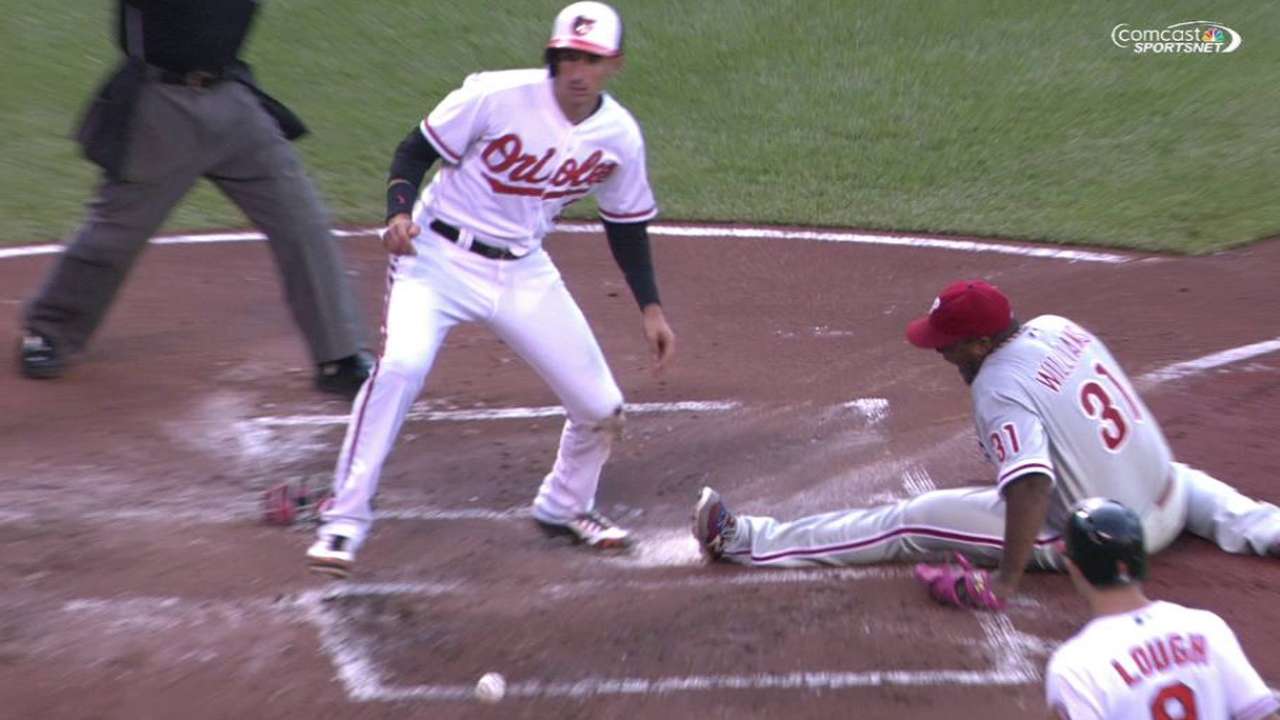 PHILADELPHIA -- The question isn't whether Jerome Williams is ready to rejoin the Phillies. The question is whether the Phillies are ready for Williams.
On Friday, Williams made his third rehab start since injuring his hamstring vs. the Orioles on June 16. The 33-year-old right-hander threw 90 pitches over eight innings, allowing two runs, only one of which was earned. Upon returning to Citizens Bank Park on Saturday, Williams said he feels healthy and doesn't think making another rehab start is necessary.
"I think I'm good," Williams said before the Phillies' 3-1 win over the Marlins on Saturday. "But it's not my decision. It's up to the team. Whatever the decision is I'll take it in stride and make it my goal to get back here."
Williams wasn't the only one to acknowledge that his future is in flux. Interim manager Pete Mackanin said that while he was impressed when he heard about Williams' outing Friday night, it's hard to know exactly where Williams will fit in on the Phillies' active roster moving forward.
"We're going to have to make some decisions," Mackanin said. "We haven't made any conclusions yet. It's imminent. So we've got a few possibilities, but we're still in the process of ironing it out."
Though Mackanin has plenty of possible options as to how to stack the Phillies' rotation for the rest of 2015, most of them hinge upon the question of whether the team wants to press onward with youth or with veterans.
After rookie Adam Morgan continued the solid start to his career Friday night, and with the impending arrival of Phillies top pitching prospect Aaron Nola on Tuesday, youth seems to be infiltrating the Phils' starting five. That being said, Williams and fellow veteran Aaron Harang are expected to return from the disabled list soon, and Chad Billingsley may be headed there for a third time this season after he left his start Saturday after 70 pitches with elbow discomfort.
If Billingsley is headed to the DL, it would make sense for Williams to occupy his spot in the rotation. But with Cole Hamels still on the team for the time being, Morgan, Nola and 25-year-old David Buchanan having the advantage of youth on their sides, and Sean O'Sullivan, Kevin Correia and Severino Gonzalez all in Triple-A with 25 combined starts for Philadelphia this year, Williams isn't the only option Mackanin has.
With this mix of youngsters trying to make a name for themselves, a star in his prime expected to be traded and veterans trying to reinvent themselves, Mackanin's "imminent" decision relies upon many different factors. But to Williams, the variety of ages and experiences on the roster has actually been advantageous for the pitchers themselves.
"[I try] being someone who is a veteran guy to pass on some knowledge on ups and downs and just to give the younger guys confidence too," Williams said. "Also, those younger guys give us confidence to step our game up because they're younger. We're more mature, but they have a future ahead of them."
Nick Suss is an associate reporter for MLB.com. This story was not subject to the approval of Major League Baseball or its clubs.