Cingrani could join rotation after return from DL
Lefty throws five scoreless innings in rehab game Friday; Price thinks he's ready for Majors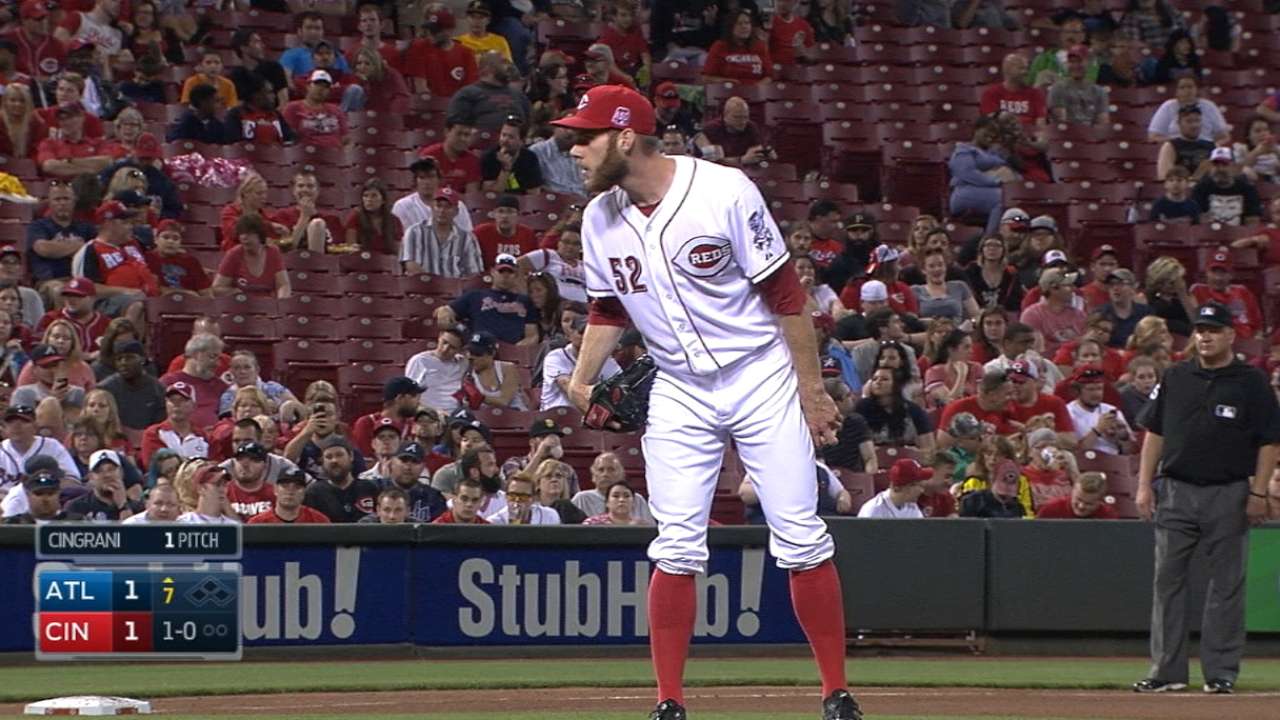 CINCINNATI -- After another strong outing with Triple-A Louisville on Friday night, it appears left-handed pitcher Tony Cingrani will be back with the Reds soon, potentially as a starter.
Cingrani threw 93 pitches across five scoreless innings, giving up four hits and one walk while striking out six. It was his fourth rehabilitation appearance, including three starts, with Louisville after being placed on the disabled list with a left shoulder strain on June 15. He has given up no runs, six hits, six walks and two hit-by-pitches in 14 innings during his rehab stint.
Reds manager Bryan Price said he believes Cingrani has reached a level where he can return to the Major Leagues.
"Very good report coming out of yesterday's game in Louisville," Price said. "Five innings, 93 pitches, which seems a little higher for five innings, but the last guy I think had a 15-pitch at-bat, the last hitter. He struck him out looking, but it was a long, long at-bat.
"What does he got, I think he's got 14 innings, six hits, 18 strikeouts, no runs, and it sounds like the breaking ball has gotten better. He is starting to get a feel for it, so that would definitely benefit all of us if he were able to come in with that type of a mix and be able to maintain the velocity, which he really had to work on building his endurance. It sounds like after that outing, he has satisfied that requirement, the endurance and stamina portion of the rehab."
Price added that Cingrani is one of the guys the Reds are considering starting in their open starting pitcher slot for the second leg of a doubleheader against the Cubs on Wednesday.
"Sure, you bet he is," Price said. "It's one of the things that we prepared him for, is to be able to help us either in the rotation or as relief pitcher. Knowing that we have most of what we felt were our resources already here, we felt that we could take advantage of Tony's rehabilitation as a way to get him stretched out as an option should we need a starter.
"I don't believe he would need another rehab outing in order to make a start here. He's satisfied that by his outing yesterday."
Cingrani started off Spring Training as a candidate to land a spot in the starting rotation, but he was ultimately moved to the bullpen. Now with both starters Johnny Cueto and Mike Leake expected to be shipped out of town before the July 31 non-waiver Trade Deadline, there could be an opening for Cingrani to enter the rotation.
Cingrani was primarily used as a starter in both 2013 and 2014, starting in 29 of the 36 games he pitched. He was 9-11 with a 3.50 ERA in those 29 starts.
Robert Bondy is an associate reporter for MLB.com. This story was not subject to the approval of Major League Baseball or its clubs.