Choo hopes to gain confidence amid slump
Outfielder entered Saturday's game batting .129 in July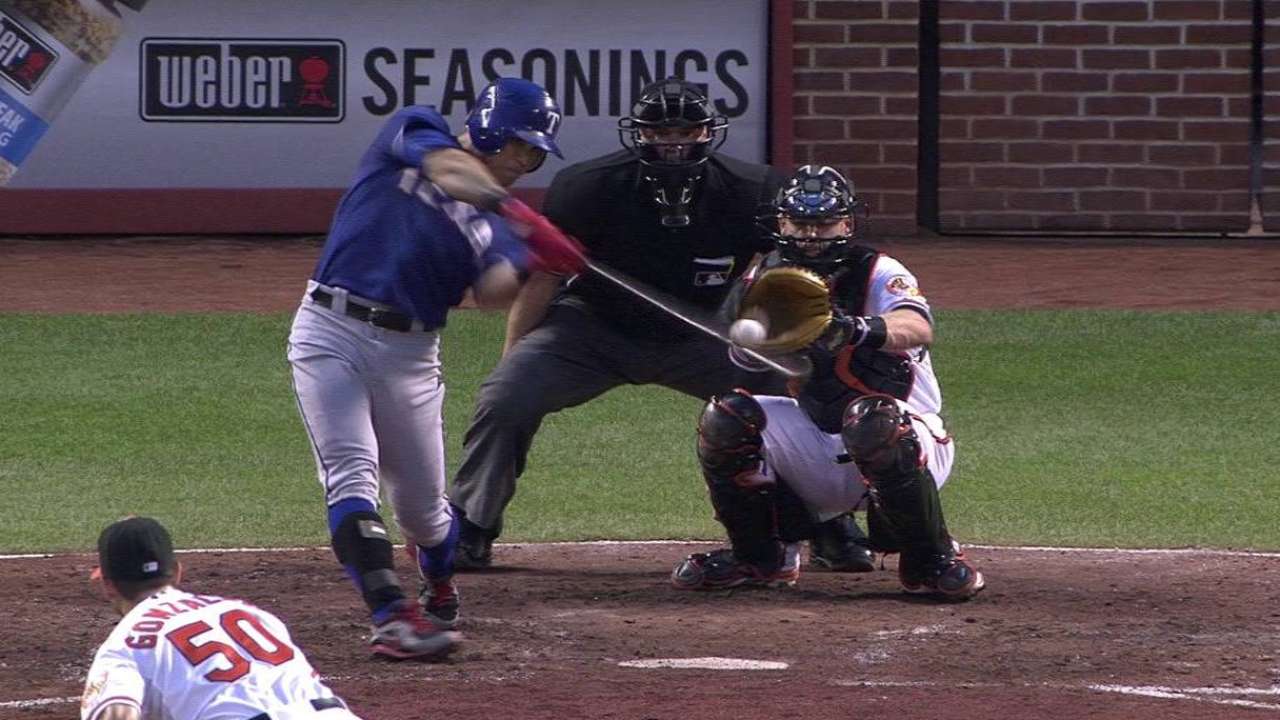 HOUSTON -- Rangers outfielder Shin-Soo Choo and manager Jeff Banister are in agreement over what the struggling outfielder needs most right now.
"Probably a little bit of confidence," Choo said before Saturday's game with the Astros.
"The confidence in his own game is what he needs," Banister said. "Choo still possesses all the qualities of a terrific player. I would say he needs confidence and consistency."
Choo was back in the lineup on Saturday after sitting out Friday's game. He went into the game hitless in his last 11 at-bats and hitting .157 over his last 24 games. That dropped his batting average from .248 to .221, the 11th lowest among American League qualifiers.
In 2014, Choo set career lows with a .242 batting average, a .340 on-base percentage and a .374 slugging percentage. Now he is hitting 21 points lower than last season with a .305 on-base percentage and a .384 slugging percentage.
"I thought last season was the worst in my career…injury, the team not doing something," Choo said. "It was not what I was looking for when I signed as a free agent.
"This year has been worse than last year."
Choo signed a seven-year, $130 million contract with the Rangers before the 2014 season, so it might be assumed that he has been feeling the pressure to live up to the deal.
"Probably last year a little bit, not this year," Choo said. "I feel better. I feel comfortable."
That was the feeling coming into the season. Then Choo got off to a dreadful start, hitting .096 in April. He rebounded to hit .295 in May with a .356 on-base percentage and a .533 slugging percentage. But he has regressed since then.
"He knows what kind of hitter he should be," Banister said. "He is his own worst critic right now. He had the same approach [in May] and was successful and productive. Anytime he went to the plate, it would be a quality at-bat. We just need for him to get back on that type of roll. It starts as trickle. Once he gets going, it could be a flood of confidence."
Choo batted eighth on Saturday night for the second time this season. He has been all over the lineup. He has led off in 27 games and batted second in 31 games. He has also hit fifth in 10 games, sixth in four games and seventh in five.
"I'm not a power hitter, I'm not a high average guy and I'm not a speed guy," Choo said. "I believe that Shin-Soo Choo is a consistent player. I can do everything.
"If I was 20 years old, I would be mad. Now I look and I see my kids watching me on TV and I don't want to change. I want to be same person, the same dad, the same husband. I know I've calmed down and it's not easy."
It is also not easy for Choo coming to the ballpark wondering if his name will be in the lineup. It has been a long time since that happened.
"Probably 2006," Choo said. "After that I was thinking I'm playing every single day because I am an everyday player."
T.R. Sullivan is a reporter for MLB.com. Read his blog, Postcards from Elysian Fields, follow him on Twitter @Sullivan_Ranger and listen to his podcast. This story was not subject to the approval of Major League Baseball or its clubs.