Carter day to day with right ankle injury
First baseman will avoid DL stint while Astros evaluate 1B options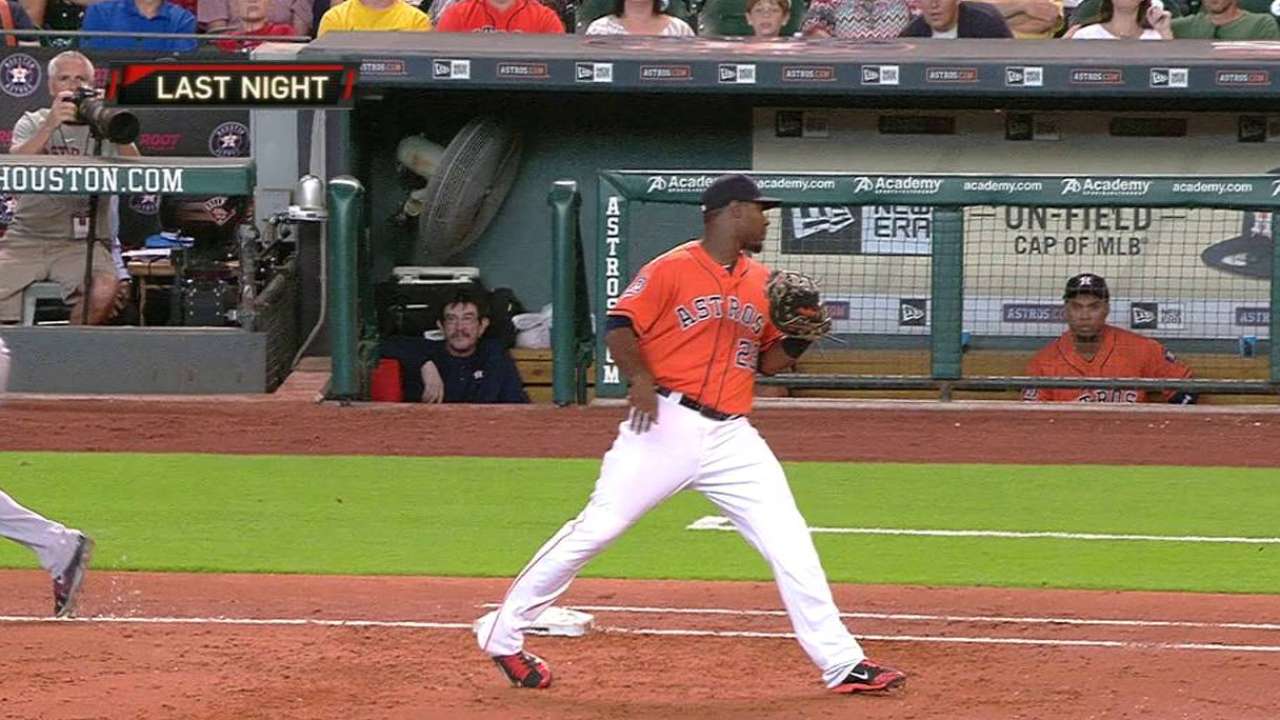 HOUSTON -- Aside from everyday nicks absorbed in a 162-game season, Chris Carter has never battled injury in his six-year Major League career and has never been sent to the DL.
His career-long DL absence appears to be safe, but the sprained right ankle Carter sustained in Friday's 3-2 win against the Rangers will keep Astros manager A.J. Hinch evaluating him day-to-day and exploring some options at first base.
Carter was able to walk gingerly around the dugout without crutches or a boot while speaking with reporters prior to Saturday's game, while Hinch added Carter will avoid the DL for the time being.
"A lot of soreness right now, so the biggest thing is getting that out and seeing how I feel in a couple days. It's still swollen, just been icing it and trying to keep off it," Carter said. "It's the first time I've actually had any scare like this."
Carter landed awkwardly on the ankle after leaping in the air to corral a high throw from Jose Altuve in the second inning, forcing him to leave the game shortly after. Hinch said Saturday he's much more optimistic that a major injury was avoided.
Though Jon Singleton is Carter's natural replacement at first -- and started Saturday's game -- Hinch didn't rule out a few other options. Prior to Saturday's game, Hank Conger and Luis Valbuena were taking grounders and practicing scoops at first base.
"We've done this a couple times prior to Carter coming out the game yesterday, but it gets a little more intense as you see your first baseman come out of the game," Hinch said. "Conger takes ground balls everywhere, including shortstop, so it doesn't necessarily mean he's going to play there. Luis has been getting a little extra work at first in case that becomes an option as the summer gets along. We preach versatility, I guess, and this is proving it."
Some time at first for Valbuena could mean more consistent playing time for Marwin Gonzalez, who splits third base action with Valbuena, but has been the Astros' most consistent hitter of late, hitting .348 with four home runs in his last 24 games.
"[Valbuena]'s very good at third base, so it would have to take something to push him over to first more permanently," Hinch said. "Increasing his versatility would be nice to give me some options as the next couple months go."
Worth noting
• After activating Scott Feldman from the DL to start Saturday night's game, the Astros designated Alex Presley for assignment in a corresponding roster move.
Presley appeared in eight games this season, going 3-for-12 with one RBI. It's the second time this season he's been designated.
Chandler Rome is an associate reporter for MLB.com. This story was not subject to the approval of Major League Baseball or its clubs.