McKirahan expected back with Braves Monday
Left-handed reliever coming off 80-game suspension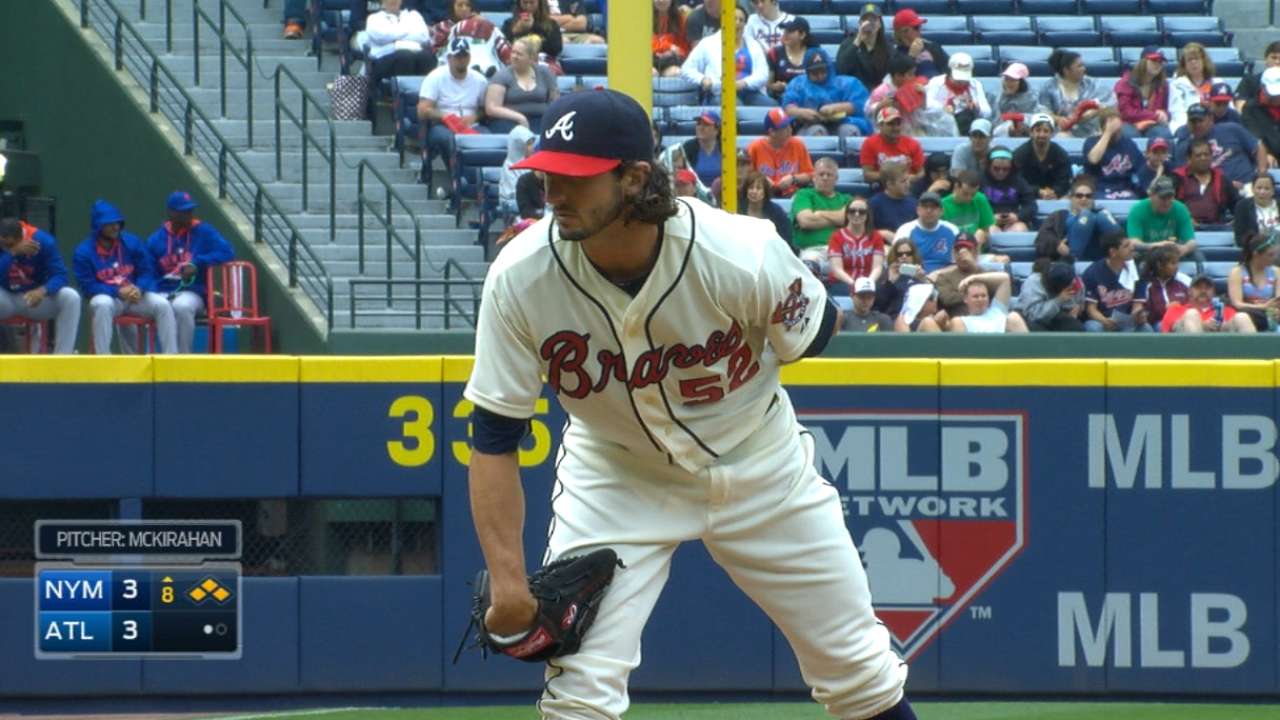 ATLANTA -- The Braves' bullpen will continue to see different names over the next few days, with Andrew McKirahan expected to return to the club on Monday.
"I talked to [Triple-A Gwinnett manager Brian] Snitker today," said Braves manager Fredi Gonzalez. "He's going to throw an inning today and then off [Sunday] and then he's eligible to come back on Monday."
McKirahan was suspended 80 games earlier this season after testing positive for ipamorelin, a performance-enhancing substance banned under Major League Baseball's Joint Drug Prevention and Treatment Program, and is eligible to return Monday when the Braves begin a three-game series against the Dodgers.
McKirahan began a rehab assignment in early July and posted a 3.18 ERA over 5 2/3 innings while striking out seven batters and walking three with Triple-A Gwinnett and Double-A Mississippi.
"From when I saw him pitch here, he did well," Gonzalez said. "So the plan is for him to be here Monday."
McKirahan has thrown 4 1/3 innings for the Braves this season and has recorded two strikeouts and issued one walk. Because McKirahan was selected in the Rule 5 Draft, the Braves have to keep him on their active Major League roster throughout the season or offer him back to the Cubs for $25,000.
With McKirahan and the recently acquired Ross Detwiler, Atlanta will have three left-handed pitchers in the bullpen to provide some relief for Luis Avilan, who is tied with St. Louis' Kevin Siegrist with 46 games -- the most in the Majors among relievers entering Saturday.
Carlos Collazo is an associate reporter for MLB.com. This story was not subject to the approval of Major League Baseball or its clubs.