For Mets lately, it's 'home run or bust'
Offense has gone deep in six straight games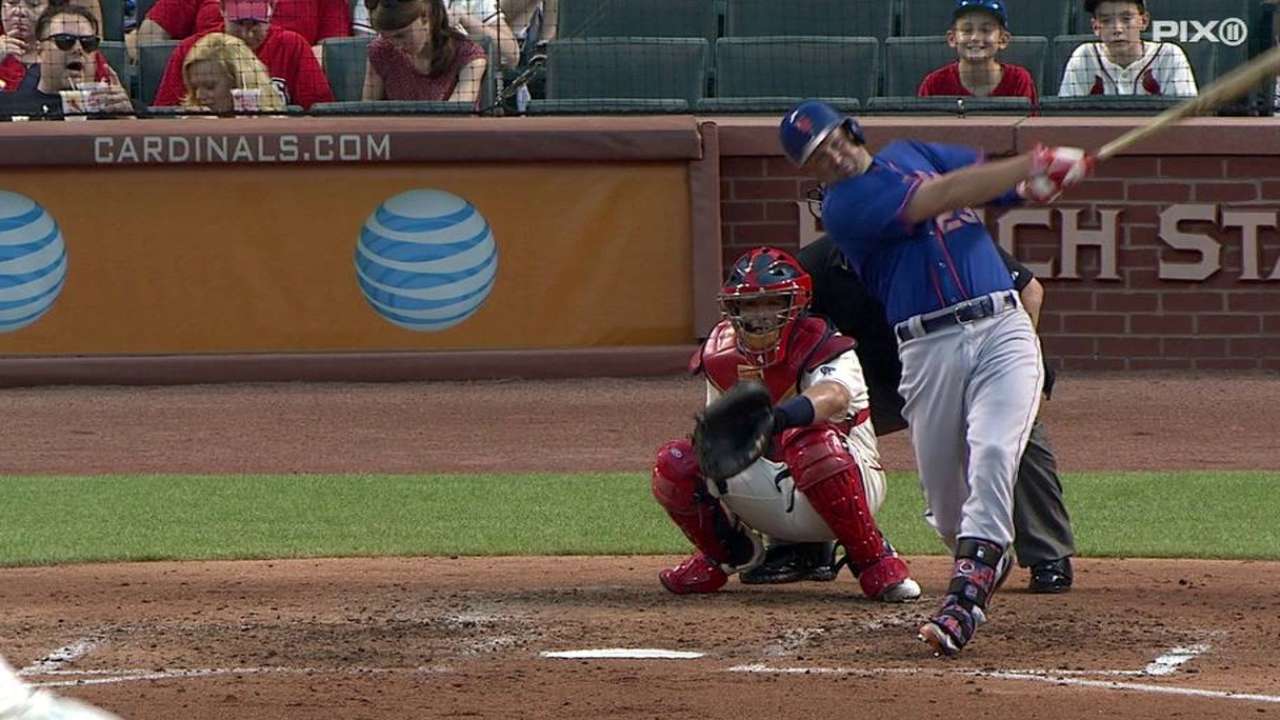 ST. LOUIS -- The Mets' offense has taken on a "home run or bust" mentality of late, and manager Terry Collins doesn't mind.
"I think that's how we're built," Collins said on Saturday afternoon. "This team is built on power. Lately, when we've hit home runs, we've won."
With Michael Cuddyer's solo shot in Saturday night's 12-2 loss, New York has homered in six straight games, the team's longest streak since an eight-game outburst from Aug. 18-27, 2014. Seventeen of the Mets' last 19 runs have come via the long ball.
When it comes to the home runs, though, it's been feast or famine. The Mets have hit 12 home runs during this streak, but previously went nine games without one.
Curtis Granderson leads the team in homers, with 14 from the leadoff spot, and he hit his MLB-leading fifth leadoff homer against the Cardinals on Friday.
"You might hit the ball right on the screws, and it might be a line drive into the gap, it might go right to someone and sometimes you might just miss it," Granderson said. "It's a game of inches type thing. Sometimes you may hit it to the deepest part of the ballpark. It's just a matter of staying ready to hit, being ready if you do get that pitch that you know you can drive and putting a good swing on it."
The Mets are ninth in the National League, with 77 home runs, but last in the NL in batting average (.234), runs (314) and triples (nine).
When asked about the possibility of moving Granderson to the middle of the lineup, Collins has a simple answer: Who's going to hit leadoff?
"We haven't been getting anybody on, so he's going to hit a solo home run anyway," Collins said. "[Batting leadoff] gets him up there more than anybody else."
Although the home runs are nice, having runners on when they come is obviously ideal. But getting those runners on remains elusive as the offensive struggles continue.
"We're not hitting real well, and the games we hit two or three home runs, we've been winning those games because we pitch," Collins said. "If we start getting more guys [on], we'll be giving our pitching staff a little bit more support, but until we start swinging the bats better and getting guys on, we're going to be living with the home run."
Joe Harris is a contributor to MLB.com. This story was not subject to the approval of Major League Baseball or its clubs.