Cardinals score in bunches to rout Mets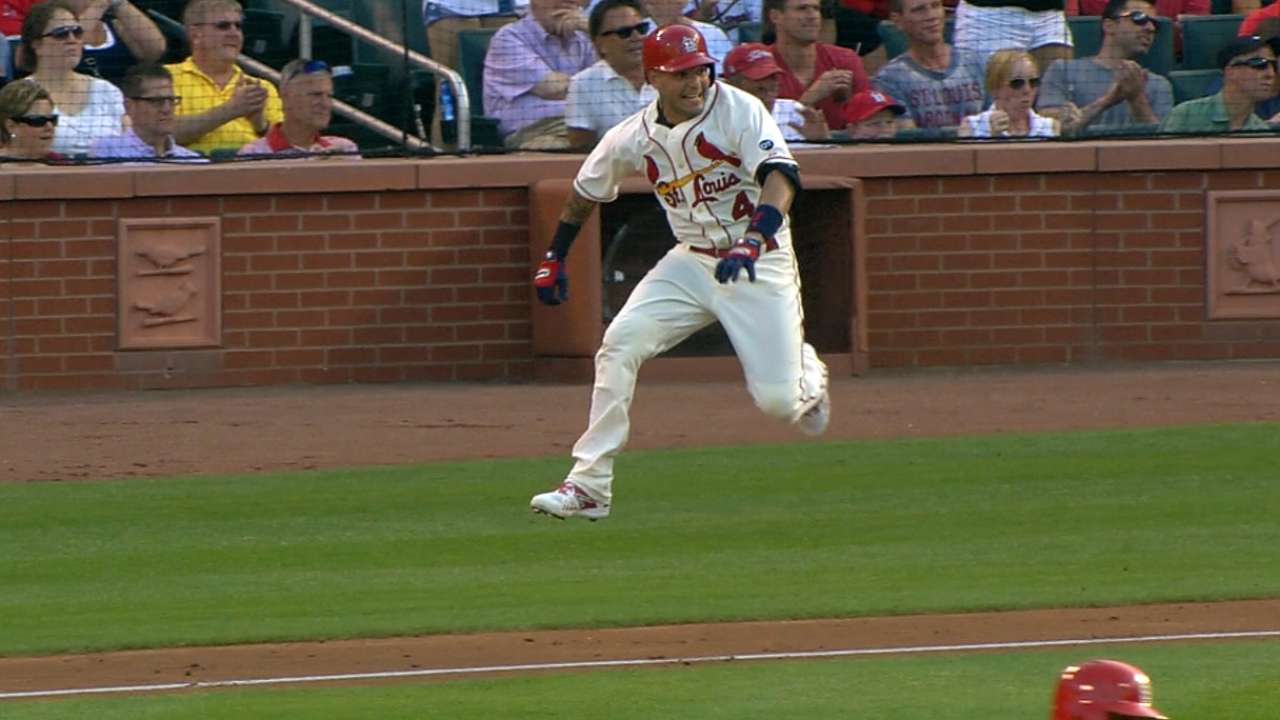 ST. LOUIS -- The Cardinals batted around in the first inning, scoring four runs off Mets starter Bartolo Colon to create an early separation and set the tone for a 12-2 victory in front of 45,852 at Busch Stadium on Saturday night.
Jason Heyward went 5-for-5, Matt Holliday got his first hit since returning from the disabled list and Randal Grichuk ripped a pair of homers to headline the Cardinals' biggest offensive outburst since June 19. St. Louis starter John Lackey (8-5) settled in behind the barrage to allow just one run on 10 hits over seven innings.
"I probably don't get to enjoy it as much as everyone else because I'm trying to take care of everything else, but I'm real happy to see our guys have some success and have some big nights," Cardinals manager Mike Matheny said. "I think that's something they can carry for a while."
The Mets touched Lackey for three hits in the sixth and two more in the seventh, but only mustered one run during that stretch, and by then the game was virtually out of reach thanks to the Cardinals' four-run fifth.
"We've got to do a better job with guys on base and guys in scoring position with putting better swings on the ball," Mets manager Terry Collins said. "That's been our nemesis all year long. You go through our numbers today, were last in the league in RBIs and last in the league in runs scored, and there's a reason for that. And that is, we're getting guys on, we're just not driving them in."
MOMENTS THAT MATTERED
First-inning fireworks: The Cardinals ripped four hits, and Colon walked two batters and hit another as St. Louis batted through its lineup in the first to take a four-run lead. The bases were loaded with one out when Colon struck out Lackey and Kolten Wong to escape further damage, but the Cardinals piled on later with two more four-run innings.
• Hitting contagious for Grichuk, Cardinals
"Overall, we put the pressure on early, and it makes a difference when you're playing in some heat, too," Matheny said.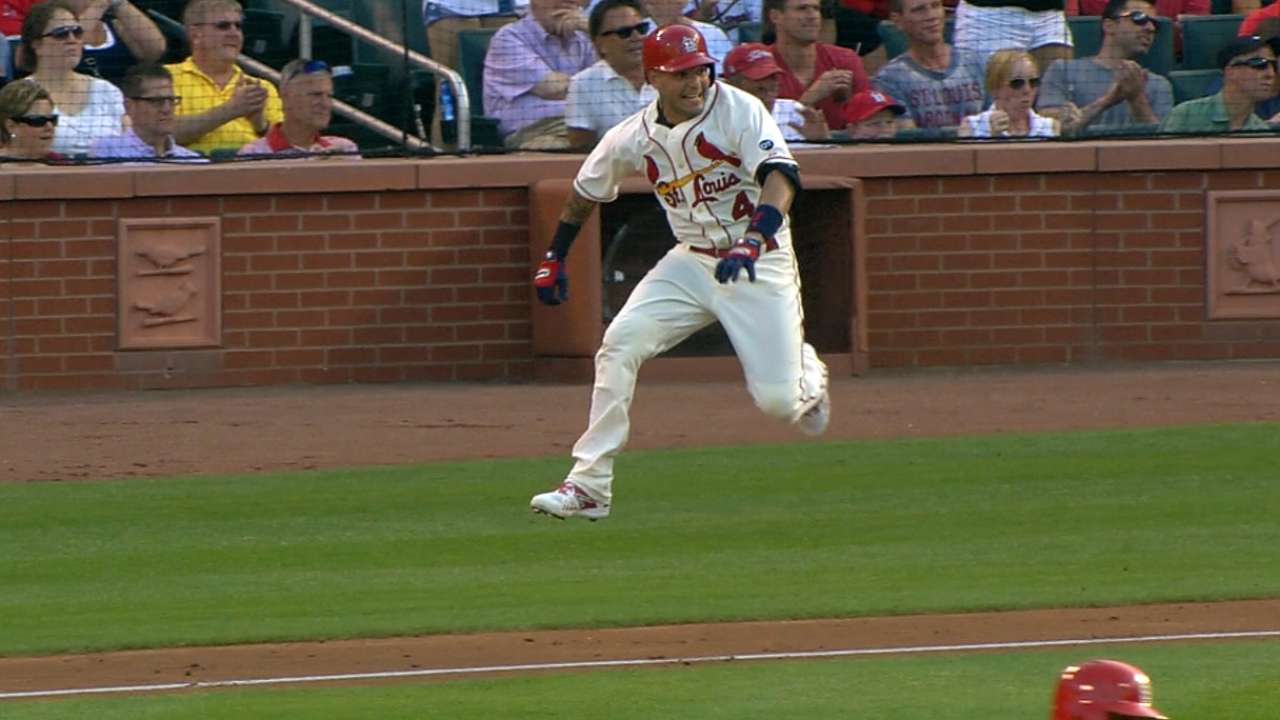 Deja vu for Colon: Colon gave up seven runs in 4 1/3 innings, mirroring his first start of the season against St. Louis, on May 20, when he was battered for eight runs in 4 1/3 innings in a 9-0 Mets loss at Citi Field.
"I know they have a tough lineup," Colon said through an interpreter. "This year they've been lucky, they've been good. I was lucky enough last year to beat them twice, and this year they beat me twice." More >
Typical Lackey: Lackey allowed 10 hits but was working behind plenty of run support and recorded his seventh straight quality start, despite saying that everything was "just a touch off" in his first outing since the All-Star break.
"The runs were huge, for sure," Lackey said. "I definitely pitched to the scoreboard a little bit, was trying to challenge guys, throw strikes and keep the momentum going and try to get those guys back in the dugout to hit."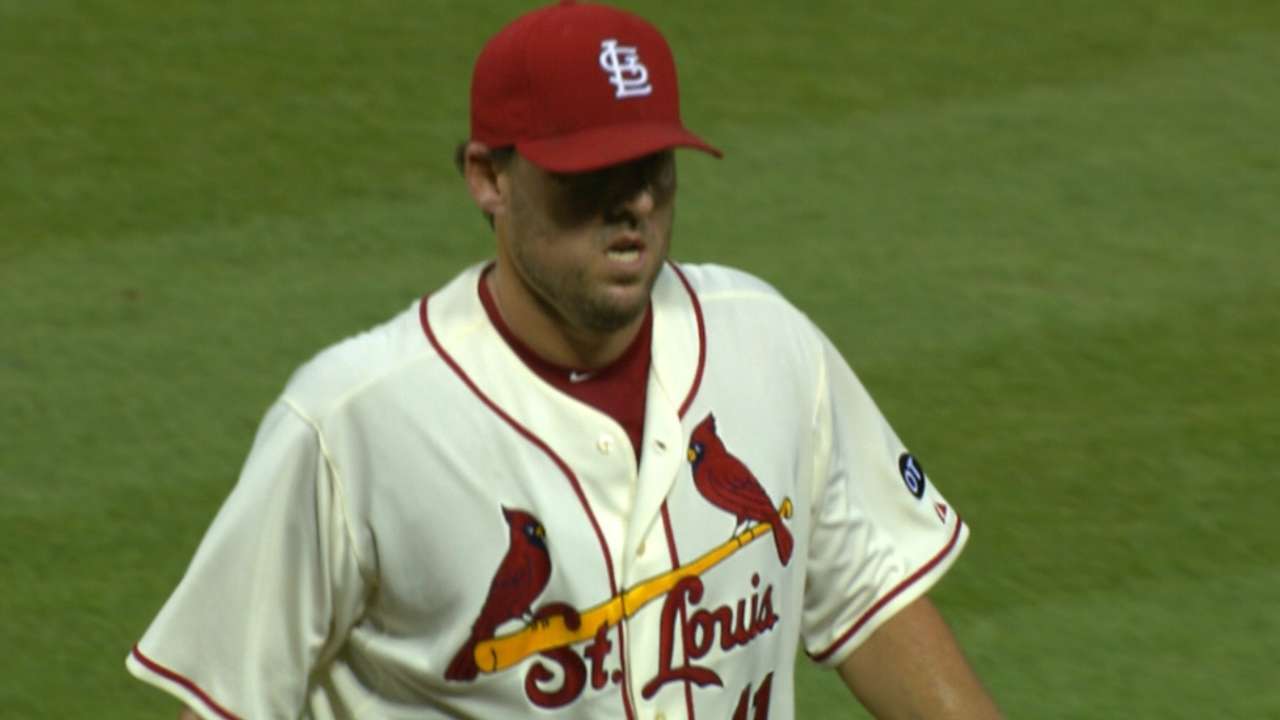 Cuddyer continues trend: Michael Cuddyer continued his career success against Lackey, going 3-for-5 with a home run. Cuddyer is now 11-for-32 lifetime against Lackey, with five homers.
• For Mets lately, it's 'home run or bust'
"It's all got to start someplace, and I thought tonight was a very good night for him," Collins said. "So we'll get him in there tomorrow and see how he does."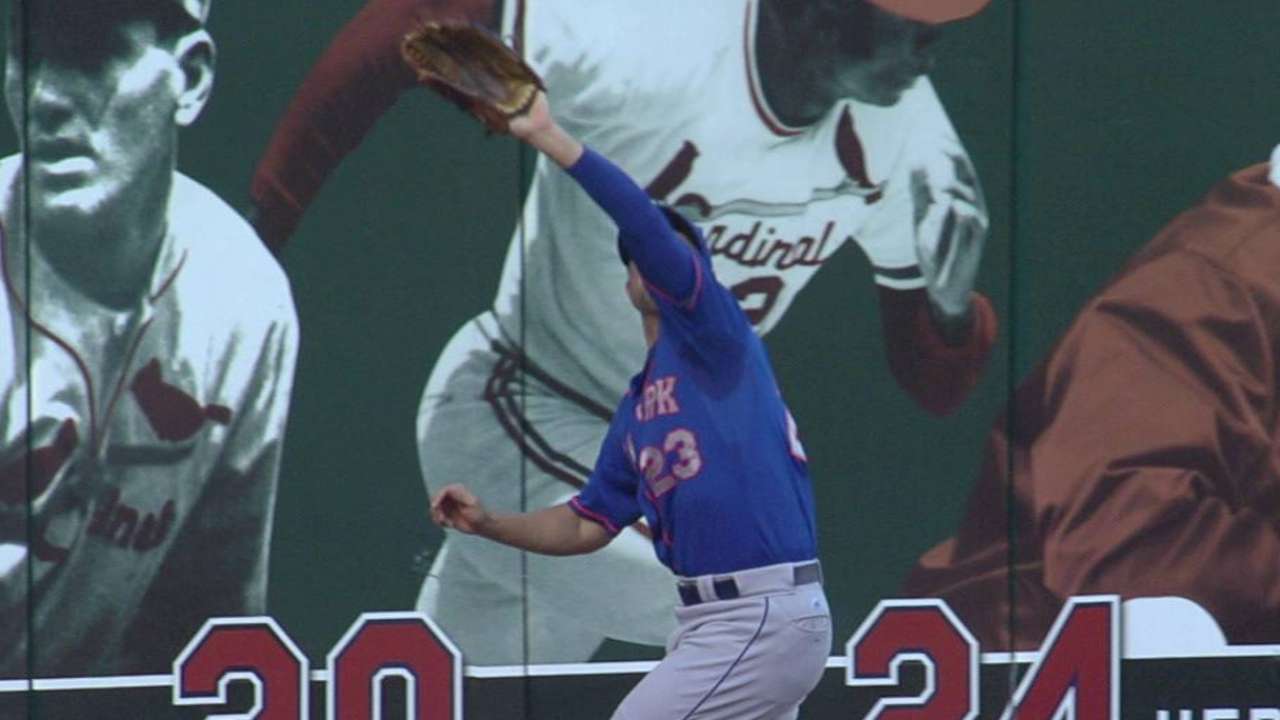 QUOTABLE
"I did not want to blow the 'pen out tonight. It's going to be hot again tomorrow; we're going to need some guys tomorrow. I just said, 'Look, we've got to get this guy some work, so when he got out of the first, it was OK, but if they got a hit, if Lackey would have got a hit, he was coming out." -- Collins, on the temptation to pull Colon during his rough first inning
WHAT'S NEXT
Mets: Righty Jon Niese seeks his third consecutive win in the finale of the three-game series.
Cardinals: Rookie left-hander Tim Cooney gets the start in the series finale.
Watch every out-of-market regular season game live on MLB.TV.
David Cobb is an associate reporter for MLB.com. Joe Harris is a contributor to MLB.com. This story was not subject to the approval of Major League Baseball or its clubs.